Are You 14 to 21?
Summer is approaching. Our murals don't make themselves. Apprentice Artist Job Opportunities Coming February 2012 to an Inbox Near You.
Attention ArtWorks Alumni!
We want to hear your story! Tell us what you've been up to since your time at ArtWorks. E-mail us at info@artworkscincinnati.org with the scoop!
Greetings!
Every boy and girl knows where piglets come from - the Great White Stork drops them off at the barn with the mommy sows. But what about the fiberglass pigs that ArtWorks is handing over to artists to turn into singing swine for Big Pig Gig: Do-Re-Wee? How are these ba-canvases created?
Fortunately for us, Kris Swain of Atomic Specialties, Inc., the fabricators of our big pigs, was willing to give us the penside scoop!
Sketch - We start with a sketch of the pig.
Sculpt - Then, we sculpt a clay model of the pig, to show more of the three-dimensional details.
Plug - Once that's complete, we sculpt a life-size pig using mixed media. We call this sculpture the Plug and this is what we will use to make our mold. Your Plug will determine what every part of the mold will look like, so we take our Plugs all the way to a smooth, clear-coated masterpiece.
Flanges - Once the Plug is made and release agents have been added, we start building flanges for the mold. Now this is where people get confused. "If you make a mold over a pig, how do you get it out?" Click Here to Keep Reading
---
Save Your Seat!
The wheels on the ArtWorks bus will be rolling again as a part of the Macy's Arts Sampler 2012! Join us on Saturday, March 10th for a guided bus tour of a few of our murals. So grab a camera and a friend and hop aboard the bus! We'll bring the refreshments and the inside scoop on some of Cincinnati's largest works of art.
When: Saturday, March 10th. There will be two tours: one from 11 am until 12 pm and another from 12:30 pm until 1:30 pm.
Where: ArtWorks at 20 East Central Parkway
RSVP to Kristin (Kristin@ArtWorksCincinnati.org or 513.333.0388 x18) with the number of people and the time you will be touring. Seating is limited and offered on a first come, first served basis - so make your reservation today!
Professional Artists Needed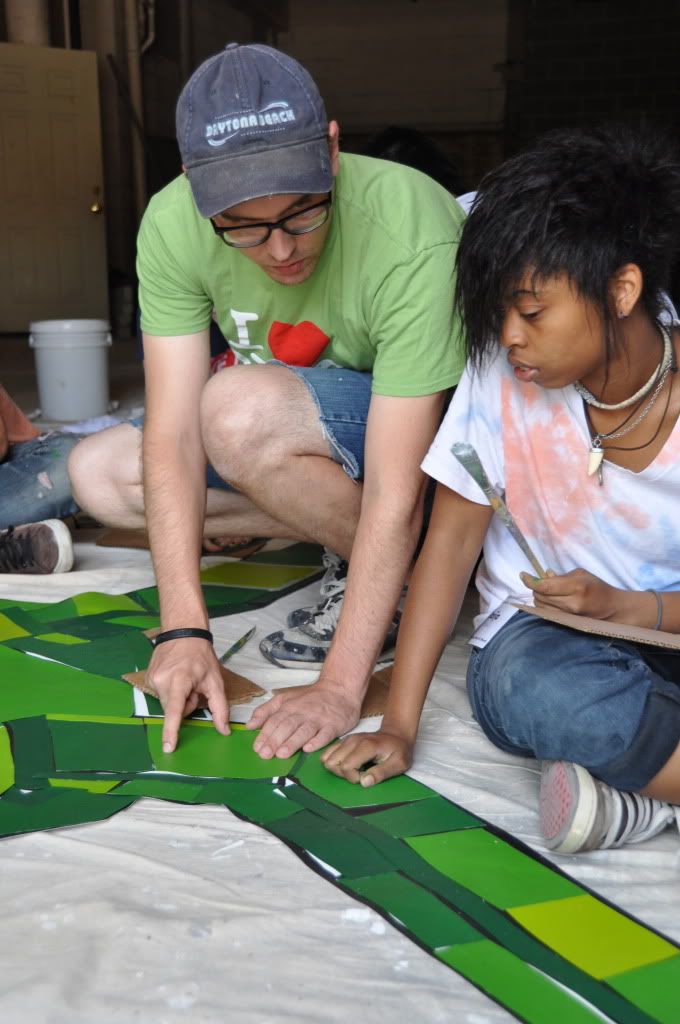 Are you a professional artist or art educator? ArtWorks is currently hiring Teaching Artists to work with teams of Apprentice Artists this summer.
Teaching Artist applications are due March 30th.
Click here to read the job descriptions and to learn more.
Click here to apply.
Be sure to sign-up for our Artist Registry e-Newsletter to get weekly updates on artist jobs and opportunities from ArtWorks and other Greater Cincinnati organizations! Just click on the Update Profile/Email Address link at the bottom of this e-mail.
Unbound Genius
ArtWorks believes that artistic ability has no age limit!
Click here
to check out some of the masterpieces created by kids and their families at a recent weekend workshop held for Cincinnati Children's Hospital.
Cool Blue
The
Blue Manatee Children's Bookstore and Decafe
, site of an
ArtWorks' mural
completed in 2005, is offering a new way for customers to get great deals on books, cafe items, and cool blue swag. It's called the Cool Customer Card and costs just $15. If benefits such as 20% off of hardcover
chapter
books, toys, and totes, plus $1 drip coffees aren't enough to get you swimming over to Oakley to sign-up - then maybe you should know that when you have a Cool Customer Card, a percentage of your purchases can go towards supporting ArtWorks!
Click here
to download the flyer and learn more.
Own a Print of CF Payne's "Singing Mural"
Didn't get a chance to buy your own "The Singing Mural" print? You can still own the design that was painted this past summer on our West End Mural at CET.
Signed Prints: $150 Unsigned Prints: $75
To buy a print or to learn more, contact Marie@ArtWorksCincinnati.org.
About ArtWorks: Founded in 1996, ArtWorks is a non-profit arts organization that connects artists of all ages with opportunities in the arts through inspiring apprenticeships, community partnerships, and public art. ArtWorks hires teen and professional artists to make innovative public art to enrich the Greater Cincinnati community. To date, ArtWorks Summer Program has provided job opportunities for more than 2,500 teen Apprentice Artists and 500 professional artists. ArtWorks is funded by the City of Cincinnati, Carol Ann and Ralph V. Haile, Jr./US Bank Foundation, ArtsWave, and the Ohio Arts Council. To learn more, visit ArtWorksCincinnati.org.