FOR IMMEDIATE RELEASE:
Southern Culinary Instructor and Author Marilyn Markel Book Signing & Tasting at Fiction Addiction
Southern culinary instructor Marilyn Markel and Southern history author Chris Holaday have combined their talents for their new book, Southern Breads: Recipes, Stories and Traditions (The History Press, paperback, $24.99, on sale 12/5/16). Meet Marilyn at an in-store book signing on

**Friday, December 23rd**

, from Noon-2pm at Fiction Addiction, and taste samples of some of these historic Southern breads.
This event is free and open to the public. Books may be purchased online, at the store, or by calling Fiction Addiction at 864-675-0540.
The warmth of the oven and the smell of fresh-baked bread conjure comforting memories of tradition and place. Aside from being a staple on every table in the South, these breads and their recipes detail the storied history of the region. Biscuits emerged from Native American and European traditions. Cornbread, with its vast variety, is a point of debate among Southerners over which recipe yields the most delicious results. The hushpuppy, developed possibly to quiet whining dogs, is a requirement for any true catfish or barbecue meal. Author Chris Holaday and top culinary instructor Marilyn Markel offer the mouthwatering history, famous recipes, and heartwarming stories of Southerners in their kitchens.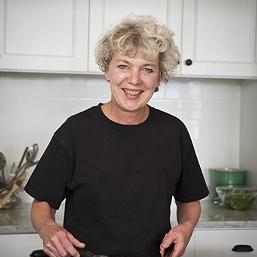 About the author:
One of the top culinary instructors in the South, Marilyn Markel has pursued her passion for teaching from Dallas to Chapel Hill to the Charleston, South Carolina, area, where she now resides. The Georgia native has taught countless classes on all aspects of cooking and served as culinary director for several schools. Marilyn is a member of Les Dames d'Escoffier, Southern Foodways Alliance and International Association of Culinary Professionals (IACP). Her work has appeared in the Charleston Post and Courier among other newspapers, the magazine Edible Piedmont, and she was featured in the documentary Pimento Cheese, Please, produced by the Southern Foodways Alliance.
If you cannot make the event, you can reserve a personalized copy of the author's book by contacting Fiction Addiction in advance at 864-675-0540 or at info@fiction-addiction.com.
ABOUT FICTION ADDICTION
Fiction Addiction is a local, woman-owned, independent bookstore established in 2001. The store carries a mixture of new and used fiction and nonfiction, including children's books, as well as gift items. We are located at 1175 Woods Crossing Road (in the shopping center with Fried Green Tomatoes, Jimmy John's, and Boardwalk). For more information, visit our website at http://www.fiction-addiction.com or call us at 864-675-0540.
- END -