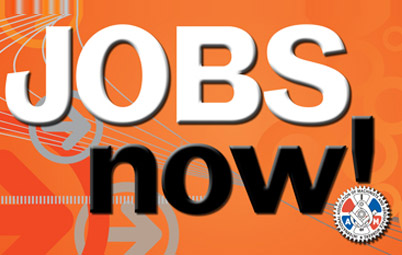 choice "Everyone has the right to work, to free of employment, to just and favorable conditions of work and to protection against unemployment."
- United Nations Universal Declaration of Human Rights, December 10, 1948
I. Introduction
The "Great Recession" that began in 2007 has caused the greatest percent of job losses since the Great Depression of 1929. This crisis is the end of an era of unrestrained 'neo-liberal' capitalism that became public policy during the Reagan administration. The crisis marks a new level of instability with the growth of a global financial elite that targeted US workers and our trade unions after World War II.
Order Our Full Employment Booklets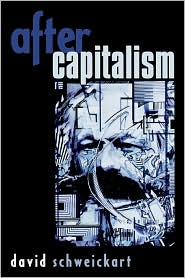 Capitalism may well collapse under its own excesses, but what would one propose to replace it? Margaret Thatcher's mantra was TINA...There Is No Alternative. David Schweickart's vision of "Economic Democracy" proposes a serious alternative. Even more fundamentally, it opens the door to thinking about alternatives. His may or may not turn out to be the definitive "successor system," but he is a leader in breaking out of the box.
Quick Links...
CCDS Discussion
Solidarity Economy:
What It's All About


California Red:
A Life in the American Communist Party

by Dorothy Ray Healey
University of Illinois Press

Buy Now









Malcolm X: A Life
of Reinvention


by Manning Marable

Viking Adult


List Price: $30.00
Buy Now
An Invitation to CCDSers and Friends...
Early Heat in 2012
Race as GOP Thickens Its Wrecking Plots!


We're the Committees of Correspondence for Democracy and Socialism...

Do you have friends who should see this? Pass it on...

Do you have a blog of your own? Others you love to read every day? Well, this is a place where you can share access to them with the rest of your comrades. Just pick your greatest hits for the week and send them to us at carld717@gmail.com!
Most of all, it's urgent that you oppose austerity, make solidarity and end the wars! We're doing more than ever, and have big plans. So pay your dues, make a donation and become a sustainer
. Do it Now! Check the link at the bottom...
The Tea Party contender may seem like a goofball, but be warned: Her presidential campaign is no laughing matter
By Matt Taibbi
Rolling Stone
June 22, 2011 - Close your eyes, take a deep breath, and, as you consider the career and future presidential prospects of an incredible American phenomenon named Michele Bachmann, do one more thing. Don't laugh.
It may be the hardest thing you ever do, for Michele Bachmann is almost certainly the funniest thing that has ever happened to American presidential politics. Fans of obscure 1970s television may remember a short-lived children's show called Far Out Space Nuts, in which a pair of dimwitted NASA repairmen, one of whom is played by Bob (Gilligan) Denver, accidentally send themselves into space by pressing "launch" instead of "lunch" inside a capsule they were fixing at Cape Canaveral. This plot device roughly approximates the political and cultural mechanism that is sending Michele Bachmann hurtling in the direction of the Oval Office.
Bachmann is a religious zealot whose brain is a raging electrical storm of divine visions and paranoid delusions. She believes that the Chinese are plotting to replace the dollar bill, that light bulbs are killing our dogs and cats, and that God personally chose her to become both an IRS attorney who would spend years hounding taxpayers and a raging anti-tax Tea Party crusader against big government. She kicked off her unofficial presidential campaign in New Hampshire, by mistakenly declaring it the birthplace of the American Revolution. "It's your state that fired the shot that was heard around the world!" she gushed. "You are the state of Lexington and Concord, you started the battle for liberty right here in your backyard."...
GOP Willing to Create Economic Catastrophe
to Protect Tax Loopholes for Corporate Jets


By Robert Creamer
Political Strategist

June 26, 2011 - Last week Republican Majority Leader Eric Cantor walked out of the negotiations aimed at preventing America from defaulting on its debt and pushing the country back into economic free fall. What was the impasse that led him to take such a "principled" and risky stand?

The Republican leadership refuses to even discuss eliminating tax loopholes for CEO's who fly corporate jets.

That's right, the GOP -- that claims to stand up for the everyday Tea Party activist -- is willing to risk the jobs of millions of Americans because they won't give an inch when it comes to massive tax benefits for the wealthy.

Instead, the Republicans have proposed eliminating Medicare and raising annual out-of-pocket health care costs for seniors -- who have an average annual income of $19,000 a year -- by $6,000 per person.

Now, that sounds like something worth risking the economy over, doesn't it? How outrageous that the Democrats should demand that corporate CEO's, who last year made an average of $11.6 million per year -- and oil companies that are having their most profitable years ever -- should have to reach into their jeans and share some of the burden to reduce the national debt.

After all, we wouldn't want to interfere with the 23% CEO pay increases they received between 2009 and 2010. Instead, Republicans would rather force middle class working people to pay -- even though middle class incomes have not increased in real value for over a decade....


By Joe Burns
In These Times

June 27, 2011 - Washington Post columnist Harold Meyerson recently examined the developing trend in which unions abandon the workplace to become pressure groups divorced from collective bargaining and the workplace. As an example, Meyerson discussed the Service Employees International Union (SEIU) campaign to canvass low income neighborhoods to sign up working people into a community-based organization.

"The goal isn't to enroll the people behind those doors in a conventional union" notes Meyerson, "but, rather, into a mass organization of the unemployed and the underpaid that can turn out votes in 2012 and act as an ongoing pressure group for job creation and worker rights during (presumably) Barack Obama's second term."

Like SEIU, an increasing number of union activists and theorists are looking to center union strategy far from the workplace. Rather than relying on the traditional union tactics of organizing, collective bargaining and political action, many trade unionists are instead focusing on protests against corporate targets and community organizing. Such actions get members into the streets to directly confront corporate profiteers and allow unions to organize around broad-based themes.

But as commentator Randy Shaw notes, the idea that building "some new and amorphous 'mass organization' that will help elect and then pressure pro-union politicians reflects a strategy that has already failed, and ignores that union power is based much more on the success of workplace organizing."

Indeed, many recent labor books and articles promote strategies far removed from the traditional home of the labor movement-the workplace. Thus, we have calls to focus on building regional worker rights campaigns, citywide workers assemblies, and to move beyond collective bargaining to a broad-based populism promoting consumer mortgage strikes rather than worker strikes....
Woman Gang-Raped by 7 Halliburton Employees
'Signed Away' Her Right to Sue? How Justice Has Become the Privilege of Corporations: Access to justice - like access to elected office, let alone a pundit's perch - is becoming a perk just for the rich and powerful.


By Laura Flanders
The Guardian via AlterNet,org

June 29, 2011 - Worried about the influence of money in American politics, the huge cash payouts that the US supreme court waved through by its Citizens United decision - the decision that lifted most limits on election campaign spending? Corporations are having their way with American elections just as they've already had their way with our media.

But at least we have the courts, right?

Wrong. The third branch of government's in trouble, too. In fact, access to justice - like access to elected office, let alone a pundit's perch - is becoming a perk just for the rich and powerful.

Take the young woman now testifying in court in Texas. Jamie Leigh Jones claims she was drugged and gang-raped while working for military contractor KBR in Iraq (at the time, a division of Halliburton). Jones, now 26, was on her fourth day in post in Baghdad in 2005 when she says she was assaulted by seven contractors and held captive, under armed guard by two KBR police, in a shipping container.

When the criminal courts failed to act, her lawyers filed a civil suit, only to be met with Halliburton's response that all her claims were to be decided in arbitration - because she'd signed away her rights to bring the company to court when she signed her employment contract. As Leigh testified before Congress, in October 2009, "I had signed away my right to a jury trial at the age of 20 and without the advice of counsel." It was a matter of sign or resign. "I had no idea that the clause was part of the contract, what the clause actually meant," testified Jones....
Book Review: Malcolm's X-Factor
Why did Manning Marable's attempt to demystify Malcolm X provoke such conflict?


By Salim Muwakkil
In These Times

Manning Marable's book, Malcolm X: A Life of Reinvention, was published three days after the author's death. Marable, a history professor at Columbia University, was afflicted with sarcoidosis and had been battling the respiratory disease for years. His death just days before the book's publication was ironic given that he had worked for much of his career on the study of Malcolm X-a crucial figure in developing his own sense of engaged scholarship.

Although the book is damn near 600 pages long, its most controversial section is two paragraphs detailing unsubstantiated rumors about Malcolm's alleged relations with a gay white man named William Paul Lennon during his two-year "Detroit Red" incarnation. Marable writes that these rumors are "based on circumstantial but strong evidence" and are only included as part of his general mission to flush Malcolm out, warts and all.

The inordinate focus on this tiny portion of the book is revealing. After all, it represents a very short period in Malcolm's life and, even if true, it allegedly happened during his hustler phase; the very definition of a hustler is someone who values profit more than propriety. As Marable also makes clear, Malcolm showed no indications that he was gay. Yet some of Marable's more fervent critics have condemned the entire book for including this bit of gossip. Karl Evanzz, the author of The Judas Factor: The Plot to Kill Malcom X, said Marable's work has a "hostile tone and a lack of vetting on key allegations, the central one being Malcolm X's alleged homosexual affair." He dismissed the book as "a cavalcade of innuendo and logical fallacy and prevarications."

The question of Malcolm's sexuality has captured attention because, for complex historical reasons, attitudes reproving homosexuality are crucial to the construction of masculinity in the black community. The loss of patriarchal agency and privilege suffered for generations by enslaved Africans and their progeny provoked an exaggerated emphasis on rigid gender signifiers, and much of Malcolm X's iconic resonance derives from his embodiment of that masculine ideal....
Latin America and Socialism of the 21st Century
By Stephen MacAvoy
Socialist Action, via Venezuelanalysis.com
June 28th 2011 - The most advanced political struggles in the world today are taking place in Latin America, specifically in Cuba and Venezuela where forces representing the working class have conquered state power, broken with imperialism and continue to consolidate their own revolutions and assist the leftward advance across the continent.
Socialists should wholly identify with the leadership of the Cuban revolution, with Fidel Castro in particular, and with Hugo Ch?vez in Venezuela which are leaderships that seek to represent the interests of the working class and oppressed worldwide.
First upturn in world politics for 30 years
The advance of the class struggle in Latin America over the past decade was the first indication of an up-turn in the world political situation after the 1990s period of retreat following the destruction of the Soviet Union, the advance of capitalism into Eastern Europe and in Latin America including the defeat of the Nicaraguan revolution.
At its most advanced level this is reflected in revolutionary forces taking power in Venezuela and Bolivia, joining those already in power in Cuba. Additionally other left currents have made advances in Ecuador, Brazil, Nicaragua, Argentina, Peru and other countries, all willing to various degrees to stand up to the demands of imperialism and try to improve their population's living standards.
Breaking with imperialism is a necessary requirement for advancing the living conditions in Latin American....
Youth Say Race Still Matters--
So What Are They Doing About It?


By Juell Stewart
ColorLines

June 28, 2011 - Earlier this month, our publisher released a report, "Don't Call Them Post-Racial," which surveyed attitudes about race in key systems in U.S. society among young adults 18-25.

Dom Apollon's research team conducted focus groups with dozens of young people in the Los Angeles area, and learned that their thoughts on race are far more nuanced than most polling and commentary has suggested. Theirs is the most diverse generation in U.S. history, but that doesn't make them post-race. Rather, the young people in the focus groups made clear that they believed race still matters today.

The young people struggled for language to define racism and they differed across racial groups in how they saw race impacting society. But they identified race as a "significant problem" in a few key areas, with all racial groups agreeing that race remained a problem for both criminal justice and employment. Young people of color identified education as a particular trouble spot as well.

They also differed in what they thought should be done about these problems-while white Millennials, as this generation has been dubbed, largely identified racism as driven by individuals and demanding individual solutions, young people of color were more likely to identify racism as a collective problem that demands political action to resolve. As Apollon wrote, "All of these ideas are crucial to understand because they also shape how this generation will choose to act upon racism and racial injustice."

So to make these ideas more concrete, we talked to five organizations and campaigns that are working with Millennials to tackle racism as a collective, systemic problem rather than an individualized, personal one. Here's what they had to say about their work....
Become a CCDS member today!
The time is long past for 'Lone Rangers'. Being a socialist by your self is no fun and doesn't help much. Join CCDS today--$36 regular, $48 household and $18 youth.
Better yet, beome a sustainer at $20 per month, and we'll send you a copy of Jack O'Dell's new book, 'Climbing Jacobs Ladder,' drawing on the lessons of the movement in the South in the 1950s and 1960s.
Solidarity, Carl Davidson, CCDS