April 27 | 8:30am-11:15am | 1201 15th St NW in DC
Register Online Free for up to 3 staff per Member Organization

Our Nonprofit Media Summit will feature a dozen reporters from print, broadcast and online media with break out panels on Education, Health, Arts, and Social Issues. See more online.

WELCOME & TRANSITIONS

The Roundtable welcomes Small Act Network and Casey Golden as a Corporate Partner. Small Act Network helps nonprofits be successful in social media.



JOBS & OPPORTUNITIES




►

Our Opportunities page has updated deadlines including Wash Business Journals' Nonprofit/Business Partnership award, Bank of America's upcoming deadline; and re:Act Media's contest for a professionally produced 5 minute video.



►

Our CEO Jobs has new listings as does our Jobs at Member Organizations.

Budget Advocacy:
Click here for updates on our budget advocacy engagement including an APR 8 budget briefing in VA and updates from jurisdictions around our region.

Related: The Roundtable's Chuck Bean, DC Fiscal Policy Institute's Ed Lazere, and District Alliance for Safe Housing's Peg Hacskaylo were cited in an article about "tax breaks for new or expanding nonprofits," in the Washington Business Journal. Ed said, If the city was really interested in helping nonprofits, "we'd be thinking about making sure the agencies have enough money to pay the providers to provide their services."


MAR 23: Capital Area Foreclosure Network convenes: Foreclosure Crisis: Data, Resources, and Tools for Government, Funders, and Nonprofits - at the Urban Institute. RSVP.
Media Impact: After a related story of our foreclosure work on Univision TV Wednesday night, "our hotline received more than 300 calls on the Spanish hotline" in less than 24 hours (see related press release).

Our Twitter feed has up-to-the-moment new
s on Members.

Our Future Executive Directors Fellows recently participated in a financial literacy seminar with Gelman, Rosenberg and Freedman. In addition, Volunteers of America Chesapeake's Russ Snyder and Family Matters of Greater Washington's Tonya Smallwood facilitated a discussion on the importance of creating a sound financial framework. More photos online.

► Paul Light says "the nation's nonprofit sector is a leading indicator of economic collapse and recovery. It tightens first as anxious donors hold onto their dollars, and rebounds last as anxieties finally fade," in the Washington Post's On Leadership forum.

►National Law Journal publishes in-depth reports on the impact of cuts in legal aid programs around the country.


ACTion Alex
andria - the new local grassroots philanthropy website - is now partnering with Friends of Guest House - with all donations up to $500 being matched. Carpenter's Shelter raised a multiple of their goal in February! Check out NBC4's story on ACTion Alexandria.

Bank of America's annual Neighborhood Excellence Initiative was
profiled in the Washington Post/Capital Business. They are now accepting applications for their Neighborhood Builders awards - several Roundtable Members have won in the past few years. Deadline: June 1.

The Board of Trade's Jim Dinegar and Deloitte's Gary Tabach were among the business leaders who recently met with Mayor Gray, according to the Washington Post and the Washington Business Journal. The BOT's support for a gas tax in Maryland was cited in a Baltimore Sun editorial.

Bright Beginnings has launched a challenge to read 400 books to their infants, toddlers, and preschoolers in celebration of Read Across America Month, according to their newsletter (no link).


The Capital Area Food Bank's Lynn Brantley talked about hunger in our region's suburbs, in a story on WAMU 88.5FM. Separately, they are partnering with stylist Paul Wharton as an Ambassador Against Hunger, according to The Examiner; and have a novel engagement with the Field To Fork blog network. Their annual (and spectacular) Blue Jeans Ball is on April 10, according to their press release.

A CASA de Maryland rally brought 1500 Maryland students to Annapolis in support of the Maryland DREAM Act, according to Patch and WAMU 88.5.

Casey Trees has scheduled the planting of more than 750 trees at 47 sites this spring, according to The Washington Post.

The Center for Nonprofit Advancement's Glen O'Gilvie discusses challenges and strategies to building a diverse staff and board with Diane Bell McKoy (Associated Black Charities) and Tom Adams (Transition Guides) on their weekly tv show Connections.

The Children's Law Center of DC's Judith Sandalow was quoted on the need for serious reform in the District's Child and Family Services Agency in The Washington City Paper.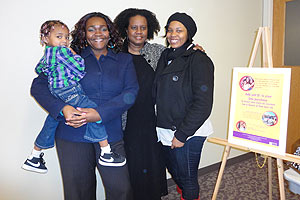 Community Family Life Services is working with an American University Public Relations class to create a strategic PR plan, according to an AU press release.

DC Appleseed's annual HIV/AIDS Report Card continued to receive coverage in The Washington Blade and The Washington City Paper. Metro Teen AIDS's Adam Tenner said the report "clearly delineates" the need for better sexual education in DC schools," according to The Examiner.

DC Hunger Solutions' strong partnership with the Wal-mart Foundation to "to help provide equipment, training and technical assistance to increase participation in the school breakfast program in D.C. schools," was featured in a press release.


A DC Vote briefing on DC's lack of local autonomy and voting representation featured Mayor Gray as the keynote speaker, as well as the Community Foundation for the National Capital Area's Terri Lee Freeman; DC Appleseed's Walter Smith; DC Vote's Ilir Zherka; and DC Fiscal Policy Institute's Ed Lazere, according to an action email.


Doorways for Women and Families is expanding its partnership with The Arlington Partnership for Affordable Housing, which will allow Doorways to house five families in large apartments at low rents, acording to The Sun Gazette.




The Freddie Mac Foundation co-sponsored a recently-completed Habitat for Humanity 53-home development, according to a press release.

The Friends of Fort Dupont Ice Arena's success in keeping the arena open and flourishing was mentioned inThe Examiner.

IMPACT Silver Spring's participation in the steering committee for Silver Spring Green was mentioned in Patch.

A Jewish Social Service Agency forum on Internet safety was cited in Patch.

Junior Achievement of the National Capital Area was awarded
the Organizational Navigator Award by the Entrepreneur Center @ NVTC, reports Citybizlist, and The Washington Post. Separately, JA will participate in President Obama's Startup America Campaign, according to a White House press release.

REPORT! The Kimsey Foundation and the World Bank Community Outreach were among the sponsor of A Plan for Evaluating the District of Columbia's Public Schools, according to a press release.

Latino Economic Development Corporation's Farah Fosse commented on Tenacity Group's difficulty in selling two rent-controlled properties in The Washington City Paper.

The Living Classrooms Foundation will host US Representative John Sarbanes and the White House Council on Environmental Quality Chair Nancy Sutley in honor of President Obama's initiative "America's Great Outdoors," according to ABC2.

REPORT! Maryland Nonprofits released "Nonprofits by the Numbers 2010," a report that "tells a remarkable story of nonprofit resilience" during the last year, according to their Member Update.

Melwood is posting a series of articles on their blog this month to commemorate National Disabilities Awareness Month. Separately, their recent television ad captured an Addy, a top award this week at the annual DC Ad Club awards.

Meyer Foundation's Rick Moyers offers 'Two Questions NPR's Board Should Ask' in his blog on Boards at the Chronicle of Philanthropy.


Miriam's Kitchen's partnership with the First Lady, who donates produce from the White House Kitchen Garden to the organization, was mentioned in The Hill.

Sasha Bruce Youthwork's work with teens was featured in The Washington Post.


Washington Area Women's Foundation's Nicki Goren offers a 3 minute video recognizing March as Women's History Month.

The Washington Legal Clinic for the Homeless's late outreach worker, Mary Ann Luby, will be honored at the Council for Court Excellence's Justice Potter Stewart Awards ceremony, according to The Blog of Legal Times.


More events available online.