Native Sounds: Joey Stylez
Joey Stylez is Cree-Metis and a Moosomin First Nations Tribal member. Moosomin is located in Saskatchewan, Canada. He had a rough upbringing and overcame that by using his talent for putting a positive light on his Native heritage. For example, his song "Living Proof" describes the mistreatment of First Nations People of Canada. Joey Stylez was given an opportunity to perform "Living Proof" for the Prime Minister of Canada and in front of a live television audience. The performance was part of a healing process between the Canadian Government and the First Nations People. Joey Stylez grew up in Canada--a country not known for it's Hip-Hop music when compared to the United States with city media giants such as New York City.
Joey and his friends started their own record label versus waiting around and looking for their big break. His musical talent started out as rap/hip-hop and has since progressed to a finished first album which has elevated his skills to another level.
Tobias Grant recently spoke with Joey Stylez about The Black Star album, his expericne shooting his first music video and starting his own clothing line.
"Kool Running" (The BlackStar)

"We Get This" (The BlacksStar)

"Indian Outlaw" (The BlackStar)
Interview with Joey | Joey's Facebook Page* | Joey's MySpace Page* | Joey's Website*
*Caution: Some material may not be suitable for those under 17 years of age.
NAPT's AIROS Audio Programming Prepares for Some Heartfelt Goodbyes and a New Beginning for 2011
Since 1997, Native American Public Telecommunications, Inc. (NAPT), the non-profit parent organization for AIROS Audio, has been streaming Native American programming over the Internet via a 24/7 live webstream. Through a partnership with the University of Nebraska-Lincoln's Institute of Agricultural and Natural Resources, NAPT has been able to provide this service at a reasonable cost to the organization.
On December 31, 2010, at noon CST, the AIROS 24/7 live webstream will sign-off. AIROS Audio will continue to feature downloadable podcasts.
"With the number of podcast downloads on the rise for NAPT's AIROS Audio and our renewed focus, NAPT embarks on a new pathway in 2011. Expect a wonderful array of brand new AIROS Audio podcasts highlighting a new look and fee," explained NAPT Marketing Director Jessica Kinser.
Listeners who have made the AIROS live webstream a part of their lives will undoubtedly feel a void. To remedy this, NAPT recommends our fellow Native radio companions for live Native music. Please visit www.airos.org/streams for a full directory of Native live webstreams.
"NAPT's AIROS Audio sends out a huge heartfelt thank you to all of our many listeners over the years--past, present and future--for their support," stated NAPT Assistant Director Georgiana Lee (Navajo).
AIROS Audio on iTunes
As you are downloading tracks using the iTunes gift card you got from your Auntie, don't forget there is FREE Native content for download off of iTunes. All AIROS podcasts can be found on iTunes. Just search "Native American" or simply follow these links:
Staff Picks: Holiday Songs
This holiday season, tune-in to the AIROS live webstream from December 22 to December 25 for a wide selection of sounds of the holidays--from Native twists on traditional classics like Little Drummer Boy to original Native compositions like Bill Miller's "Cedar, Sweetgrass and Sage." Here are some of our favorites around the office.
Shirley's Pick: Hark the Herald Angels Sing by Jana Mashonee (Lumbee)
Aden's Pick: Winter Wonderland by Arvel Bird (Shivwit Band of the Southern Paiute-Me'tis and Scottish) and Fred Rothert
Georgiana's Pick: Dine' Christmas by The Plateros
Jess's Pick: Ave Maria by Bonnie Jo Hunt
Tobias's Pick: Three Shaman by Red

Nativity (One Holy N

ight)
Alex's Pick: Silent Night (A Sacred Gift) by Bill Miller (Mohican)
Tune-in to hear your favorite Native song of the season sung in Lakota, Cherokee, Cree and more!
Celebrate Winter Solstice AIROS Style!
In celebration of the Winter Solstice, we will be telling stories on the AIROS live webstream all day long on Tuesday, December 21. So get comfy in front of the war
m glow of your computer monitor and enjoy strories from Joseph Marshall III (Lakota; pictured right), Gloria Eshikibok (Oddawa), Gregg Howard (Cherokee, Powhatan) and many more.
Listen now
20% Off VisionMaker DVDs for the Home
Make their season bright with DVDs from VisionMaker!

Enter Offer Code MERRY10
to Save 20% Off*

Hurry! Offer won't last long.
*Coupon Code MERRY10 is valid until December 24, 2010. To redeem coupon, sho
pping cart subtotal must be a minimum of $49.00.
Coupon Code is valid on home DVD titles only. Certain DVD titles do not apply. For a complete listing of the titles that do not qualify for the Coupon Code, please visit
visionmaker.org/wholesale
. Coupon Code may not be combined with other offers.
Producer Profile:
Kate Montgomery
Christmas in the Clouds, written and directed by Kate Montgomery, is a Native American comedy of errors that humorously defies Native stereotypes on the big screen. Set at a plush Tribal owned and operated ski lodge, Christmas in the Clouds combines multiple cases of mistaken identity and a cast of quirky characters that flies "in the face of stereotypes about Native American people," says Montgomery.

VisionMaker Holiday Favorites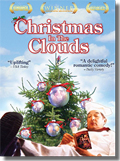 A suprise visit to the Sky Mountain Resort by a major travel guide sparks mayhem, romance and comedy in this critcally praised holiday feature.
Features illustrations by Jesse T. Hummingbird (Cherokee)
A Native American Night Before Christmas
This amusing animated video storybook presents a whimsical look at what a Native American Christmas Eve might be like when Old Red Shirt (the Indian Santa Claus) comes a-calling with his team of flying white buffalo to deliver commodities, fry bread and other goodies.
The Twelve Days of Native Christmas
The whole family will enjoy this whimsical adaptation of the timeless classic yuletide song "The Twelve Days of Christams" adapted to a Native American perspective with twelve different Native American groups represented in the lyrics and images of this fanciful, animated short film.
NAPT Receives Funding from: