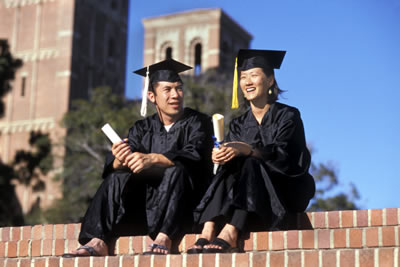 Read these two sentences out loud:
"Here is a picture of two university graduates. Did they graduate with an advanced or graduate degree such as a Ph.D?"
How did you pronounce the words in italics? The first "
graduate
s" is a noun of three syllables. The first syllable is stressed and the final or third syllable should be pronounced "its." In the second sentence "Did they graduate..."
graduate
is a verb that ends with a syllable pronounced "ate." The third use of
"graduate"
is as an adjective describing what type of degree and ALSO ends with "it." Also, in all three versions, the middle syllable "du" is pronounced "jew" not "do" and is linked to the "it" or "ate" with a "w" sound so that it sounds like either "wit" or "wait." The word should sound like "
GRA jewit
" (noun or adjective) or "
GRA jewait"
(verb.)
This IT vs. ATE ending distinction applies to many other words commonly used in the business, scientific, medical and academic professions. The version ending in IT is the noun or adjective and the pronunciation of ATE is the verb and this is a critical, obligatory distinction that determines meaning. These include
advocate, estimate
,
duplicate
and
syndicate,
where the "it" ending indicates a noun and
duplicate
and
moderate
where the "it" ending indicates an adjective. "That is a duplicate." (noun) "I will make a duplicate set of drawings." (adjective) or "We can't duplicate those findings." (verb) Another example is: "My estimate (IT) isn't ready because I have to estimate (ATE) our subcontractor's fees."