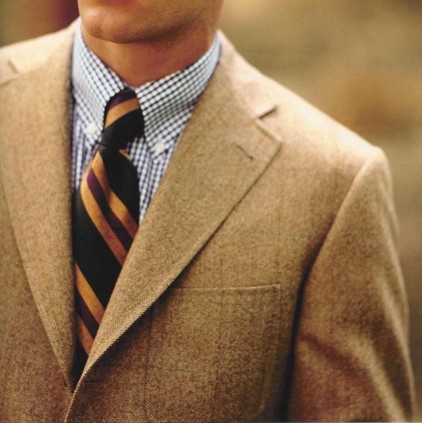 Today's casual business clothing is not limited to the traditional dark slacks or khakis with sport coat or blazer. Current options include sophisticated menswear that maintains your individual style while allowing you to dress down.
First, consider pairing a custom sport shirt with a cashmere or merino sweater. High-quality fabrics and fibers offer an undeniably classy look and feel to your clothing, including your sportswear.
If the weather requires outerwear, a tailored casual sport jacket crafted from a heavier fabric can offer you a great-fitting outer layer. This approach works well with traditional tweed fabrics, giving you both a timeless appeal and a custom fit in your casual outerwear.
Next, bring in a pair of tailored flannel or twill trousers to give you perfect comfort and style throughout the day without the informality of jeans. Custom-made trousers can be crafted to your exact specifications and taste.
Finally, select high-performing accessories that coordinate with your look. Leather belts and carry-all bags can help you maintain your professional image and yet still be rugged and functional enough for everyday use.
Call us to discuss updating your business-casual clothing, and we'll share with you our showcase of fantastic casual fabrics.