Greetings!




It is with great enthusiasm that I update you on the progress our Board has made over the last six months and introduce myself as the Board's incoming President.

We now have a name! After a creative process (that included brainstorming with the 7th and 8th graders from area Montessori schools), we are pleased to announce Beacon Academy Montessori High School. Many thanks to Simple Truth (a Montessori connected group of creatives) for designing our logo and identity.

These last few months have been busy indeed. We have been interviewing innovative Montessori minded educational leaders for the Head of School position, analyzing potential sites for the school, meeting with architects and educational designers, developing fundraising strategy, and creating a website and marketing plan. We have worked hard on curriculum, forming connections with institutions and organizations for programming, and creating a strong vision and mission in line with our stated values.

We will open the school in Fall 2014, not only as a natural continuation of Montessori education, but as a leader in innovative secondary education, preparing our young people to approach college and adulthood with compassion and confidence for an ever changing and global world.

Thank you to Sarah Harding for leading this project this past year and for her dedication and hard work going forward. I am grateful and honored to be working with such impressive individuals on this Board and in our communities to move Beacon Academy forward to its next phase of fruition.

Sincerely,

Danielle Loevy
Community Relationships and Program Partners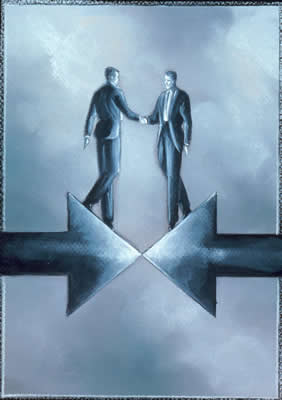 One of the guiding principles of Beacon Academy is that an effective curriculum, one that keeps the fire in adolescent's eyes burning brightly, must follow the student's natural interests and passions. To that end, Beacon believes that learning need not - indeed, must not - be limited by the walls of the classroom or even of the school itself. We are developing collaborative relationships with a wide variety of academic, cultural, and community service institutions to further this goal, such as Piven Theater, Musical Offering, Evanston Art Center, and more.
Along these same lines, Beacon is excited about its relationship with Northwestern University's Center for Talent Development (CTD). CTD offers a wide array of interesting and specialized courses for students who have demonstrated a strong interest for (and ability in) particular coursework. With a Beacon teacher's recommendation, any student can request or join a course of their choosing. Courses range from "The Influence of Art & Architecture" to "World Theater" to "What is Just? Introduction to Political & Moral Philosophy" to learning Mandarin. Following the student's interests and curiosity is truly Montessori in action!
Furthermore, students will take initiative to develop their own connections to experts in a variety of fields which will allow them to see their learning in action, receive feedback, and develop and practice a wealth of skills, such as resilience, that will serve them well on their academic and life journeys.
With research in learning theory, psychology, and neuroscience directly and indirectly supporting Montessori's educational philosophy, it is an exciting time to be involved in establishing the first Montessori High School in the Chicago area.
The Ideal Space
The process of designing a new high school presents us with opportunities beyond curricular innovations. Following Montessori's example, we are in a position to rethink everything we have known about the constructs of a school. In so doing we will allow ourselves to consider all possibilities. At one end of the spectrum, we have debated preserving the landmark Harley-Clarke mansion. We have also engaged in enlightening conversations with educational architects around the concept of a classroom without walls; one that truly lives within the community. The result of this thoughtful process will be a space that supports our IB Montessori philosophy.
Located near Northwestern University's Evanston campus and less than ten miles from downtown Chicago, Beacon will exist at a nexus of academic, art, music, theater, athletic, civic, medical, commercial and community service institutions. Beyond the classroom, students will engage in field work and apprenticeships with experts with whom they can problem-solve, collaborate, and experience work with direct application.
The Beacon Board is committed to securing a space that will dovetail with the aspirations of the school. The ideal location would be within walking distance of downtown Evanston and Northwestern's campus, as well as public transportation.
The Board is interviewing architects who specialize in educational spaces to work with Beacon's vision.
Modular furniture and moveable walls will accommodate expanding spheres of engagement:
This exciting vision gives us much to consider in a short amount of time, and we look forward to updating you as we move efficiently through the process.
Turning Challenge into Success
Fundraising Counsel is Hired

Investments in ideas are necessary to make great things happen. Experts in progressive and Montessori education have given countless hours to Beacon Academy in developing the curriculum. The Board of Directors has enthusiastically dedicated their time, talents and treasure to making the vision a reality. Beacon has created a buzz in the Chicago secondary school community. In order to see it come to fruition, financial contributions are needed.
100% of the Beacon Academy Board of Directors has already committed.
The Beacon Academy board has hired K2 Consulting Group, a fundraising consulting firm, to provide counsel to the board and volunteers in developing strategies for raising funds for Beacon. Kathy Kraas, President of K2, will be working hand in hand with the board to design and execute a fundraising program that will provide the necessary resources for Beacon Academy's birth and first years of operation. Kathy was referred to Beacon as a perfect partner for our blossoming, young school. She comes to us with excellent references from over 25 years of experience building non-profit schools, agencies and associations from the ground up as well as executing successful campaigns for organizations with budgets from $1 to $ 100 million throughout Chicago and across the country.
We hope you will consider participating in the founding of Chicago's first Montessori International Baccalaureate High School.
Our Head of School Search Continues

The Beacon Board of Directors has undertaken the process of hiring our founding Head of School. Beacon has attracted highly skilled, broadly experienced innovators in education who want to lead our school in its auspicious beginning. These professionals know the value of both the International Baccalaureate and Montessori curricula. We are excited about the candidates we have seen to date, and intend on naming our Head of School soon.

Perhaps you have been involved in preliminary interviews of candidates to date. If so, please know that your time and input are truly valued in shaping our school. Thank you!
Thank you for taking the time to read our newsletter. We will continue to send you regular updates (approximately every two months) providing insight into our team, our progress, and our vision.
The Beacon Academy
Montessori High School
Our Board
Officers
Brian Abrams - Vice President (Parent, Montessori School of Lake Forest)
Brian King - Treasurer (Parent, Near North Montessori)
Educators
Lissa Hektor - Former Exec. Director of Montessori School of Lake Forest
Lynn Lillard Jessen - Co-Founder, Forest Bluff School
Audrey Perrott - Exec. Director, Near North Montessori


Ed Hollinger - Exec. Director, Chiaravalle Montessori

Other Members
Jill Greer (Parent, Chiaravalle Montessori School)
Sarah Harding (Parent, Chiaravalle Montessori School)
Suzanne LoSasso (Parent, Rogers Park Montessori School)
Please send an e-mail to one of our officers by clicking on their name above.
P.S. Please don't forget to Like Us on Facebook!
If you know of someone else that might be interested in receiving our newsletter, please forward: