TELL US YOUR STORY

Featured Article
If you are a foreign born professional, we would like to hear from you. We are very interested in the story of how you are overcoming self-doubt and learning new skills.

We would be happy to feature your story in a future issue.

trOur Mission is to help our clients transform their accents from a communication barrier to a charming cultural flavor using "listener friendly" speech.

Order Mastering Meaning from Lulu.com today online. For an autographed copy contact Judith Bergman through our web site. (Pay for autographed copies with check by mail or credit card phone order only). $19.99 + S & H and applicable sales taxes.

r
Our clients who practice with a patient and positive attitude have an enjoyable learning experience.
Go to our Archive Home Page to read more fascinating newsletters.
Triangle Speech Services
is the private, professional practice of Judith L. Bergman, a licensed speech-language pathologist (SLP) who specializes in foreign accent and regional dialect modification and related communication skills. I offer customized, individual tutorials to corporate-sponsored and self-enrolled individuals who speak English fluently but with moderate to severe accents that create challenges and frustrations in the workplace.
My experience of making very slow, but remarkable personal progress learning the Taoist form of Tai Chi since October 2012 is teaching me a valuable life lesson that, as usual, I am eager to share with my regular readers whether or not they are former, current or future accent modification clients.
The belief in the infinite perfectibility of a skill means that a person can keep growing, keep learning and keep improving, sometimes in subtle ways, over a long period of time and in small increments of progress.
Lessons I've Learned While Practicing Tai Chi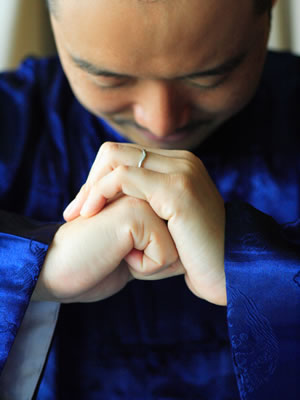 1.

I have"graduated" from the twice-weekly, four month Beginning Class and have learned the basics of the 108 part "form.

" I am now able to do the entire form without "peeking" at the list of moves or needing to follow the instructor. In January I started attending the "Continuing" class where we also practice foundation exercises to build up strength, coordination and balance.
2.

BUT I have chosen to keep on attending the Beginning Class AND ALSO stay for the Continuing Class.

I am amazed at how many subtle details of each move---hand movements, placing the feet, stepping with an"empty step" and weight shifting, moving from the spine --- I can continue to perfect at the beginning level. I am on my THIRD four-month Beginning Class cycle while attending the Continuing Class that follows.
3.

I am happy with myself.

I am balancing on each leg for the "kick" sequences so much better. I am feeling such a peaceful flow as I go through the entire set with the much more advanced continuing students.

I can quietly watch and observe the demonstrations and receive individual corrections in the Continuing Class without getting upset with myself.


4. I am able to go through the set by myself each morning that I'm not at Tai Chi, at home on my deck facing the woods, bowing to the trees, and

my mind is quiet without depressing me with self-criticism!



Perfectionism is the formula for burnout!

The philosophy of perfectionism has been called "just a form of self-abuse" by Pam Thomas, M.S. in her on-line course, Overcoming "Not Good Enough." A person with this belief system, often fostered by his native culture and family, is never happy unless he is the best, is a straight "A" student and never makes any mistakes! This is the " "Olympic

gold medal

" mentality and doesn't work in most areas of life. Since perfection is impossible, there is always the "inner critical parent," the constant inner critic forever saying, "That's not good enough and you're not good enough." This is definitely "self-abuse."
Banish perfectionism! Silence your inner critic when you sit down to practice your accent modification lesson or to tackle ANY task! When you practice carefully and still hear an accent feature persisting, tell yourself, "If I can hear it, I can fix it." Have confidence in the program, have confidence in the instructor and most of all have confidence in yourself! Recognize small steps of improvement. Welcome mistakes and encourage honest feedback from your listeners. Your pronunciation of American English can slowly start to improve from day one and can be infinitely perfected without needing to be perfect!
We invite you to click on
Triangle Speech Services
to visit our informative website. Our goal is always to provide information, inspiration and encouragement since these are essential components of any successful learning experience.
My Tai Chi experience is teaching me that I am NOT too old to learn and remember complex movement patterns!! I schedule my accent modification client appointments AROUND my Tai Chi schedule because I no longer am "
waiting until"
the time is right. At this time in my life, "until" is NOW! Could this apply to you?
If you are seriously considering enrolling yourself or an employee in an individual tutorial with us or simply want to talk to us about our programs, please contact us through the contact page of our
web site
.
Sincerely,
Judith L. Bergman M.A. CCC-SLP
Speech-Language Pathologist and Corporate Speech Trainer
Founder & Director of Triangle Speech Services