BING wants you to be an intern!
The Biodynamic Association is seeking BING interns to help us connect young people interested in and practicing biodynamics. If you would like to work with BING to initiate and organize a gathering in your community, we want to hear from you! Learn more...
Connect with BING on Facebook

Welcome to the first BING e-newsletter
! In each monthly issue we will share news, events, and opportunities relevant to you. Have something you'd like to share with others? Send it along to me at bing@biodynamics.com and I will include it in a future issue.


- Thea Maria Carlson, BING Coordinator
Background on BING
If you've just subscribed to our e-newsletter, you might be wondering -- what exactly is BING anyway? The Biodynamic Initiative for the Next Generation (BING) is a new project of the Biodynamic Association which creates opportunities for the next generation of farmers, apprentices, educators, activists, and others inspired by biodynamics to connect, share, and learn from one another.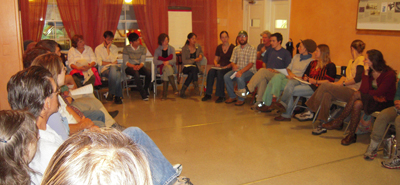 BING brings young people together through several channels of communication, including an e-newsletter, a forthcoming social networking platform, local meet-ups, and regional and national events and gatherings. Learn more about BING...
BING Gatherings Begin!
Following our successful germination at the fall National Biodynamic Conference, we are excited to organize the second official BING event this summer, a Young Farmer Gathering at Angelic Organics in Caledonia, IL. This event will bring together young agrarians for a combination of education, community building and celebration. We hope this initial event in the midwest will spark many more gatherings in other regions, whether three people get together to work in a garden or fifty people watch and discuss the new film, "Queen of the Sun." If you're hungry for a meet-up in your community, consider becoming a BING intern and organizing an event with our help!
BING Activities
Young Farmer Gathering, August 13-14
Angelic Organics Farm and Angelic Organics Learning Center, Caledonia IL
Join BING and Upper Midwest CRAFT for a summer gathering of young (and young at heart) farmers and friends! Come meet and mingle with fellow young agrarians and take part in a lively weekend including:
a tour of the historic Angelic Organics Farm with Farmer John Peterson

interactive workshops on partnering with chefs, accessing land, and cultivatin

g the social sphere of the farm

potluck dinner and networking
screening and discussion of the new film about young farmers and food entrepreneurs, "The Greenhorns"
music and bonfire
campout and breakfast for those who wish to stay overnight
Schedule and travel info at www.biodynamics.com/bing#activities
RSVP or volunteer to help: bing@biodynamics.com
Upcoming Events
The following is a sample of upc

oming events liste

d on our website. For full details on these and many more events, please visit our calendar.
To share events, please email
bing@biodynamics.com
.
July 17-29: Training Course in Biodynamic Farming: The Spirituality of the Earth and Finding One's Destiny Path, Ecuador
July 18-23: International Youth Conference: "Embrace the Seeds of Renewal," Detroit, MI
July 21-23: Beekeeping 3-Day Intensive Biodynamic Workshop with Gunther Hauk, Spikenard Honeybee Sanctuary, Floyd, VA
July 29-30: Sacred Agriculture - A Lecture Series by Dennis Klocek, Viroqua, WI
July 30: Food Preserving Workshop, Pfeiffer Center, Chestnut Ridge, NY
Aug. 8: JPI Open House Josephine Porter Institute, Woolwine, VA
Aug. 12-14: NOFA Summer Conference with Northeast Animal Power Field Days, UMass, Amherst, MA
Aug. 18-21: Annual ACGA Conference: Community Gardening Works!, Columbia University, New York City, NY
Aug. 27: Honey Harvest, Winter Production, Mite Treatment, Spikenard Farm, Floyd, VA
Opportunities
The following is a sample of opportunities posted on our website. For a full and current list of opportunities available, please visit our forums. To share employment, internship, or other opportunities, please email
bing@biodynamics.com
.
Intern or Farm Assistant - Granja Valle Pintado - Argentina
Granja Comunitaria Valle Pintado (Painted Valley Community Farm) is located 6 kilometers outside of the lively artisan town of El Bolsón, Argentina among the Patagonian Andean mountains on the 42nd latitude, and along the banks of the pristine Río Azul river. We work the land through manual-style, low-till, organic agricultural practices, inspired by the principles of Steiner's biodynamics, the natural farming of Fukuoka, and permaculture. The farm is looking for interns and volunteers from mid-August through May.
Field Manager - Hawthorne Valley Farm - Ghent NY
Hawthorne Valley Farm (www.hawthornevalleyfarm.org) is looking for a field manager to join its team of farmers. This is a full time position with benefits and housing. Main responsibilities are tillage, compost management, all aspects of forage harvest, application of the biodynamic preparations and equipment maintenance. The field manager joins the livestock team as member of the milking rotation and chores team.
Farmer Sought for Small Biodynamic Livestock Operation - Hudson, NY
Pleroma Farm, a small biodynamic livestock operation and therapeutic retreat center in Hudson, NY is looking for a farmer to help us run our farm business. Applicants must have a minimum of one year experience with livestock, farm machinery, and organic or biodynamic methods. Read more...
Biodynamic Practitioner for Winery - Ukiah, CA
Parducci Winery in Ukiah, California is a certified organic and certified biodynamic vineyard of 90 acres. While we meet the basic requirements for certification as biodynamic, we desire to develop a more comprehensive program. Since farming is carried out by management companies, what we really need is a person dedicated to biodynamic principles to be part of that team.
Farmer Consultant for Ecovillage in Jamaica
The Source Farm Foundation and Learning Village is a multi-cultural, intergenerational eco-village, located in Johns Town, in the parish of St. Thomas, Jamaica. The Source Farm is seeking a biodynamically trained farmer for a 6-12 month position, to help get the farm off the ground and train locals in biodynamic farming.
Biodynamic Initiative for the Next Generation
BING is a program of the Biodynamic Farming & Gardening Association