Inspectah Deck & N.O.R.E tonight at SOB's

It's going down tonight Wu-Tang's Inspectah Deck and one of Queen's finest N.O.R.E. are going to be rocking SOBs for their "Hip-Hop The Movement" event. Other artists performing include, Waffle Gang, Named Bran and more! Make sure to get there on time because SOBs door will only be open until midnight.
WHAT:
Inspectah Deck, N.O.R.E. + more
WHEN: Wednesday, June 6th
doors 7pm-12am
WHERE: SOBs. 204 Varick Street, NYC
TIX: Click here to buy
18+
-----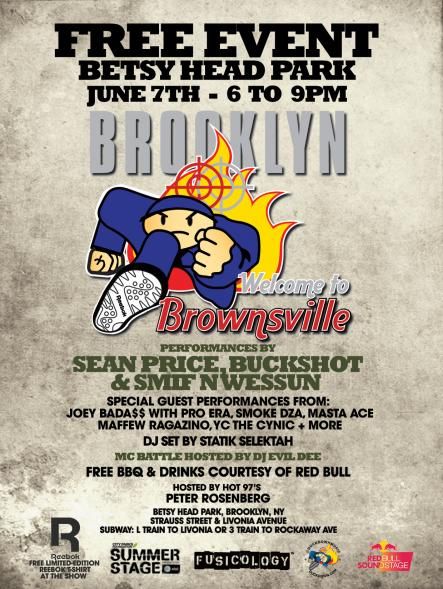 Welcome to Brownsville
Last week, Masta Ace tore down Public Assembly and this week he's back in Brooklyn with some of Duck Down's finest for this FREE Summer Stage event featuring Sean Price, Buckshot, Smif N Wessun, Maffew Ragazino + MORE!
Our friends over at Red Bull will also be providing FREE BBQ and drinks to this all ages event. Just make sure to bring an umbrella just in case mother nature decides to bring a little rain.
WHAT: Smif N Wessun, Masta Ace + MORE
WHEN: Thursday, June 7th
6pm-9pm
WHERE: Betsy Head Park, 865 Thomas S Boyland Street, BK
-----

Brooklyn Live
Brooklyn Live, the brand new monthly concert highlighting a number of Hip-Hop's most talented MCs, DJs, and Producers is back this month featuring Jean Grae, Skyzoo & !llmind, DJ JS1, Boogie Blind, Scram Jones, Fresh Vetz, as well as resident DJs Total Eclipse and Gen.Erik, and host D-Stroy.
If you get there at 9pm you can take advantage of the Sailor Jerry and Asahi beer open bar!
WHAT: Skyzoo & !llmind, Boogie Blind, Totale Eclipse + MORE
WHEN: Thursday, June 7th
WHERE: Public Assembly, 70 North 6th Street, BK
TIX:Click here to buy
21+