BUDGET ADVOCACY
| PREDICTIONS FOR 2011
IMPACT OF GIVING: The Roundtable's Chuck Bean talked about the long-term return on investment offered by local nonprofits in an op-ed on WAMU 88.5FM. (Contact Eduardo to find out more about creating an op-ed on WAMU.) We expect that Chuck and the Community Foundation for the National Capital Region's Terri Freeman will discuss the impact of giving today on WAMU's DCentric blog.



BUDGET ADVOCACY


VA: The Commonwealth Institute published What the President's Compromise Tax Bill Means for Virginia. Learn about 'Nonprofit Advocacy Day in Richmond in January' on Nonprofit NoVA's website.

MD: MD Nonprofits' Budget and Tax Policy Institute reports that today, Dec 15, the Maryland Board of Revenue Estimates will issue its big report on the state's economy and revenues. They advocate for a balanced approach to the budget.

DISTRICT: Many Roundtable members signed on to a letter urging DC Mayor-elect Gray to vote against the homeless residency requirements bill, according to The Washington City Paper. Read DC Fiscal Policy Institute's blog and Ed Lazere's Needed: Budget Cutting With a Long-Term Vision for Recovery. The Fair Budget Coalition and DC Fiscal Policy Institute's leadership on budget equity was mentioned in The Washington Post.

REGIONAL: The Roundtable and the Center for Nonprofit Advancement announced the hiring of Melissa Bondi as the Director of the Think Twice Budget Advocacy Campaign. More info online.


YOUR 2011 PREDICTIONS:
In November, the Board of Trade's Jim Dinegar and Independent Sector's Diana Aviv shared their predictions for what 2011 will look like for area nonprofits.

What are your Predictions for 2011?
How have nonprofits changed in 2010?

We want to share how you think the business of running a nonprofit has changed, what new practice has become standard operating procedure, and what you think are the best solutions for the biggest challenges in 2011. Send us your ideas!

OPPORTUNITIES
Check out our Opportunities & Deadlines page for information about Fair Chance's Partnership Year, Fight for Children's RFP, Freddie Mac Foundation's Outcomes Workshop, the Washington Post Award for Excellence in Nonprofit Management, and more.


Our Twitter Member feed has the latest news on Members. (Email Malcolm if we aren't listing your Twitter account.)

COLLABORATION!
Casey Trees and Deals for Deeds partnered to plant 37 trees and beautify the grounds of Safe Shores DC. Safe Shores' Michele Booth Cole says the trees not only make their facilities more beautiful, but will greatly benefit the young victims of abuse and violence they serve. See the tree-planters in action on Safe Shores's YouTube channel!

Alternative House

partnered with Oakton High School for the annual lacrosse Turkey Shoot-Out, reports Patch.

Arlingtonians Meeting Emergency Needs' Rhea Dola was quoted about the increased need for the EnergyShare utility bill assistance program in The Sun-Gazette.


The Audubon Naturalist Society's Lynda DeWitt clears up the question of whether buying a fake or real Christmas tree is better for the environment in Patch.


Byte Back's Kelley Ellsworth was interviewed in The Center for Nonprofit Advancement's Connections video.

The Cafritz Foundation, The Meyer Foundation, and DC Scores were all recognized at a recent Catalogue for Philanthropy event, according to The Washington Post.


The Campagna Center's Scottish Christmas Walk, drew more than 3000 attendees, according to The Washington Post and Local Kicks.


The Capital Area Food Bank's Stuff a Truck food drives were highlighed in The Washington Post. Separately, The Capital Area Food Bank's work with Sesame Workshop was featured in The Philadelphia Inquirer. Finally, the Food Bank received more than $80k in
donations from the Washington Wizards and their fans, according to The Washington Informer.

Casey Trees and Trees for Georgetown will be planting 54 new trees, according to a press release. Separately, a Casey Trees property used to grow trees for transplanting suffered a fire, reports Northern Virginia Daily.

REPORT! Catholic Charities released data on national disaster services provided by their member agencies, according to a press release.

Community Foundation for the National Capital Region's Celebration of Civic Spirit was featured in Bisnow. In addition, one of their annual Linowes Leadership Awardees, Christopher Barnhill of Metro TeenAIDS, was recognized in Metro Weekly.


Dance Place's Carla Perlo was featured in a interview with DCist.

DC Fiscal Policy Institute's Ed Lazere was mentioned for his input on a possible tax increase at a budget hearing in The Washington Post. Separately, Ed also commented on a proposed cut to child care subsidies in the Post.


DC Hunger Solutions' report from earlier this year, "When Healthy Food is Out of Reach," was mentioned in The City Fix. In other news, DC Hunger Solutions' request that funding for the DC Healthy Schools Act not be cut was mentioned in The DCist.


DC Scores' Amy Nakamoto was interviewed on Fox 5 DC. Their 13th Annual DC Scores Poetry Slam! was covered in The Washington Post; also mentioned in the Post was DC Scores' win of an Enterprise Award, given by The Catalogue for Philanthropy.

DC Vote's Ilir Zherka penned an op-ed encouraging a continued fight for voting rights in The Washington Post that was also quoted from in The Washington City Paper. Separately, a DC Vote's outreach to Mayor-elect Gray was mentioned in The Washington Post.


Doorways for Women and Families' partnership with the Stuff-a-Bus campaign, which collects presents for needy families, was reviewed in Patch and TBD. Separately, Doorways, along with Reston Interfaith, Good Shepherd Housing, and several other organizations, were awarded grants by the Dominion Foundation, reports The Sun Gazette.

Exxon-Mobil's 2010 Employees' Favorite Charities Campaign raised more than $2.8 million for local organizations, including many Roundtable members, according to a press release.

FACETS' cooperation with local churches to host a roaming hypothermia shelter was mentioned in The Burke Connection.

One of the Fair Budget Coalition and Washington Legal Clinic for the Homeless' most influential supporters, the late Mary Ann Luby, was remembered in The Washington City Paper and The Washington Post as well as a touching blog post by the Clinic's Patty Mullahy Fugere.

OPPORTUNITY: Fair Chance announced the opening of its application cycle for the March 2011-February 2012 partnership year on their website.

Father McKenna Center's Tom Howarth was quoted on panhandlers and guilt in The Washington Post.

Fight for Children issued an RFP for early childhood education programs to help achieve the Ready to Learn DC goals.


Friends of Guest House will be part of an Alternative Gift Fair, reports The Connection.


The Greater Washington Board of Trade reported that the region's consumer confidence dipped for the first time in two years, according to Virginia Business.

Higher Achievement Program's Greg Gannon was mentioned in Patch.


IMPACT Silver Spring's participation in the Silver Spring Youth Charrette was mentioned in The Gazette.


Junior Achievement partnered with the Washingtonian and The Greater Washington Board of Trade for the 23rd year to present the Washington Business Hall of Fame induction ceremonies, according to Bisnow.

La Clinica del Pueblo was mentioned in a 2010 retrospective on HIV/AIDS in The Body.

The Latino Economic Development Corporation's work to stabilize the wealth of Wheaton, MD's many Latino-owned businesses was mentioned in two separate articles, here and here, in The Washington City Paper.

Loudoun Cares' Andy Johnston commented on a new survey that yields detailed information on residents' thoughts on social services in The Washington Post and The Examiner: "It's the first true study that we've had at this level of detail."

The Maryland Association of Nonprofit Organizations commented on the Greater Baltimore Committee's "eight pillars" in The Washington Post.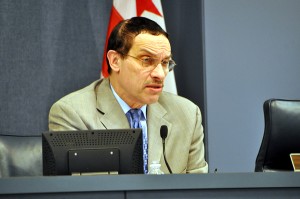 A Metro Teen AIDS youth participant testified at a hearing on DC anti-bullying bills, reports The Washington Blade.

The Meyer Foundation's Rick Moyers writes not about holiday gift giving but about CEO performance review in For Many Executive Directors, an Unwarranted Lump of Coal in his Chronicle of Philanthropy blog.

Miriam's Kitchen's partnership with Small Act, which provides software to nonprofits, was mentioned in The Washington Post.

Northern Virginia Community College's guaranteed acceptance transfer program was mentioned in a letter to The Washington Post.

Northern Virginia Family Service's work was spotlighted in Patch.

Offender Aid and Restoration of Arlington's work to provide bonding opportunities between male inmates and their children was mentioned in The Connection.

Piedmont Environmental Council's Christopher Miller
emphasizes the importance of pollution offsets to protecting the Shenandoah Valley, reports The Clarke Daily News. Separately, the Council's Doug Larson was quoted on a possible new commercial and residential development in The Rappahannock News.

Reston Interfaith's partnership with Reston's 12th Annual Gifts from the HeART was mentioned in The Reston
Connection. In other news, Reston Interfaith received volunteer services and a grant from Dominion Power's EnergyShare program, reports Patch.


The Reznick Group's David Reznick was featured in Bisnow. Separately, The Reznick Group was selected as an award recipient for the 2010 Baltimore Mayor's Business Recognition Awards, according to Citybizlist Baltimore.

The Salvation Army National Capital Area is reporting an
80% decrease in donations collected outside of Giant stores due to new restrictions by the grocery chain, according to Patch.

Sasha Bruce Youthwork partnered with Saks Jandel for a fashion fundraiser, reports The Washington Post.

SMYAL's Andrew Barnett was on a panel on LGBT youth on Kojo Nnamdi's show on WAMU 88.5FM which was then featured on WAMU's DCentric blog.

Tenants and Workers United's work as part of the Arlington Coalition Against the Secure Communities Program was mentioned in The Sun Gazette and The Washington Examiner.

United Community Ministries, along with Northern Virginia Famliy Service, and Doorways for Women and Families, made the Patch's list of "Top Ten Places to Volunteer Your Time This Season."


Volunteers of America Chesapeake was highlighted in Patch.

The Washington Area Women's Foundation called attention to DC's disturbingly high rate of AIDS cases in women, 12 times the national rate, in a press release.

The Washington Police Foundation's Hubert Williams was quoted in AZ Central.

The Washington Legal Clinic for the Homeless's Nassim Moshiree commented on the danger of community-style homeless shelters in The Washington Post.

The Whitman-Walker Clinic's co-sponsorship of a poetry reading to kick off World AIDS Day was mentioned in The Washington Blade. Separately, the DC government restored funding for the Clinic and other HIV/AIDS community programs, reports The Washington Blade.


More events available online.