----------

In 2011, The Festival launched its " .....and Friends" concept where headliners are carefully chosen to not only reflect the mission of the Festival but also to be honored by it. Busta's show stopping cameo with long time collaborator, friend, and BHF'11 Headliner Q-Tip brought Festival goers into a frenzy as they rapped along to classics like "Scenario" and newer joints like "Look At Me Now."
Festival executive director, Wes Jackson has been working with Busta's Team to help produce what's sure to be an epic showcase of Busta's 20+ year career in Hip-Hop. From forming Leaders Of the New School to collaborating with Chris Brown, Busta has set the standard for creating a fortified and powerful career that has helped Hip-Hop grow and evolve from the streets of New York to the most powerful voice on the planet.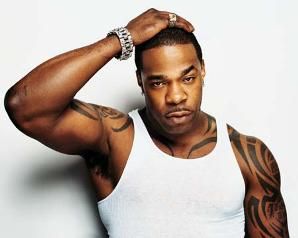 ---

Who the guest is a closely guarded secret. A few will be announced this week but fans will not be dissapointed by the list of Hip-Hop royalty Busta has put together.

There will be some folks you expect and a few that will quite simply make this an unforgettable day in Hip-Hop.
---

While Busta is know for his hits like "Whoo Ha", "Put Your Hands When My Eyes Can See", "Another Case of the PTA" with Leaders Of The New School, and a host of others, he also worked extensively with the likes of the late James "J Dilla" Yancey, The Bomb Squad (Public Enemy, Ice Cube) and The Large Professor. His connections to the best and brightest range from working with everyone from Dr.Dre to Common to YMCMB.
Dates for the 8th Annual Brooklyn Hip-Hop Festival are July 9th-14th, 2012.
Tickets are available for individual dates of the Festival as well as limited weekly passes via bkhiphopfestival.com or Eventbrite


Visit the New Era NYC Flagship Store in NoHo to pick up the limited edition BHF'12 "King Of The Ave SnapBack" and Final Day tickets.
---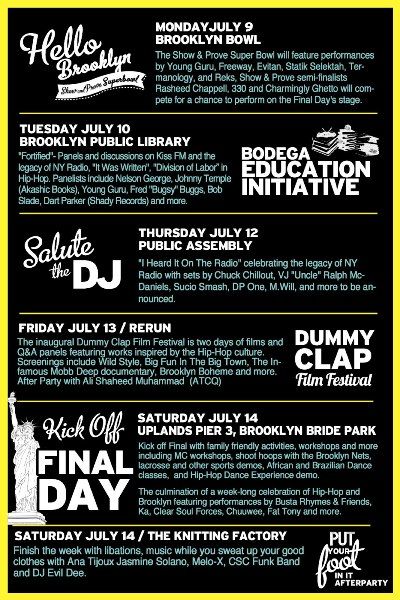 For a complete description of BHF '12 week's events visit BKHipHopFestival.com's Event Page or click here
------

About The Brooklyn Hip-Hop Festival:
As New York City's largest Hip-Hop cultural event, the Festival showcases the positive aspects of Hip-Hop culture by highlighting Hip-Hop's legacy as an agent of artistic progression, community building and social change. BHF 2012 events will continue to reflect the full range of Hip-Hop culture, which spans music, film, academics, grassroots empowerment and more.

Stay up on our Facebook page and follow us on Twitter- @bkhiphopfest and Instagram @BrooklynBodega
The information transmitted herein is the intellectual property of and is confidential and/or privileged material of Brooklyn Bodega. Any review, retransmission, dissemination or other use of this information without explicit consent of Brooklyn Bodega is prohibited. If you received this in error, please contact immediately the sender by returning e- mail and delete the material from any computer.