Where:

Lake Superior State University
650 West Easterday Avenue
Sault Ste Marie, MI 49783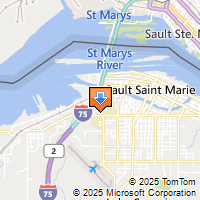 Driving Directions
The Sault Area Chamber of Commerce serves to promote, advance and contribute to the economic well-being of the business community and visitor experience, while preserving the character, history, and traditions of the greater Sault Ste. Marie area. Its mission is to exhibit positive community leadership by supporting activities to improve the education and economic development of the business community and serving members with valuable support to improve business activity and collaboration in the community.


Make Plans For Your Chase Weekend!

The Sault Area Chamber Chase is less than 3 weeks away! If you haven't already made your plans for the weekend, now is the time to get started. In this pre-race update, we have information for you on a pre-race meal and boat cruise, local accommodations, and post-race activities.


Pre-Race Meal and Boat Cruise
If you're looking for a course preview all while enjoying a pre-race meal, then look no further than the Soo Locks Boat Tours. The Soo Locks Boat Tours will offer Chamber Chase participants an opportunity to take part in a 1.5 to 2 hour boat cruise on the lower portion of the St. Mary's River on Friday, September 21 starting at 5:30 pm. The cruise will include a dinner featuring chicken, stir fry, pasta, and much more and runs adjacent to the Chase route. Runners can participate in the cruise for a special rate of only $30! Please make reservations prior to the cruise date by calling 906-632-6301.

Prefer a land option for your pre-race meal? Please consider our host restaurant and Sault Ste Marie landmark, The Antler's Restaurant.


Local Accommodations

Are you coming from out of town for this year's Chase? If so, consider staying at the Chase Host Hotel, Kewadin Casino.

As the host hotel, Kewadin Casino has a block of rooms reserved for Friday, September 21. Simply mention the "Chamber Chase" when making room reservations to receive the discounted rate of $78 per night plus $10 in free play in the casino.

In addition, shuttle service to and from the race will be provided for guests at the hotel.

Interested in other accommodations closer to the Chase course? Please consider one of our many Chamber lodging establishments.


Join us for Oktoberfest!

After completing the Chase, join us in downtown Sault Ste Marie for the 10th Annual Oktoberfest!
Oktoberfest is an opportunity to spend time in downtown Sault Ste Marie to relax and unwind while shopping local food, arts, and crafts vendors; participating in family fun activities; and taking in local pubs and restaurants, including our very own Soo Brewing Company.
Chase Expo and Registration
Don't forget to make plans to pick up your registration materials for the Chase from 4 - 9 pm in the Grand Island Room of Kewadin Casino on Friday, September 21. In addition to registering and collecting your race bib, there will be a large course map, additional race information, and race vendors.

We look forward to seeing you at the 3rd Annual Chamber Chase, now less than 3 weeks away! Keep training hard and remember, run like someone's "chasing" you!

Thank you to our Sponsors!
Platinum Sponsors



Sincerely,

Al Case



Executive Director

Sault Area Chamber of Commerce

director@saultstemarie.org

906-632-3301