On the Carousel
Library Choices
Pride
Upcoming Events
People of the Book Club
Tues. at 10 AM in September
Stay tuned for a date in September to discuss The Last Flight of Paxl West

by Daniel Torday

with Rabbi Goldstein
All Temple Read
Sun. at 8:45 AM in October
Stay tuned for a date in October to discuss Here I Am by Jonathan Safran Foer with Rabbi Goldstein
TSWRJ & TSLibrary Joint Program
Sun., October 30 at 3 PM
When Life Throws a Monkey Wrench: SinaiCares, Disabilities, & Death with Rabbis Roos & Rosenwasser and TS Members Marcie Solomon & Carolyn Gruber
New Israeli Authors
Librarian Email
For additional information about new books and library activities, please see the Library article in the temple's bi-monthly newsletter.
The Mathematician's Shiva, by Stuart Rojstaczer
A woman allegedly takes to her grave the potentially prize-winning proof to a famous mathematical problem. Her shiva becomes a hunting ground by all sorts of people trying to unearth her solution. With warmth, humor, and heart, this award-winning work reveals the woman's life in Europe, her defection from the Soviet Union, and the challenges she faced as a Jewish female in the field of mathematics.
Leaving Berlin, by Joseph Kanon
Alex Meier, a Jewish writer originally from Germany, leaves his California home in the midst of the post-World War II hostility toward suspected communists. Returning to Berlin, he faces pressures from both the East and West to inform on the other. This complex spy-versus-spy novel spins an excellent story, with surprise twists. Kanon's writing skills serves up a depiction of post-War Berlin so real that the reader can feel the atmosphere and life in the battered, divided city.
A Remarkable Kindness, by Diana Bletter
In this moving novel, four American Jewish women who make Aliyah find each other in a small village in Northern Israel. They develop a strong bond of friendship through their participation in the community's chevra kadisha, or burial circle. We learn to understand them and the life they experience in Israel as they suffer the burdens of war in this vulnerable area of the country during the early 2000s.

The Sacred Calling: Four Decades of Women in the Rabbinate
, edited by Rabbi Rebecca Einstein Schorr and Rabbi Alysa Mendelson Graf
Through its collection of articles and personal accounts, this book tells the story of the aspirations, careers, and impact of Jewish women in the clergy. Ordained in 1972, Rabbi Sally J. Priesand, the first female rabbi, notes in the Foreword, this book was "created to present and preserve the details of something our children and grandchildren take for granted: the ordination of women as Rabbis." Temple Sinai's own Rabbi Emeritus, Mindy Portnoy, served on the book's Task Force. In her essay she references her 1986 children's book, Ima on the Bimah, in describing what it meant to be a woman and mother pursuing this demanding career. And she concludes that "We are a myriad of realities, able to look to others as role models, teachers, mentors. But in the beginning there was only imagination."
Farewell Aleppo, by Claudette Sutton
Jews had lived side-by-side with Christians and Muslims in Syria for many centuries, but with the emergence of strident anti-Semitism in the 20th century, the author's grandfather took the family to Shanghai. Her father, Mike Sutton, survived the hardships of the Japanese occupation of China and eventually emigrated to the United States. Using her skill as a journalist, Claudette Sutton gives a fascinating account of the life of her father, "China Mike," and the history of Syrian Jewry.
Robert Moses: The Master Builder of New York City,
by Pierre Christin and
illustrated by Olivier Balez
Grades 6 and up
F
rom the 1930s through the 1960s, Robert Moses was the polarizing urban planner many consider to be the architect of modern New York City. But
his emphasis on the big picture often meant that he did not dwell on those whose homes he destroyed in the name of progress.
This graphic biography follows Moses' life from the discrimination he felt as an assimilated Jew at Yale to his death.
It equally shows how government's well-meaning policies can be progressive as well as destructive, and the influence that informed dissent and protest can have on unchecked urban development.
Joseph the Dreamer, by Becky Laff
Grades 3 to 7
Joseph is his father's favorite son, and he has amazing dreams unlike anyone else's. But when Joseph's jealous brothers decide enough is enough, Joseph finds himself a prisoner in a foreign land, where he must draw strength from within. The well-known Bible story told in graphic novel format.
Mira's Diary: Lost in Paris,
by Marissa Moss
Grades 4-7
Part magical realism, part history, part mystery, in this first book in a series, Mira must time travel and follow her mother's clues to help change history and bring her missing mother home. The historical moment Mira needs to fix is the infamous Dreyfus affair, which centered on falsified evidence and anti-Semitism. Charming thumb-nail sketches grace the margins.
My Name is Aviva, by Leslea Newman
Preschool-Grade 2
Aviva's classmates tease her about her name so she decides to change it to Emily. As Aviva/Emily and her mother go through the activities of the afternoon, a recurring motif is what her mother learned from Grandmother Ada, who died before Aviva was born. When Aviva/Emily learns that she was named in honor of Ada, Aviva is proud of her name and of carrying on the Jewish tradition of choosing names after family or friends who are no longer living.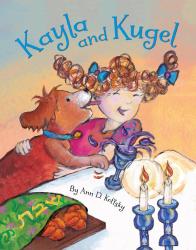 Kayla and Kugel, by Ann D. Koffsky
Ages 1-5
Kayla's dog Kugel helps Kayla set the table for Shabbat . . . despite a few paw prints on the tablecloth, a missing Kiddush cup, and other mishaps. When they're done, even Kugel knows that a beautiful Shabbat needs one more thing--family!