Many Thanks for Another Great Weekend!
I know PULSE is FREE and that's a contributing factor as to why many of you attend. Nevertheless, I can't help but be grateful for your presence on Fridays! Free or not, there are other places you could go, so THANK YOU for choosing #PULSE!

This week DJ Paradime returns and I really shouldn't have to say much else. Last time he was in the building things got pretty STOOOPID! If you're looking for something chill, KEEP LOOKING! Don't forget we are still enforcing a stricter dress code. No fitted ball caps, excessively baggy clothing or athletic wear will be permitted. Designer sneakers are okay. Violators will be charged an admission fee or DENIED ENTRY. Thanks so much for your cooperation and support!

Stay tuned and God bless...
Anthony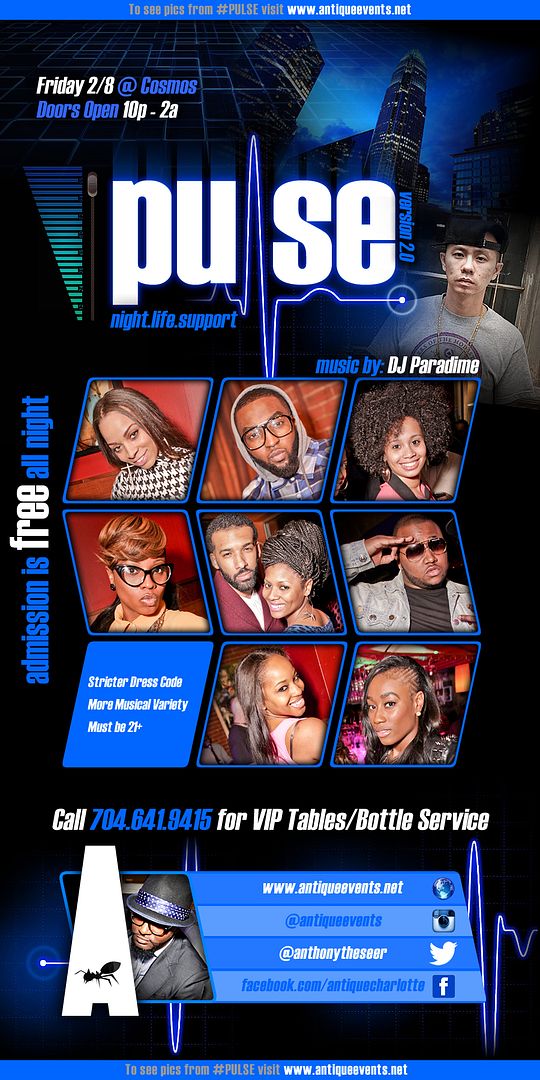 ---




Super Bowl Party


If I never have another party, THAT Super Bowl Party was a dream come true for me! To be surrounded by beautiful women in ANY setting is always a dream situation! Thank you to all the ladies who came and to the brothers that showed up as well! I hope you had as much fun as I did!




---




CIAA w/ MAZ


We've focused our energy into a few BIG events! I hope you will join us for an aMAZing CIAA Experience! Click on the fliers to visit MAZ's website!




---
---
---