Our Twitter Member feed always has the latest news on members. Did you miss our earlier Roundup? Read it online!
OUR NONPROFIT ENVIRONMENT
The Urban Institute convened a panel, including the Meyer Foundation's Julie Rogers, on 'Where's The Light At End of the Tunnel?' which included 'what are nonprofits doing to cope and move ahead,' according to Youth Today and Bisnow.
Watch the discussion online - Julie talks budget advocacy (min 13), philanthropic inefficiencies (min 52), Occupy Wall Street (min 54), and mergers (1:03).
Managing Risk: Are You Prepared? is what Independent Sector's Diana Aviv blogs about. "All organizations operate with risk - effective ones have strategies to manage or mitigate them," and that "risk is inescapable, and, some might argue, a necessary condition for progress."
SEVEN MODELS OF PARTNERSHIPS
The DC
Cultural Data Project was launched, facilitated byWashington Grantmakers, which will collect data on DC's nonprofit arts and culture sector, according to a press release. The release includes comments by the Cafritz Foundation's Michael Bigley on the value of the "concrete data" that the project will provide to funders.
The Capital Area Food Bank will eventually take over DC's free grocery program for seniors from the Urban League in January, according to The Washington City Paper. This was followed an advocacy campaign by DC Hunger Solutions. See more on Kathryn Baer's advocacy blog.
Goodwill of Greater Washington is partnering with the HSC Foundation and several others on the National Youth Transitions Center, which will open in Foggy Bottom this month, according to the Washington Post.
The Living Classrooms Foundation has partnered with the
owners of restaurant Waterfront Kitchen, which will use produce grown in the LCF's urban garden and also train low-income adults in the LCF's Project Serve programfor careers in the hospitality industry, reports The Baltimore Business Journal.
Northern Virginia Family Service and eight other organizations that form the NVFS Collaborative (all Roundtable Members) were selected as the provider of the new affordable housing program Bridging Affordability, according to a press release and the Sun Gazette.
Volunteers of America - Chesapeake's partnership
with501cTech (formerly NPower) was mentioned in The Washington Business Journal.
Acumen Solutions Race for a Cause on Oct 16 brings together 10 local nonprofits - including Boys and Girls Clubs of Greater Washington, For Love of Children, Greenbrier Learning Center and the Literacy Council of Northern Virginia - check out their videos online!
NEWS ROUNDUP
One of our favorite (and we have many) local reporters, WAMU 88.5's Rebecca Blatt, recently got married at the Audubon Naturalist Society's spectacular Woodend Sanctuary, according to The New York Times.
ACT for Alexandria's IMPACT Innovation + Philanthropy Conference, which drew more than 200 attendees, was featured in Old Town Alexandria Patch.
The Arlington Community Foundation honored Charles Radigan, their first president, as part of their 20th anniversary celebration, reports The Sun Gazette. Separately, their inaugural Prize for Innovation and Impact was featured in The Sun Gazette.
The Board of Trades' Fall Business Classic convened over 800 leaders from around the region and was featured in the Washington Business Journal. Photo includes BOT's CEO - and Roundtable Board Member - Jim Dinegar and Deloitte's Gary Tabach.
The Cafritz Foundation's Mardell Moffett spoke about the Anacostia River activist Robert Boone who worked tirelessly to raise awareness about the state of the river, in The Washington Post.
CASA de Maryland's was involved in a discrimination lawsuit against Frederick County that ended up in a deportation stay, according to WTOP. Separately, they hosted a reception for two Prince George's school principals according to MetroLatino (see English translation)
Casey Trees will welcome cyclists from the STIHL Tour des Trees, a 485-mile cycling tour of which Casey Trees is a co-sponsor, into DC, reports WUSA9.
The Center for Inspired Teaching's Aleta Margolis discussed education reform in Prince George's County, as part of a fascinating panel on NBC Washington's District Matters.
The Community Foundation for the National Capital Area's Putting Race on the Table Community Tour series featured a conversation with the Atlas Performing Arts Center's Jane Lang and Sam Sweet, according to the Washington Grantmakers Daily.
The DC Fiscal Policy Institute's Ed Lazere commented on the newly formed DC Public Education Finance Reform Commission, which recently met to discuss equitable division of funds among public and charter schools, in The Washington Post.
DC Hunger Solutions has created the Healthy Corners program to put fresh fruits and vegetables into "food deserts," according to The Washington Post.
The Fairfax Library Foundation provided additional funding to help the Fairfax County Public Library system expand its collection of e-books, according to The Fairfax News.
Higher Achievement students who complete their after-school program increase their grade point average at least one point, according to The Washington Post.
The Jewish Social Services Agency earned Charity Navigator's top rating for sound fiscal management for the third year in a row, according to a press release.
Kaiser Permanente has partnered with Washington Hospital Center, which will open a wing dedicated to patients with Kaiser insurance coverage, reports The Washington Business Journal.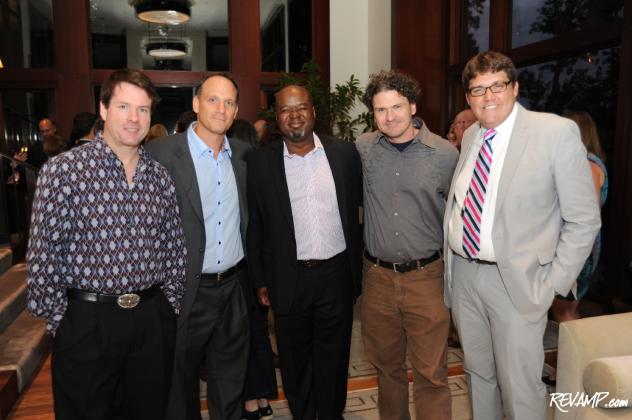 The Kimsey Foundation hosted a benefit with author Dave Eggers to raise funds for 826DC's free writing programs for youth, according to Revamp.
La Clinica del Pueblo has been awarded a grant from the CDC to expand its HIV/AIDS prevention services for gay and transgender men of color, reports Examiner.
The Latino Economic Development Corporation co-sponsored free one-on-one foreclosure prevention counseling in Gaithersburg, according to The Washington Examiner.
Leadership Arlington welcomed its newest class of Young Professionals, which includes members from BB&T, Deloitte, Marymount University, and Offender Aid and Restoration, according to a press release.
Corporate member Tate & Tryon has an article on "Measuring the Adequacy of Reserves" in their most recent newsletter.
United Community Ministries' food pantry distributed nearly 600,000 pounds of food to area families during the last fiscal year, according to The Mount Vernon Gazette.
Voices for Virginia's Children's Margaret Nimmo-Crowe said that the group was "nervous" about proposed changes to the way that Virginia administers Medicaid-reimbursed mental health services, which would bring in a for-profit entity, in The Richmond Times-Dispatch.
Whitman-Walker Health's AIDS Walk Washington received support from President Bill Clinton, who recorded a video in support of their Oct 29 Aids Walk Washington. Check out their ad running on NBC4 as well..