Now
You Know About This!
What's Eating Your Child?
"The hidden connections between food and childhood ailments." It is a book about how to be a nutrition detective with your own kids.
Learn how to really nourish your child's brain!
___________________

Anat Baniel's scientifically based, cutting edge work has been transforming the lives of children with special needs for more than 30 years. This practical and informative book describes how to apply her Nine Essentials to deepen your understanding of what your child needs to overcome special challenges and dramatically improve his or her emotional, intellectual and physical abilities.

.
Promote

YOUR

Company, Agency, School or Organization with Brain Development Activity Packets!
LOGO
and contact information added... G
ain

ATTENTION
with these as unique promotional items!
Children need EVERY adult, that has an influence on their life, to understand the basics of brain development and help them learn needed life skills. We owe every child the opportunity to develop in the most healthy ways possible.

This unique newsletter is designed to create and share a much broader awareness and understanding. It is still a minority of individuals that know the basics of how we can positively influence a maturing brain.


Through continuing to work together and sharing we can finally make this critical information common knowledge!

Because you care, I invite you to join in, benefit from and

share in this needed effort. I hope you are as enthused as I am

to make a REAL difference!
Greetings!

This is a time of year in the US when we give thanks and show appreciation. With that, I want to thank you for all you are doing to help create and share this important information for the benefit of children everywhere.

In addition, I want to acknowledge that each of you are making a positive impact in many and varied ways. And also I want to once again appreciate how extremely wonderful it is that you are a part of this connection.... because that is what this is all about.

In the last two weeks I had the fabulous opportunity to connect with numerous and wonderful people dedicated to the healthy development of children. When presenting at the National Association for the Education of Young Children (NAEYC) Conference in Atlanta it was a great pleasure to interact with the caring participants in my session. Additionally, I had the chance to spend time with Lauren Zimet and Kate Drummond, from Healthy Foundations, Gill Connell of Moving Smart, Kelly Dorffman (advertiser of this issue), Keyuri Joshi from On the Ball Parenting and Dr. Erik Fisher author of The Art of Empowered Parenting among many others.These are all people I mention because if you are not familiar with their work you may be very interested in becoming aware of all they provide.

As you know, Creating Great Connections provides information and support entirely related to healthy brains and life skill development for ALL children. But in addition, it also is a way to better connect all of us that care so deeply about children and provides a way for us to help each other.



After all

... giving to others is good for your brain. Research demonstrates, that when donating or giving of yourself, the reward center is activated in the brain .....of the giver. The hormone, oxytocin has been found to be released when giving to others!
So, whether you are working in a job that serves children directly or indirectly or you are a parent or grandparent, you can find information and questions on news related to the brain, books, resources, blogs, conferences, and also personal requests. This is designed to help you give to others!

HOPE (Helping Other People Everywhere). As always,below there are 5 categories. These are areas where you can either find valuable information or share information that will benefit others. If you know of an article, conference, blog, research, etc. please send it to me and it may be shared in the next newsletter with credit to you for sharing. Send to deb@braininsightsonline.com

It is my sincere hope you will feel a real sense of connection as we all share and promote together!

With heartfelt thanks and great dreams for all children,

Deborah
Check out the fabulous advertiser and sponsor for this issue! You are going to want to visit their wonderful websites!

___________________________________________________________________
H.O.P.E (Helping Other People Everywhere)


Parents and professionals, here is your opportunity to connect with all you need or are looking for ... all in one place!
H.O.P.E provides the chance to easily find and share brain development information without searching!


"The value of a man resides in what he gives and not in what he is capable of receiving."
~ Albert Einstein
________________________________________________________________




Parent Ponders?
Are you a parent that wants reliable information on a topic or area of concern? Do you want answers to questions from knowledgeable and educated professionals rather than information based on opinion or marketing?


From: Janet Lansbury, Elevating Childcare


_____________________________________________________________________
Cognitive Connections?
Are you looking for a conference, TV or radio show, video clip, movie or website on healthy brain development to check out or share?
Cognitive Connection Share:

From: TED Talks



______________________________________________________________________


Brainy Books and Blogs?
Are you looking for a book or a valuable
blog on brains or life skill development?

_____________________________________________________________________
Think About It....
Do you enjoy learning and sharing interesting brain facts?


A baby creates about 700 neural connections per second
in 1st few years!

________________________________________________________________________
Remarkable Research!
Are you looking for remarkable and interesting findings in brain research?

Remarkable Research Share:

Shared by Karen Nemeth,
Language Castle,
in the Brain Insights Group on Linkedin.
From Science Daily

_________________________________________________________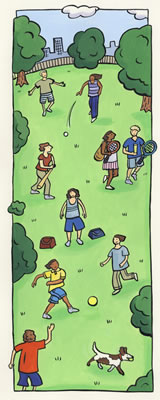 All work and no play
In "a 1963 landmark research project by Marian Diamond of the University of California, Berkeley, which followed up earlier work at McGill University in Canada that found that rats allowed to run around the house did better at maze tasks than those raised in cages. Diamond wondered if raising rats in "enriched" environments meant actual changes to the brain. And so one lucky group of baby rats were put in a cage with toys and fellow rats, while their less fortunate friends were placed in solitary, bare confinement. At the end of the experiment the brains of those rats raised in an enriched environment were found to have a thicker cerebral cortex - the part of the brain that plays a crucial part in memory and thought.
This finding fundamentally changed how people thought about the brain. Rather than the brain's structure - and therefore intellectual ability - being set at birth, it was plastic, with the potential to grow and learn throughout life, depending on the environment.
Brain Briggles are great fun to share!

"I have always had this view about the modern education system; we pay attention to brain development, but the development of warmheartedness we take for granted." ~ Dalai Lama

Sincere appreciation for contributing to making a positive impact through ALL the ways you invest in children,

Deborah McNelis

Founder, Brain Insights,LLC