3rd Annual Farm-Based Educators Retreat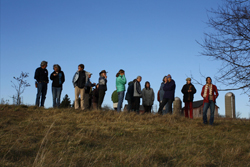 November 4-6 at Hawthorne Valley Farm
Schedule and registration info available here.
BING's Facebook group is growing...

Are you wondering who else is part of the next generation inspired by biodynamics? Then come join BING's facebook group and introduce yourself!

Join our team - become a BING intern!
Inaugural BING gathering (photo thanks to John Swain)
We are still looking for several people to join our BING intern team. If you've been dreaming of a gathering of like-minded folks in your community, now is the time to step up! Learn more about this opportunity...
Thanks for subscribing to the BING e-newsletter
! Have something you'd like to share with others? Send it along to me at bing@biodynamics.com and I will include it in a future issue.


- Thea Maria Carlson, BING Coordinator
Another Young Farmer Gathering
Inspired by our successful event in August at Angelic Organics, young farmers in the Viroqua, WI area have teamed up with The Greenhorns to host a young farmer gathering and screening of the movie on October 1st. We are thrilled that the impulse is continuing! For more information, view the poster (PDF) or contact Daphne at 608-654-7374 or daphnesuek@yahoo.com
Stay tuned for more BING collaborations with The Greenhorns this fall!
Credere Fund Grants
Have a project inspired by Biodynamics and/or Anthroposophy that you'd like to realize? Apply for a Credere Fund grant! The Credere Awarding Committee welcomes applications for each of the following three grants:
Art + Anthroposophy: awarding up to $2000
Social Change + Anthroposophy: awarding up to $2000
Goethean Phenomenology (Sponsored by The Nature Institute, Ghent, NY - www.natureinstitute.org): awarding up to $1000
Applicants must demonstrate that support from the Credere Fund is essential to their initiative and that funds will be used effectively and responsibly. Preference is given to projects that are anthroposophically-inspired, and while there are no age or geographical restrictions, young people in the northeastern United States are especially encouraged to apply. Application deadline: October 15, 2011. To apply, please visit www.thinkoutword.org.
Classroom Study in Biodynamics
Schools are getting back into session this month, and so are the classroom study programs participating in the North American Biodynamic Apprenticeship Program (NABDAP). These programs are a great complement to hands-on learning through farm internships and apprenticeships.
Each of these courses takes place over a series of weekends, as well as a multi-day intensive in some cases. If you're not close enough to attend any of the weekend-based programs, consider participating in the Hawthorne Valley Winter Intensives, which will take place February 12-17 and 19-24, 2012.
For more information, please visit the NABDAP classroom study page on our website. Currently enrolled NABDAP apprentices are eligible to apply to the Biodynamic Scholarship Fund for help with tuition.
Right2Know March
An unprecedented coalition of individuals, organizations, and business from all
over the country is coalescing to demand full transparency in food labeling. This effort will kick off next month with a Right2Know March, a 16-day march from New York City to the White House in Washington, D.C., October 1 through 16. The Biodynamic Association has joined this coalition as a partner and as a sponsor of the march.
Please visit the Right2Know site for all the details and information, and please contact Rebecca (rebecca@biodynamics.com) to let her know if you plan to participate. Check in with us on our Facebook page and our blog for updates on the march as it happens, and on the further efforts that will be undertaken by this coalition following the march to insure our Right2Know what is in our food!
Upcoming Events
The following is a sample of upc

oming events liste

d on our website. For full details on these and many more events, please visit our calendar.
To share events, please email
bing@biodynamics.com
.
Sept. 17: Soil: The Foundation of Life (Biodynamic Farming & Gardening Series Session 1), Rudolf Steiner College, Fair Oaks, CA
Sept. 22: "Biodynamics and the Revitalization of Our Food, Farms and Communities," Appleton Farms, Ipswich, MA
Sept. 24: Fall Biodynamic Preparation Day, Zinniker Family Farm, Elkhorn, WI
Sept. 25: Celebrating Rudolf Steiner: 150 Years of Transformation, Presidio, San Francisco, CA
Oct. 1-16: Right2Know March, New York City, NY to Washington, DC
Oct. 29: Biodynamics and Permaculture: Exploring Tools to Heal the Earth, Pfeiffer Center, Chestnut Ridge, NY
Nov. 3-5: Farm-Based Education Conference, Shelburne Farms, Shelburne, VT
Nov. 4-6: 3rd Annual Retreat for Farm-Based Educators Inspired by Anthroposophy, Hawthorne Valley Farm, Ghent, NY
Nov. 5-8: Community Food Security Coalition Conference: Food Justice - Honoring Our Roots, Growing the Movement, Oakland, CA
Opportunities
The following is a sample of opportunities posted on our website. For a full and current list of opportunities available, please visit our forums. To share employment, internship, or other opportunities, please email
bing@biodynamics.com
.
Hawthorne Valley Farm seeks apprentices for 2012 - Ghent, NY
Our apprentices work with and learn about the interrelationships between our milking herd of 60 grass-fed cows, our rotational grazing system, the twelve-acres of mixed vegetable fields, and get an overview of the administration of our 285-member Community Supported Agriculture (CSA) program. Hawthorne Valley Farm is a participating Mentor Farm in the
North American Biodynamic Apprenticeship Program
(NABDAP).
10-acre property for lease with home and barn - East Troy, WI
Large home, separate study, 4,300 square foot pole barn and approximately 10 acres previously in CRP for 30+ years available for organic/biodynamic practices.
Krusen Grass Farms seeking share milking couple - Elkhorn, WI
Krusen Grass Farms is a certified organic, grass-based dairy and beef farm in Southeast Wisconsin, looking for a sharemilking couple, starting in February of 2012. You have the opportunity to run your own dairy business within our farm, building equity and management skills, while being mentored by an experienced farmer.
Biodynamic Initiative for the Next Generation
BING is a program of the Biodynamic Farming & Gardening Association