NOW IN SEASON!

ONIONS


CARROTS


CARO-RED PEACHES!


FRESH RAW HONEY!
WEDNESDAY MARKET NOW OPEN!

Yes, that's right, the Durham Farmers' Market is now open two days a week! Our Wednesday Market's hours are 3:30-6:30pm, weekly. At the Wednesday Market, you'll find the same great selection as the Saturday Market as well as a handful of farmers and food artisans that only come on Wednesdays! We send out an email with news and updates about the Wednesday Market every Tuesday evening, if you would like to receive this newsletter, please reply to this email and we'll add you to it!


10% Campaign

The 10% Campaign is a project of the Center For Environmental Farming Systems (CEFS). The campaign encourages you to spend 10 percent of your existing food dollars to support North Carolina food producers, businesses and communities. Why 10%? In North Carolina, we spend 35 billion dollars on food every year. If we spend 10% of our food dollars on local product, we can infuse over 3.5 billion dollars into the local economy. As avid supporters of the Durham Farmers' Market, you already know the many advantages to shopping locally. So, why join the campaign? It will re-affirm your commitment to shopping locally and it sends a strong message to policy makers about the importance of local foods! For more information visit: www.nc10percent.com


MARKET PARKING UPDATE:
TOMORROW, the DURHAM CENTRE PARKING LOT in the 400 block of Foster Street will be CLOSED for the DOUGHMAN.
There will be ample parking in the Market's parking lot at 423 Morris Street. Morris Street is one block west of the Market. There are some barricades on Morris Street for road construction. You may GO AROUND the barricades and park in the lot right next to the new building. Don't let the barricades intimidate you. When you get to the lot, there are several paths through lovely Durham Central Park gardens down to the Market.
There are other public parking lots in downtown Durham where you can park, including lots on Chapel Hill Street and Morgan Street (across from the Carolina Theatre).
* * * * * * * * * * * * * * * * * * * * * * * * * * * * * * * * *

Loganberries!
NEW this week at Market... More BERRIES... Red Raspberries, Loganberries and Dewberries! All three are closely related in the Rubus genus, yet all are a little bit different. I think everyone knows a little bit about Red Raspberries - besides being delicious, they are high in Vitamin C and Antioxidants. Loganberries look similar to Raspberries in color, however their shape more closely resembles that of a blackberry. Raspberries have a hollow center while loganberries and blackberries do not. Loganberries are a raspberry and blackberry hybrid. Dewberries are very similar to a blackberry. They have the same purple/black color but the dewberry fruit are slightly smaller than a blackberry. They are, in fact, a type of wild blackberry. I have a hard time telling the difference in the flavor, but farmers tell me that they grow a little differently than a standard blackberry bush. Now that red raspberries, loganberries and dewberries are back at Market, it won't be too long before we start to see blackberries and black raspberries. Snozzberries start later in the season...
If you are planning to grill this Memorial Day Weekend, our farmers will have an abundant supply of grill-able meats and vegetables this weekend! Look for lots of sausages - from spicy to mild, steaks, roasts, and more. For your grilling pleasure, there will be lots of pasture raised, antibiotic and hormone free beef, pork, bison, lamb, goat and chicken to throw on the grill! In the vegetable department you'll find lots of squash and zucchini, shiitakes, peaches, tomatoes, onions and the last few bunches of asparagus - all are great on the grill!
See you Saturday,
Erin Kauffman
Market Manager
TOMORROW: Starting at 10am
CHEF IN THE MARKET: Chef Andres Macias from Tonali Restaurant!
We are excited for Chef Andres to join the Market for his first Chef in the Market demo!
Chef Andres Macias will be preparing corn tortillas served with cactus paddle salad, crumbled
Elodie Farms
queso blanco and fresh salsa. See you on the green at 10am!
VEGETABLES:

GREEN BEANS, CHERRY TOMATOES, Asparagus, Asian Greens (Pac Choi, Tatsoi, Mizuna), Arugula, Beets, Broccoli, Broccoli Raab, Cabbage, Cauliflower, Celery, Chinese Broccoli, Chinese Cabbage, Collards, Cucumbers, Daikon Radishes, Dandelion Greens, Escarole, Fava Beans, Fennel, Frisee, Fresh Herbs (Cilantro, Mint, Rosemary, Oregano, Thyme, Parsley) Green Onions, Green Garlic, Garlic Scapes, Gourds, Mustard Greens, Kale, Lettuce, Leeks, New Potatoes, Onions, Pea Shoots, Peas, Radicchio, Rhubarb, Radishes, Rutabega, Salad Mix, Shiitake Mushrooms, Sweet Potatoes, Spinach, Sugar Snap Peas, Snow Peas, Swiss Chard, Summer Squash Greenhouse Grown Tomatoes, Turnips, Turnip Greens, Zucchini
FRUITS:

Red Raspberries, Logan Berries, Dewberries, Blueberries, last few Strawberries

, and

PEACHES - this week's variety is Caro-Red!
MEATS AND EGGS: Beef, Bison, Cornish Game Hens, Chicken, Duck, Goat/Chevon, Lamb, Pork, Duck Eggs & Chicken Eggs CHEESES:

Fresh and aged cow and goats milk cheeses.


FLOWERS & PLANTS: Calla Lilys, Asiatic Lilies, Peonies, Dutch Iris, Snapdragons, Larkspur, Batchelor's Buttons, Mixed Bouquets, Vegetable & Herb Seedlings, Landscaping Plants, House Plants
SPECIALTY ITEMS: RAW HONEY,

Pecans,

Flour, Cornmeal, Grits, Baked Goods including Pies, Breads, Cookies, Pastries, Gluten Free Items, etc; Pasta, Beer, Wine, Jams, Jellies, Pickles, Preserves, Wool
CRAFTS:

Pottery, Jewelry, Stained Glass Art, Handmade Baskets, Gourd Birdhouses, Woodwork, Photographs, Hand-dyed Clothing and other items, Handmade Clothing, Soaps, Yarn, Roving, and much more...





Produce availability depends on weather conditions



Little Tree Farm
Our Guineas! Photo by Dale Fluke
John will see you Wednesday and we both will see you this Saturday with lots of delicious fresh free choice-free range eggs, young whole chickens, english and wholegrain mustards, stewing hens, creamed honey (pure honey, cinnamon and chocolate) and Pepper's pottery.


John & Dale Fluke
Little Tree Farm

Meadow Lane Farm
Our grassfed, dry-aged ANGUS BEEF.... Great for a grilling holiday weekend... try our "Zesty Italian" Beef Sausage (4 links/pkt), Loin Ribs, Ground (for SUPER hamburgers!) including G. Round... Chuck Roasts, Sirloin Tip Roasts, Chuck filets, Short Ribs, soup bones, and much more.

CHEVON (goat meat)... Ground, cubed (stew), soup bones, and shanks. We hope to have LAMB soon.. the young lambs are growing well.

Thank you for your continued support of our family farm. We hope you have a safe and enjoyable Memorial weekend holiday!

Steve & Martha Mobley

919-496-4852
Flat River Nursery
Flat River Nursery and Farm will be at market with pesticide- free greenhouse tomatoes, pesticide-free cucumbers, cabbage, potted herbs, bedding plants, beautiful hanging baskets, squash,

STRAWBERRIES

and more.
Charles and Joan Holeman
336-364-2460
Stoney Mountain Farm
See you at the market this Saturday!
Been thinking of Memorial Day picnics, cookout, or party ideas? We have great recipes to share and plenty of lamb choices available.
Lamb: At Stoney Mtn Farm we're Raising Navajo Churro's, an Heirloom Breed of sheep Recognized by SLOW FOOD as a "flavor worth saving!" On the endangered list, why? Our sheep grow slow, that doesn't work well in most large farm operations. Born and raised here...they aren't processed until 12-18 months of age and the flavor nor texture are compromised. Because they are slow growing and small the flavor maintains lamb like qualities...ask our many fans.
Olga's Eco Friendly Wool Dryer Balls: Put an end to those chemical laden dryer sheets and softeners....1 pack of our Eco-Friendly Dryer Balls will soften, reduce static...and reduce drying time....100% money back guarantee! Great Gift Idea! Come see firsthand what our 14,000+ fans on Facebook are raving about!
Wool Pin Cushions~Wool Cat Toys~Wool BATTS
Crafters/Quilters/pillow stuffer come and get them well they last. Also limited supply of rovings and yarns in an array of natural shades of color produced by our sheep.
Hope to See you there!
Olga and John Elder
Bonlee Grown Farm
PLANT SALE: DRAGON WING BEGONIAS & WAVE PETUNIAS $3.00
GERBER DAISIES, HOMESTEAD PURPLE VERBENA, CASCADING IMPATIENS, ALOE, AND MOSES IN THE CRADLE PLANTS: $5.00. JUST MADE TRIPLE BERRY , STRAWBERRY AND BANANA BUTTER JAMS.
Call Amy for orders 919-548-0977. See ya Saturday
Terra Clotha
Our hand-dyed T-shirts are soft, but these 5-ounce jersey cotton skirts are softer. We do them in a variety of bright colors, the effect of seeing all of them hanging on the rack is that of soft, flexible Easter eggs. The skirt's asymmetrical hem gives it a kind of mischievous flare, and the elastic waistband means you can spend a day at the beach, take it out of your bag, and slip it over your suit for a dinner at a nice restaurant. The skirt packs flat, travels easily, and wears like a second skin. Like T-shirts, they are available in small, medium, large, and extra large.
Hand-dyed skirts from Terra Clotha.

Colorful. Comfortable. Versatile.
Roberson Creek Farm
We will have lots of our delicious Beets, Carrots, & Onions this week. Look for us on the street. We hope everyone will have a safe & enjoyable Memorial Day Weekend. Make sure you come by & Say Hello. Thank you for supporting our Family Farm each week!! We appreciate our Customers.

Thanks, Bobby & Vicki Roberson
Roberson Creek Farm
Fickle Creek Farm
ALL our livestock is raised without confinement on pasture.
PORK - Fresh (never frozen):
tenderloin, loin chops, bacon pieces, ground pork, pate, roasts (

boneless loin, Boston butt,

shoulder picnic), bulk sausage (country, chorizo, hot extra sage), link sausage (bratwurst, hot Italian, sweet Italian, breakfast fingerlinks, maple fingerlinks, smoked Polish, smoked bell pepper and onion), meaty neck bones, rendered lard, fatback, feet, organ meats.
BEEF -
Jersey, 100% grass fed: ground beef, steaks (filet mignon, NY strip, ribeye, boneless sirloin, chuck eye, flat iron, flank, hanger), stew meat (=cubed chuck eye steak), roasts (eye of round, London broil, sirloin tip, chuck),

short ribs

, heart, tongue, oxtail, liver, soup bones, marrow bones
.

CHICKEN - Freedom Rangers: whole broilers, French breast, leg quarter pairs, wings, backs, livers, hearts, feet.
STEW HENS: whole birds
.
PRODUCE - no pesticides, no herbicides, no synthetic fertilizers: beets, spring chard, fresh garlic, spring kale, lettuce, summer squash, sugarsnap peas, snow peas, zucchini.
EGGS: mixed size and jumbo.
http://www.facebook.com/FickleCreekFarm
Vollmer Farm
Farmer John
Strawberries
and
Blueberries
!
Luke and Irma will be bringing strawberries and blueberries to the DFM just in time for your Memorial Day celebration. Come early since we have a limited supply of these popular berries. They will also have an array of all our other 100% Certified Organic vegetables. We hope that you will visit our stand at the market for some of the best organic produce available anywhere!
Our sincere thanks for your support of our small family farm --- Farmer John
john@vollmerfarm.com ~ 919-495-2392 ~
Loaf
Loaf will be at the Durham Farmer's Market with lots of fresh, tasty hearth baked breads. This is Jalapeno Cheddar week, and we will also have Polenta, Market, MultiGrain, Pain de Campange, and some specialty breads. Croissants, both butter and chocolate, will be available, as will chocolate strawberry bread pudding muffins. Baguettes will be delivered to the Market after 10. We look forward to seeing everyone there.
Cheers;
Ron and Jaimie
Loaf
Dur'm Pasta
We will be at the market on Saturday! Pasta will be limited so get out early to get your pick. I will have lemon fettuccine, white bean ravioli, pizza dough and a yummy treat.
There are only a few weeks left for us at the market for awhile. I will be back as soon as i can after having the baby. looking forward to seeing everyone while we can.
Thank you
Meredith
Fullsteam Brewery
Hey Durham! At the

Farmers

Market

this Saturday, the growler lineup will MOST LIKELY include:
El Toro cream ale
Fullsteam Southern lager
Carver sweet potato lager
As always, growlers are $10 plus a $4 refundable bottle deposit. We're happy to take bottle returns at the
market
or the tavern.
This Saturday is The Doughman! Come celebrate on Rigsbee all day long. Eat Bike Run Swim Drink Beer!
Fullsteam Brewery
726 Rigsbee Avenue
919-682-BEER
Facebook
Wild Scallions Farm
This week at market we still have some super sweet strawberries, along with the season's first blackberries (or dewberries), we will also have a plethora of fresh vegetables: cucumbers, summer squash, new potatoes, carrots, beets, lettuce, peas, green onions, fava beans, the last of our globe artichokes and even more! On top of that look for our freshly baked whole grain sour dough loaf bread along with a few annual and perennial herb plants.
Everything we grow is sustainably grown without the use of synthetic fertilizer, pesticide, or herbicide for healthful foods from healthy fields.
Hurtgen Meadows Farm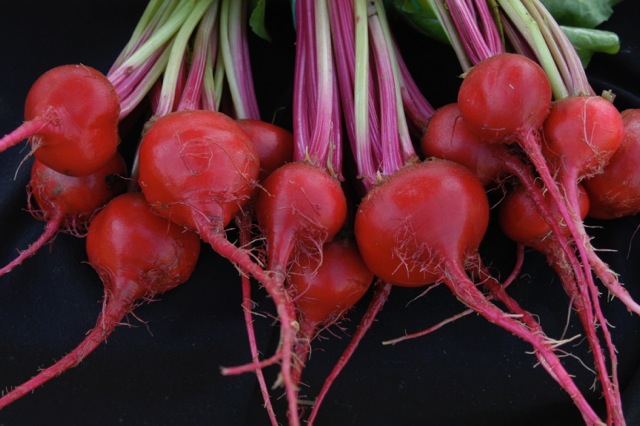 Produce currently available:
Sugar snap peas, beets, kale, collards, chard, garlic scapes, spring onions, arugula, radishes and asparagus (limited supply).
Plants: Now is the time to get your spring and summer garden vegetables in the ground with our starter plants (heirloom and hybrid varieties).
All of Hurtgen Meadows produce, plants, and flowers are naturally grown using sustainable practices -- no synthetic pesticides, herbicides, or fertilizers are ever used on our farm.
We'll see you at the market!
Find us on Facebook and Twitter (@HurtgenMeadows)
MoonDance Soaps & More
Musings on Rubus idaeus, the red raspberry.
Consider the raspberry: that wonderful little bumpy red cluster of sweetness. It's one of our favorite late spring fruits - perfect straight off the vine, buried in vanilla ice cream, riding atop fresh waffles drizzled in butter, or fated for the jam and jelly shelves - few things match the fleeting wonderfulness of a ripe raspberry. From various horticulture books we have laying about, we've learned our raspberry plants are native to Turkey and surrounding areas. That luscious but well-armed brambly bush came along with us humans over the thousands of years we spread across the globe. From tagging along with the Romans when they occupied England, to making landfall in Flushing NY for its North American debut in the early 18th century, to escaping into the wilds across our continent, even getting cross-bred to bring us the boysenberry and loganberry over time. Hikers and other outdoor enthusiasts will loose all track of time when they stumble across a mess of ripe raspberry brambles - delighted to tramp home with red stained fingers and smiling faces.
To this humble fruit with its gently sweet aroma, we try to honor the end of Spring with our Raspberry Swirl Soap. Come on by MoonDance Soaps and take a few minutes to get lost in the fragrance of red raspberries. Just like those temporary treasures plucked by the side of your favorite hiking path, our Raspberry Swirls (and the other Spring soap delights) are only around for a few weeks, so come collect them while they're ripe. This Saturday, 8-noon.
Rachel & Paul, MoonDance Soaps & More, 919-870-8063,
Four Leaf Farm
Four Leaf Farm looks forward to spending what looks like a great Saturday morning with you. We will bring plenty of produce for you to select from to make some great meals for the week. We will have broccoli, cauliflower, lots of Kohlrabi, lettuce, spicy salad mix, beautiful carrots, fennel, fresh garlic and squash blossoms.
In the GARDEN section you will find lots of vegetable starts including okra, peppers sweet and hot, herbs, perennial and annual flowers. If you have not planted your tomatoes yet, tomorrow is your lucky day. All our tomato plants will be put on sale so you can get them planted before Memorial Day. So come by and see what we have,
Tim, Norm, Andrew and Helga
Chapel Hill Creamery
Sausages for grilling !!! The Mild Italian is very popular with the Hot Italian just a little spicier. Andouille and Chorizo have their fan clubs too. We use hams from our whey fed pigs for extra flavor, not just trimmings, and we have chosen our own spice mixes. Neal's Deli is currently using the Hot Italian on a sandwich with our fresh Mozzarella. Other meat will be pork chops, bascon, bacon bits, ground pork and ground beef as well as breakfast sausage.

Danziger cheese is smooth with a bite to it. We only make it occasionally, so try it now. Our Carolina Moon is more like a brie. Both are good at room temperature on baguettes or crackers. Another choice is to heat the Carolina Moon for 6-7 mins at 325.Shave the top rind off and add a little hot pepper jelly or jam with slivered almonds on top, then heat. Use for an appetizer or with a salad for dinner. Hard to beat. Pheta cheese for salads with lettuce, snow peas with radishes, or roasted beets.(Hard to beat :-))


We'll have mozzarella including small cherry size, smoked cheeses,a little string cheese, New Moon, and aged Calvander.

Brinkley Farms
Hope you'll stop by our stand on Saturday for a few surprises in our meat department. We'll have pork chops, ribs, boston butts, and all kinds of grilling sausages just perfect for those Memorial Day cookouts. We'll also have a wide variety of veggies including green beans, squash, zucchini, cucumbers, and much much more.
Look forward to seeing you on Saturday.
William and Dianne Brinkley
Harland's Creek Farm
This week we are featuring recipes and items that do not have to be cooked. Come by to get recipes for marinated Kohlrabi, Collard and Kale Slaw, Herbed Cream Cheese, and Asian Bok Choy Salad. We will have some for tasting as well. We will also have Certified Organic salad mix, braising greens, kohlrabi, cabbage, chard, collards, kale, beets, green onions, and turnips. Pasture Raised Chicken whole, cut-up, or breasts will be available.
Four Leaf Farm
Four Leaf farm will be at the market on Saturday with our first summer squash, maybe a few pints of cherry tomatoes out of the greenhouse, there will be tons of sugar snap peas, chard and kale, the last of our carrots, 4 different kinds of beets, fresh cut herbs including basil, kohlrabi, cabbage and squash blossoms. In the GARDEN section you will find herbs including a new batch of basil, hot and sweet peppers, okra and tomatoes (all tomatoes and peppers on sale this weekend and that will be the last time we bring them to market) We still have plenty of pretty perennials and a few annuals for your garden. Come by and have a look,
Sunset Ridge Buffalo Farm
Fire up the grill and honor those who built and defended America by consuming an American icon - BUFFALO !Sunset Ridge Buffalo Farm will be at market Saturday with a good selection of bison cuts - steaks, roasts, ground, sausages, kabobs, snack sticks (sweet ones are back) and jerky. Make this Memorial Day memorable for your guests with a treat of tasty, delicious, and nutritious bison.
Parking & Street Information


The Market is located at 501 Foster Street in and around the Pavilion at Durham Central Park. During Market hours, Foster Street is closed between Hunt and Corporations Streets.

Parking can be found on the street around the Market, in the Ballpark Parking Lot on Corporation Street and in the Measurement Inc lot, 423 Morris Street (one block west of the Market). There is a path at the bottom of that parking lot that leads you to the Market. There are also public parking lots along Foster Street and on Morgan Street near the Carolina Theatre.

Handicap parking is available on Foster Street, right next to the south entrance of the pavilion.

Durham Farmers' Market Animal Policy


Please note that the Durham Farmers' Market does not allow dogs or other pets in the Market area during Market hours.
Service animals are exempt from this rule.
Leashed pets are welcome elsewhere throughout Durham Central Park.


Erin Kauffman
Market Manager
Durham Farmers' Market