NOW IN SEASON!

CORN


TOMATILLOS


GLADIOLUS
WEDNESDAY MARKET NOW OPEN!

Yes, that's right, the Durham Farmers' Market is now open two days a week! Our Wednesday Market's hours are 3:30-6:30pm, weekly. At the Wednesday Market, you'll find the same great selection as the Saturday Market as well as a handful of farmers and food artisans that only come on Wednesdays! We send out an email with news and updates about the Wednesday Market every Tuesday evening, if you would like to receive this newsletter, please reply to this email and we'll add you to it!


10% Campaign

The 10% Campaign is a project of the Center For Environmental Farming Systems (CEFS). The campaign encourages you to spend 10 percent of your existing food dollars to support North Carolina food producers, businesses and communities. Why 10%? In North Carolina, we spend 35 billion dollars on food every year. If we spend 10% of our food dollars on local product, we can infuse over 3.5 billion dollars into the local economy. As avid supporters of the Durham Farmers' Market, you already know the many advantages to shopping locally. So, why join the campaign? It will re-affirm your commitment to shopping locally and it sends a strong message to policy makers about the importance of local foods! For more information visit: www.nc10percent.com


I was very excited to see some more summer time veggies showing up at Market this week! Now in season - OKRA and TOMATILLOS! Add them to the growing list of summer veggies at Market - squash, cucumbers, eggplant, potatoes, green beans, yellow beans, roma beans and the first few field tomatoes. It's starting to feel like summer around the Market. The great thing about this time of year is that we have the best of two seasons to choose from! Tomorrow we'll have lots of summer AND spring veggies and fruits to choose from!

So, with the arrival of okra and the bounty of cucumbers and green beans, it's time to start some pickling plans (at least here at my house). Here are a couple of links to recipes for some pickles that I'll be trying this summer. If you have a great pickle recipe that you'd like to share, send it to me and I'll put in upcoming editions of the newsletter!
Bill Neal's Pickled Okra Recipe
Dilly Beans from Food in Jars

A huge congratulations goes out to two of our Market vendors who were voted "Best in the Triangle" in the Independent:
Chapel Hill Creamery for Best Local Cheese Producer and Fullsteam for Best Local Beer, Brewery and a few other accolades!

Also, give a shout to all of the local business who support the Market and local farmers who won in different categories! Chefs and staff from these restaurants are regularly seen around the Market picking up produce and goods: Toast, Watts Grocery, Geer Street Garden, Pops, Guglhupf, Lantern, Dos Perros, Locopops, and Vin Rouge! And a high five to all of the finalists - too many to list - but way to go everyone!

Finally, I'm sad to report that Market member, Betty Vollmer, wife of John Vollmer of Vollmer Farm, passed away last week. Here is a link to Betty's obituary and a profile of Vollmer Farm and their story from the Carolina Farm Stewardship Association website. Please keep the family in your thoughts.




See you Saturday,
Erin Kauffman


Market Manager
VEGETABLES:

TOMATILLOS, OKRA Asian Greens, Arugula, Beets, Beans (Green, Yellow, Roma, Filet), Broccoli, Broccoli Raab, Cabbage, Cauliflower, Celery, Chinese Cabbage, Cherry Tomatoes, Corn, Collards, Cucumbers, Dandelion Greens, Eggplant, Escarole, Fava Beans, Fennel, Frisee, Fresh Herbs (Cilantro, Mint, Rosemary, Oregano, Thyme, Parsley), Green Onions, Garlic, Green Garlic, Garlic Scapes, Gourds, Mustard Greens, Kale, Lettuce, Leeks, Potatoes, Onions, Pea Shoots, Peas, Peppers (sweet) Radicchio, Radishes, Salad Mix, Shiitake Mushrooms, Sweet Potatoes, Sugar Snap Peas, Snow Peas, Swiss Chard, Summer Squash, Tomatoes, Turnips, Turnip Greens, Zucchini
FRUITS:

Red Raspberries, Logan Berries, Dewberries, Blueberries, last few Strawberries

, and

PEACHES
MEATS AND EGGS: Beef, Bison, Cornish Game Hens, Chicken, Duck, Goat/Chevon, Lamb, Pork, Duck Eggs & Chicken Eggs CHEESES:

Fresh and aged cow and goats milk cheeses.


FLOWERS & PLANTS: Asiatic Lilies, Gladiolus, Sunflowers, Zinnias, Mixed Bouquets, Vegetable & Herb Seedlings, Landscaping Plants, House Plants
SPECIALTY ITEMS: RAW HONEY,

Pecans,

Flour, Cornmeal, Grits, Baked Goods including Pies, Breads, Cookies, Pastries, Beer, Wine, Jams, Jellies, Pickles, Preserves, Wool
CRAFTS:

Pottery, Jewelry, Stained Glass Art, Handmade Baskets, Gourd Birdhouses, Woodwork, Photographs, Hand-dyed Clothing and other items, Handmade Clothing, Soaps, Yarn, Roving, and much more...





Produce availability depends on weather conditions



Little Tree Farm
Little Tree Farm Layers! Photo by Dale Fluke
John will see you Wednesday and we both will see you this Saturday with lots of delicious fresh free choice-free range eggs, young whole chickens, raw honey, english and wholegrain mustards, stewing hens, creamed honey (pure honey and chocolate) and Pepper's pottery.
John & Dale Fluke
Little Tree Farm
Flat River Nursery
Flat River Nursery and Farm will be at market with pesticide- free greenhouse tomatoes ,pesticide-free cucumbers, cabbage, potted herbs, bedding plants, beautiful hanging baskets, squash, cut flowers and more.
Charles and Joan Holeman
336-364-2460
Fickle Creek Farm
PORK - pasture-raised:
bacon pieces, jowl bacon, sweet-potato-liver pate, roasts (

Boston butt,

shoulder picnic), bulk sausage (country, chorizo, hot extra sage), link sausage (bratwurst, hot Italian, sweet Italian, smoked Polish, smoked bell pepper and onion), meaty neck bones, rendered lard, fatback, feet, organ meats.
CHICKEN - Freedom Rangers, raised without confinement on pasture: whole broilers, breast (French and boneless skinless), leg quarters, wings, backs, necks, livers.
BEEF - 100% grass-fed Jersey:
ground beef
, roasts, short ribs, heart, liver, bones.
DUCK - Muscovies, raised without confinement on pasture: wings, backs, necks, feet.
PRODUCE - no pesticides, no herbicides, no synthetic fertilizers: carrots, cilantro, spring chard, fresh onions, potatoes, summer squash, zucchini.
EGGS - from hens ranging freely on pasture: mixed size and jumbo.
http://www.facebook.com/FickleCreekFarm
Bonlee Grown Farm
KOSHER DILL PICKLES, CUCUMBER RELISH, HOT CHOW CHOW, PICANTA SAUCE, AND TRIPLE BERRY JAM are just some of the things Amy has been making this week. PLANT SALE AND SLICING TOMATOES ALSO!!! Call Amy for orders 919-548-0977
Sweethart Glass
One of the hottest trends this year is Glittered Serve ware and this week we will have our first glittered items. Dessert Bowls with glittered stems will be available. We will also have a nice collection of red, white and blue sun catchers, perfect for the 4th of July! (also Veterans day and Memorial day). Bracelets, Necklaces and Barrettes will be available too.
Be sure to visit our Etsy store at:
http://www.etsy.com/shop/AttractivDistraction
Thanks,
Karen & Peter
sweethartglass@earthlink.net
919-544-3550
www.sweethartglass.com
Meadow Lane Farm
Pasture raised ANGUS beef.. all Animal Welfare Approved and all "born and bred" on our family farm in Franklin County. GROUND, SAUSAGE, LOIN RIBS... all great on the grill for the weekend activities... also stew, calves liver, soup bones, cubed steak, chuck filets, and more
CHEVON (goat meat).. Ground, Stew, Soup Bones, Shanks, and more.
Our USDA Certified Organic Vegetables will be arriving this weekend also... young, tender Blue Lake Green Beans, Beets, and Swiss Chard...
Thank you for your continued support of our family farm.
Vollmer Farm
Blues, Blacks, and Straws!!
For the next three weeks, we will have all three of our popular Certified Organic berries! Luke and Irma will be bringing Blueberries, Blackberries, and Strawberries to DFM this Saturday, June 9. The strawberries really have great flavor and sweetness right now and it's a good time to put some in the freezer for smoothies. We will have special pricing on whole flat quantities. Luke and Irma will also have an array of fresh vegetables...pickle and slicer cukes, zephyr squash, zucchini, specialty lettuce, green onion, new red potatoes, and more.
We are so grateful for your support of our small family farm. Regards, Farmer John


Roberson Creek Farm
This week we will have Lots of our DELICIOUS CARROTS, CONTENDER GREEN BEANS, SPRING ONIONS, & OUR NEW POTATOES (RED & WHITE& YUKON GOLD). Come by & Say hello & get some fresh Vegetables. No Chemicals, No Pesticides. Thank You for shopping with our FAMILY FARM each week. We appreciate your support. Have a Great Weekend!!!

Thanks, Bobby & Vicki Roberson
Roberson Creek Farm
Sarah's House of Clay
Bring on the Berries! Serve berries all summer long from this Berry Bowl.
I'll bring GLUTEN-FREE Baked goods and GRAIN-FREE goodies, too including MILLET SORGHUM BREAD, COCONUT ALMOND MUFFINS, CHOCOLATE CHIP MUFFINS, and another edition of GARDEN FRESH HERB CRACKERS.
Hope to see you at market Saturday! Sarah Howe
sarah@houseofclay.net
Wild Scallions Farm
We'll be back at market with a variety of early summer treats: fresh-dug new potatoes, cucumbers, summer squash, rainbow beets, chard, carrots, green onions, TOMATOES, berries?, fennel, lovely mixed flower bouquets, and even a few late spring greens, some beautiful heads of escarole, frisee, red oakleaf lettuce, and romaine.
Everything we grow is sustainably grown without the use of synthetic fertilizers, pesticides, or herbicide for healthful foods from healthy fields.
Hurtgen Meadows Farm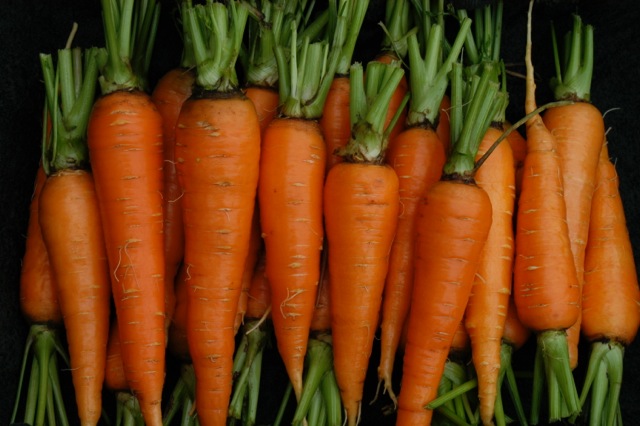 Produce currently available: Arugula, beets, carrots, chard, collards, garlic scapes, kale, kohlrabi, leeks, lettuce mix, potatoes, turnips.
Flowers: Lilies and sunflowers
All of Hurtgen Meadows produce, plants, and flowers are naturally grown using sustainable practices -- no synthetic pesticides, herbicides, or fertilizers are ever used on our farm.
We'll see you at the market!
Find us on Facebook and Twitter (@HurtgenMeadows)
Terra Clotha
Our hand-dyed T-shirts are soft, but these 5-ounce jersey cotton skirts are softer. We do them in a variety of bright colors, the effect of seeing all of them hanging on the rack is that of soft, flexible Easter eggs. The skirt's asymmetrical hem gives it a kind of mischievous flare, and the elastic waistband means you can spend a day at the beach, take it out of your bag, and slip it over your suit for a dinner at a nice restaurant. The skirt packs flat, travels easily, and wears like a second skin. Like T-shirts, they are available in small, medium, large, and extra large.
Hand-dyed skirts from Terra Clotha. Colorful. Comfortable. Versatile.
Brinkley Farms
Come by the Brinkley Farms stand on Saturday and check out all the new produce we've got coming in. We've got corn, French Filet beans, green beans, yellow wax beans, roma beans, eggplant, squash, zucchini, cucumbers, and much much more. We'll also have our whole wheat flour, grits, and cornmeal along with our pork products.
Dianne and William Brinkley
Chapel Hill Creamery
You've been asking for the paneer and we"ll have it- great on any kind of cooked greens for a traditional saag paneer (spinach) or palak paneer(mixed greens) or try matar paneer (peas). Gently fry or bake the paneer, or cube it and place in your greens or curry to warm up. It's best warm-moist and flavored with a little lime juice. I've severd it with cooked carrots and cumin-delicious
We'll have almost every chese we make- 12 distinctive ones from the milk of our Jersey cows. Fresh mozzarella, smoked Dairyland Farmers, award winning Calvander, and a little Hot Farmers to name a few.
Our sausage is tastey because we have whey fed pigs and use mostly hams in the sausage, not just trimmings. Mild Breakfast, to Andouille, to Italian, to hot Chorizo. Pork chops and ground pork, and ground beef. Hot Italian is featured at Neals Deli with our Fresh Mozzarella.
Thanks to those who voted us Best cheese producer in the Independent. See you Sat.
Loaf
Loaf will be at the Durham Farmer's Market this Saturday with lots of fresh, tasty hearth baked breads. This will be Jalapeno Cheddar week!! We will also have Market, 100% Whole Wheat, Multi Grain, RyeKorn, Olive, Pain de Campagne, Polenta, Flax Seed, and Cranberry Pumpkin Seed. Croissants, both butter and chocolate, and bread puddings will be available at the start of the market, Baguettes will arrive later in the morning. We look forward to seeing everyone there!

Cheers;
Ron and Jaimie
Loaf
Edna Lee's Bakery
The featured items this week are
cranberry orange scone, chocolate cherry scone, cinnamon roll, blackberry cobbler, granola, gluten free brownie, and gluten free oatmeal raspberry bar. We will have an assortment of cookies, breads, sweet breads, cheese straws, cakes, and cheese danish. To quench your thirst we will have lemonade, pink lemonade, and coffee. Thank you for your patronage.
Lonnie, Susie, & Matt
919 832-6254
Edna Lee's Farm
This week we will have New Potatoes, Onions, Squash and some other vegetables.
Parking & Street Information


The Market is located at 501 Foster Street in and around the Pavilion at Durham Central Park. During Market hours, Foster Street is closed between Hunt and Corporations Streets.

Parking can be found on the street around the Market, in the Ballpark Parking Lot on Corporation Street and in the Measurement Inc lot, 423 Morris Street (one block west of the Market). There is a path at the bottom of that parking lot that leads you to the Market. There are also public parking lots along Foster Street and on Morgan Street near the Carolina Theatre.

Handicap parking is available on Foster Street, right next to the south entrance of the pavilion.

Durham Farmers' Market Animal Policy


Please note that the Durham Farmers' Market does not allow dogs or other pets in the Market area during Market hours.
Service animals are exempt from this rule.
Leashed pets are welcome elsewhere throughout Durham Central Park.


Erin Kauffman
Market Manager
Durham Farmers' Market