Hooray for the Sustainable Jersey 78 percent!
We are pleased to report that Sustainable Jersey participation continues to grow. A total of 198 municipalities are now certified, with 153 at the bronze-level and 45 at the silver-level. The program has also grown to 441 participating communities, meaning 78 percent of New Jersey's municipalities are registered in the program which encompasses 88 percent of the state's population.
581 Schools and 233 Districts Participating
After only two years, the Sustainable Jersey for Schools program is also showing record participation levels. There are 233 districts and 581 schools registered in the program. The district participation has grown to include one-third of all New Jersey school districts. A total of 118 schools are now certified, with 109 at the bronze-level and nine at the silver-level.
Coding for Community:
2 Month Competition
Coding for Community (CfC) is the first competition of its kind, matching Sustainable Jersey participating towns with professional and student coders, programmers and digital designers from across the region to develop practical solutions for local sustainability and public engagement issues. The two-month competition kicks off with an all-day event on January 27, 2017, in Newark, where potential tech solutions to local issues will be identified and teams will form. For more info and to register for the event: http://cfc.sustainablejersey.com/.
Free Gov 2.0 Tech Assistance for Two NJ Municipalities
Sustainable Jersey will provide free consulting services to two pilot municipalities to support the implementation of its Public Information and Engagement (PIE) actions. The PIE Technology Assessment will help the selected communities develop a comprehensive plan to save money by creating efficiencies in the way they share important information and data across departments and with residents, and develop innovative ways to engage the public in decision-making. For more info: http://bit.ly/PIETechPilot. Application Deadline: February 5, 2017.
Eight Towns and School Districts Receive Energy Grants
Sustainable Jersey announced the four public school districts and four municipalities selected to receive Sustainable Jersey grants funded by the Gardinier Environmental Fund. Grants will fund projects including electric vehicle infrastructure and demonstration, energy efficiency upgrades to buildings and more. Grant recipients come from seven NJ counties: Bergen, Camden, Cape May, Essex, Hudson, Hunterdon and Somerset. To see the list of grant awardees and their innovative projects, read the media release.
National Network of Statewide Local Sustainability Initiatives
Sustainable Jersey staff attended the second convening of the National Network of Statewide Local Sustainability Programs that was held in Racine, Wisconsin. Thirty-two people from thirteen state programs attended the two and a half day convening as well as six supporting partners, including the Environmental Protection Agency.
Sustainable Jersey Regional Hubs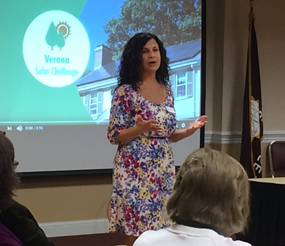 The eight Sustainable Jersey regional hubs are growing through collaborations. The Atlantic-Cape May Hub has facilitated a "Down Beach Green Team" that includes Longport, Ventnor and Margate. These towns are collaborating on the ongoing plastic bag education campaign that so far has led to the passage of New Jersey's first bag fee ordinance in Longport, and soon to come in Ventnor. Green teams involved in the Monmouth Hub are piggybacking on the county's "Grown in Monmouth" campaign to develop a countywide "Buy Fresh, Buy Local" push. The Monmouth Hub and Tri-County Sustainability Alliance (Burlington-Camden-Gloucester hub) have also done a rotating film series. The Essex County Hub hosted a solar workshop to explore a regional solar promotional effort for residents. Read more about Sustainable Jersey Hubs: http://bit.ly/1NJSS7f. Hubs are located in Atlantic-Cape May, Burlington-Camden-Gloucester, Essex, Hunterdon, Mercer, Middlesex, Monmouth and Somerset counties.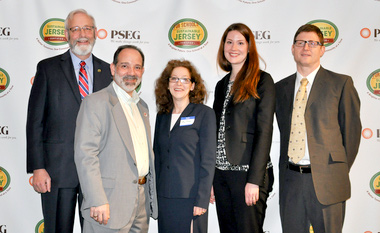 $20k, $10k & $2k Grants Available to Fund Sustainability Projects
Applications are due in February for the Sustainable Jersey Small Grants program which provides opportunities for municipalities, public schools and school districts to implement sustainability projects.
$100,000 in Funding for Sustainable School and District Projects: PSEG Foundation is contributing $100,000 to support another cycle of the Sustainable Jersey for Schools Small Grants Program. Four $10,000 grants and thirty $2,000 capacity building grants are available; visit: http://bit.ly/2aMEv1H. Applications are due on February 3, 2017.
$200,000 in Funding for Municipalities: PSEG Foundation is contributing $200,000 to support the Sustainable Jersey Small Grants program. Four $20,000 awards, eight $10,000 awards and twenty $2,000 capacity building awards are available to support local green teams. Applications are due on February 28, 2017; visit: http://bit.ly/2jrz5LH.
Protocol for Toxic Waste Reduction in Flood Risk Areas
Sustainable Jersey's latest resiliency project will help businesses in flood risk areas learn how to properly store hazardous materials and use alternative, less toxic materials where possible. This project is timely, due to the continued increase in extreme precipitation and storm events and the potential for hazardous materials to be released from flooded businesses. The Toxic Waste Reduction in Flood Risk Areas project will include a train the trainer protocol for local officials and the facilitation of hands-on workshops with business owners. The project will be piloted in Camden City, the County of Camden and Woodbridge Township. Sustainable Jersey will collaborate with municipal and county partners, the NJ Work Environment Council and various offices of the NJ Department of Environmental Protection. Look for a new Sustainable Jersey action related to this work in 2018.
Action Spotlight: Energy Education and Outreach
Residents and businesses are often unaware of the many things they can do to improve energy efficiency and reduce greenhouse gas emissions. Municipalities can help by providing energy education and outreach about these topics, and specifically about the New Jersey Clean Energy Program (NJCEP) and programs offered by several utility companies, which provide financial incentives and rebates to residents and businesses that implement energy saving activities. Local governments can provide leadership in engaging residents and local businesses to facilitate community action and participation in incentive programs by organizing local outreach campaigns, speaking engagements, or workshops to help both the residential and commercial sectors take advantage of programs that will reduce their energy costs and greenhouse gas emissions. For more information on how to complete this action visit: Energy Education and Outreach.
New Board Trustees Michael Catania and Sarah Weidel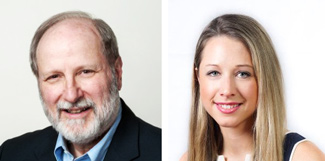 In 2017, Sustainable Jersey will welcome Michael Catania and Sarah Weidel to the Sustainable Jersey Board. Michael Catania is the Executive Director of Duke Farms. He is a senior and well-respected leader of the conservation movement in New Jersey. As former executive director of The Nature Conservancy, he was instrumental in preserving some 45,000 acres and creating a system of 36 nature preserves. He also served as deputy commissioner of the New Jersey Department of Environmental Protection. Sarah Weidel is a Business Development Manager at NRG Energy. As part of the Business Solutions team, Sarah's focus is to build on NRG's strength as the nation's largest and most diverse competitive power provider to pioneer the development of cleaner, smarter energy choices. Sarah works with key stakeholders to provide strategic framework and guidance for business partner engagements. Prior to NRG, Sarah worked at the US Department of State where she was responsible for forming public-private partnerships with multinationals on behalf of the federal government.
---