Bioneers Radio
Series XII
Our multi-award winning audio series enters a NEW SEASON of showcasing established and emerging social and scientific innovators.These are the ardent voices of global visionaries - spanning the rich arc of human endeavor and practical transformation toward a future environment of hope.
LISTEN to a current Bioneers Series XII Episode Spotlight:
Working with Nature to Heal - Landscapes of Hope
with John Lui
Meet Mimi Riley
She first discovered Bioneers in 2007 and has brought Butte faculty to the conference every fall since 2008 and students since 2009.
2012 National
Bioneers Conference
Screening
On Friday, October 19th at 8pm, don't miss The House I Live In which tells the stories of individuals at all levels of America's War on Drugs. From the dealer to the narcotics officer, the inmate to the federal judge, the film offers a penetrating look inside America's criminal justice system, revealing the profound human rights implications of U.S. drug policy. Winner: Jury Prize, Best Documentary at the 2012 Sundance Film Festival and opens in theatres on October 5th. In person: Dr. Gabor Mate (The Realm of Hungry Ghosts) and Ethan Nadelmann (Drug Policy Alliance).
Give Your Support
To Emerging Leaders
The John Mohawk Bioneers Conference Scholarship Fund
Scholarships ensure National Bioneers Conference participation by key youth leaders, students, educators, Indigenous leaders, emerging and established women leaders, and important elders of our communities. Scholarship recipients are from diverse and underserved communities - their participation in the conference is critical to ensuring that our movement for social and environmental change is representative of all members of the Bioneers community.
Acknowledgements:
Bioneers would like to extend an apology to our valued partner, I-SEEED (Institute for Sustainable Economic, Educational and Environmental Design.) The organization's name was incorrectly spelled in our conference brochure and we wish to acknowledge the correct spelling of I-SEEED and thank them for their wonderful work!
Greetings, fellow Bioneers!
A message from Kenny Ausubel, Bioneers Co-Founder & CEO
Exploring Inner Resilience
Given the widespread traumas assaulting us all on a virtually daily basis – from climate catastrophes to severe economic strain and the harms of a society that puts profits over people and nature - how could we not carry a constant background level of PTSD? If you engage in a meaningful conversation with most people today, before long, tears start to flow.
Resilient Communities
Continuing in the theme of 'resilience', Kenny Ausubel and Bioneers guest spreakers, Scott Spann and Steve Waddell each share information, insights, and strategies about building and sustaining resilient community networks. We're delighted to share these contributions with you and invite you to share your own thoughts and remarks about resilient communities in the 'comments' section of our Blog.
Resilience. Communities. Networks. Questions. Possibilities. Hopes. Challenges.

By Scott Spann, Innate Strategies

"All of us who see, feel and live the challenges of our time are seeking to do something that's never been done before: to cause a response at an order of magnitude that matches the threats we face."

This is the first in a series of short glimpses into what we're up to in this domain of "resilience" – who's focusing on it, how, and why. Since as Bioneers most us of already know much of the "why", we'll focus here on the "who" and a bit of the "how," diving deeper in the "why" next time.

Global Action Networks: A Breakthrough Innovation


By Steve Waddell

"The 21st century is the century of networks that create resilience, flow and common good amongst the leviathans."

Responding to the 21st century's enormous global challenges and realizing its unsurpassed opportunities requires new ways of acting and organizing. Common good global action has never broken down: Only with globalization do we understand the need to build it up. Some lament the lack of global government to address critical issues and opportunities, some theorize about the way global government should be developed, and some are actively creating new ways to take decisions and action for the global common good.
From Change to Transformation: Wicked Problems, Systems Mapping and Global Action Networks
by Kenny Ausubel
"The key is building resilience, both ecological and social, while making the epic transformation to a truly sustainable, just and flourishing civilization and sustainable prosperity."
From climate science to shamanic prophecy, 2012 is already living up to widely held high expectations as a transformational global threshold. What's required is not change but transformation -- moving from breakdown to breakthrough across the cusp of a foundational shift in global consciousness of how we live on Earth and with each other. The next five or six years will be the most important years in the history of human civilization, the make-it-or-break-it passage.
The Dreaming the Future
Reimagining Civilization in the Age of Nature
(2012 | Chelsea Green Publishing)
The NEW book by Kenny Ausubel is AVAILABLE NOW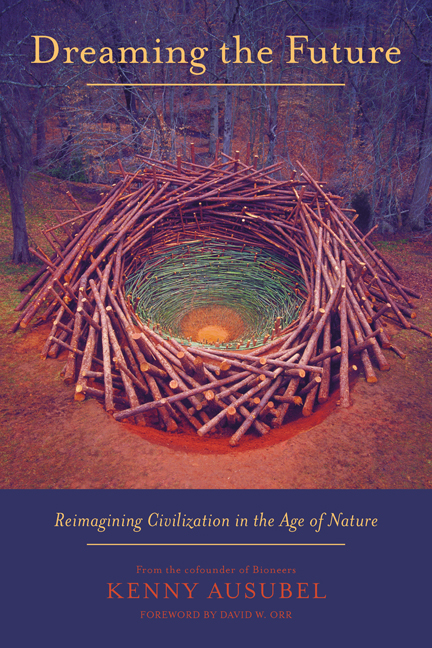 "Without doubt, Kenny Ausubel has one of the most glorious minds on the planet. Herein he has crafted a dazzling treasury of essays on the destiny of humanity and its place on earth, a rosary of startling truths. Read this for its brilliance, but read it also to find joy in the intricate reimagination of what it means to be a human being at this parlous moment in civilization."
~Paul Hawken,
environmentalist, entrepreneur, journalist,
and author
"Kenny Ausubel is one of the planet's key people, a kind of hub for the new ideas that will, if we're smart, shape our future. He delivers them with the brio and confidence that will help people overcome their fear and get to work."
~Bill McKibben,
environmentalist, author, educator, and journalist
From the Publisher
The world is entering a period of great change. The environment is collapsing. Social disruption abounds. All around, it seems, societies are experiencing breakdown—even collapse.
Out of this chaos, however, comes the opportunity to avoid a complete breakdown and instead foster a breakthrough. It is time, argues award-winning social entrepreneur, author, journalist, and filmmaker Kenny Ausubel, to reimagine our future and our connection to each other, and to nature.
In Dreaming the Future, Ausubel tracks the big ideas, metatrends, and game-changing developments of our time being led by some of the world's greatest thinkers.