Stark County Entrepreneur Experience
March 22 - April 19, 2011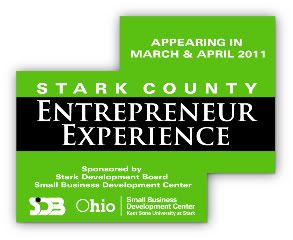 Make plans now to attend sessions of the Stark County Entrepreneur Experience, a month-long series of events that will focus on various facets of entrepreneurialism. A listing of events is as follows:
Tuesday, March 22, 7:30-
9:30 a.m., "Experiences as an Entrepreneur" by Andre Thornton ($15)
Wednesday, March 30, 7:30-9:30 a.m., "The Genesis of Bizdom U" by Ross Sanders ($15)
Tuesday, April 5, 7:30-9:30 a.m., "Panel of Entrepreneurs" moderated by Ned Parks ($15)
Wednesday, April 6, 8 a.m.-noon, "Student Entrepreneurs Competition" ($10)
Tuesday, April 12, 8-9 a.m., "Students Day Kick-off Breakfast," speaker John Dearborn ($10)
Thursday, April 14, 7:30 p.m., "Featured Speaker Jerome Ringo" (Free, but ticket is required)
Tuesday, April 19, 7:30-10 a.m., "Entrepreneurial Conspiracy: A Seminar on Management Focus and Discipline" facilitated by Chuck Violand ($20)
All events will be held at The University Center, Kent State University at Stark.
For more information and to register, visit cantonsbdc.org.