February 2014
Patrick Shaw
Staff Development Specialist, OCM BOCES – Syracuse, NY
Trainer for Project-Based Learning & Standards-Based Planning
@pshaw63

Joanne Keim
Network Team Coordinator
PBL 101 Trainer
Onondaga-Cortland-Madison BOCES

Denise Pawlewicz
PBL Trainer/Coach
Onondaga-Cortland-Madison BOCES

Randi Downs
PBL Teacher Trainer
Onondaga-Cortland-Madison BOCES
---
OCM BOCES PBL News
PBL 101 Regional training slots are still available for the following dates:
(for secondary educators only)
Click on a link to register.
PBL Trainers are coaching in the following school districts:
East-Syracuse Minoa School District
Salmon-River School District
OCM BOCES Student Programs
Center for Instruction, Technology, & Innovation
Solvay Union-Free School District
Liverpool Central School District
Marcellus School District
Chittenango School District
Fayetteville-Manlius Central School District
Southern Cayuga School District
Westhill School District
Cincinnatus School District
The purpose of PBL coaching is for the coach to work with teachers to…
facilitate collaborative relationships with peers, students, and community members
translate PBL principles into instructional practices
align instructional practices and assessments to Common Core Learning Standards and other standards
use protocols to collect data from student work to drive instruction and assessment planning
establish common PBL vocabulary and background knowledge
facilitate the reflection process with project design and implementation
plan and implement high-quality, authentic and rigorous projects
The results of PBL coaching are to increase or improve student engagement and student achievement using best instructional practices in a PBL framework.
Additional, benefits of PBL coaching include:
Professional Support
Professional Learning and Development
Collaboration and Sharing of Ideas and Strategies
To learn more about coaching options, contact Lynn Radicello at 431-8596 or email her at lradicello@ocmboces.org.
here.
PBL & Activating the Desire to Learn
21 Simple Ideas To Improve Student Motivation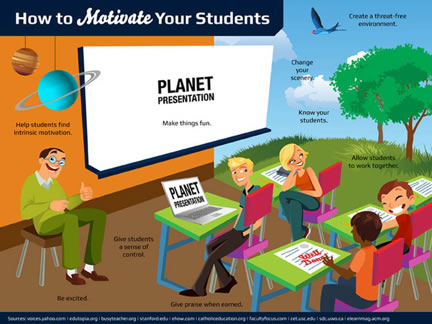 Click on the image or the individual links to read about 21 ways to motivate your students.
Project-Based Learning Motivates Students to Learn
Project-Based Learning: Real-World Issues Motivate
Concrete, authentic project-based learning helps students illustrate core knowledge.
Read more here:
Three Good Reasons for PBL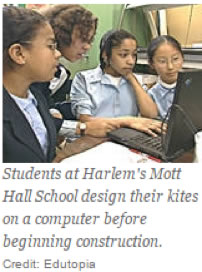 Eeva Reeder, a former math teacher who led a high school geometry project on designing a school for 2050, says she started project-based learning for three reasons: First, her students were not learning concepts deeply enough to apply or even remember them for a long period. Second, a growing body of research upheld the view that concepts are best understood using concrete examples constructed by the students themselves. Third, while taking a break from teaching to finish a master's thesis, Reeder took a job at a bridge-design company and realized, when she was asked to do a task, that she had never applied her knowledge of mathematics in a real-world situation.
What Keeps Students Motivated to Learn?
blog by Katrina Schwartz posted on MindShift about the how keep students motivated to learn by treating like adults, with hands-on activities, and students knowing that teachers care.

Motivating Students to Read through Project-Based Learning
Read the research here about how PBL motivates students to read, written by Kelly Walsh. Walsh reports, "This study examined how Project Based Learning (PBL) motivated students to read content area texts. Data was collected though observations, student questionnaires, recordings of student presentations, and student created artifacts. The data shows that students were motivated to read content area texts because they were allowed to work collaboratively and given choices through PBL. Not only were students more motivated to read, they also used a variety of literacy skills such as comprehension and discussion throughout the process of creating their projects."
ASCD Book Collection
You will find the following chapters in this free, downloadable book that aligns perfectly with PBL principles and practices (username and password: ocmboces).
Elementary School
Middle School
High School
Upcoming PBL Events:

PBL Social Media Connections