Dundee Library

555 Barrington Ave. (Rt. 68), East Dundee

Randall Oaks Branch

500 North Randall Road, West Dundee

www.frvpld.info/ (847) 428-3661
Dundee Library finds a new use for the old (and beloved!) card catalog
Remember when finding a book at the library meant opening a teeny, tiny drawer and flipping through a row of index cards? While all of that is now contained in a box with a screen, we still think the catalog is pretty cool to look at, so we've repurposed it to display some recommended fiction.
Right now the theme is "Around the World in 80 Books." If you find yourself longing for a trip, but don't have a ticket, check out one of the featured destination fiction titles like The Scent of Sake by Joyce Lebra (Japan) or A Green Journey by Jon Hassler (Ireland). We've also created a special list in BiblioCommons entitled "Around the World in 80 Books," where we've sorted great fiction reads according to country.
How to judge a book by its cover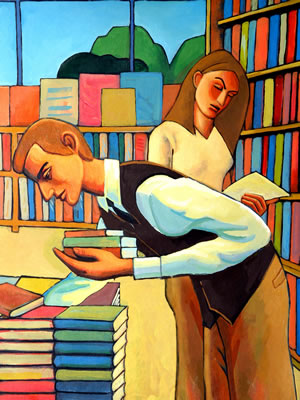 Go ahead and judge
books by their covers!
Most people can identify a romance novel at 30 paces, and science fiction is just as easy to
spot. But other types of fiction also reveal themselves--if you know what to look for. Marketing departments put a lot of thought and effort (not to mention money) into covers, fonts, spines, and dust jackets. Their goal is to make sure the right reader picks up the right book. So take a stroll through our stacks while you look at...
Colors
are your first clue. Some covers have a lot of black, dark blues, and ominous greens. Others have pastels like pink, baby blue, spring green, and bright yellow. You can tell which one is about a hunt for a serial killer and which one is about the former lawyer opening a cupcake bakery, and you know it with neither the title nor the author to guide you!
Fonts
are the next piece of the puzzle. If the font for both the title and the author's name is a deep red and looks like dripping blood...it's not going to be a sweet, old-fashioned read!
Dust-jacket blurbs like "heart-warming and charming" means a book about family relationships; realistic but sweet. A lot of Amish fiction and Christian fiction will carry those terms. No matter how bad things get, love and family will win in the end. On the other hand, if the dust jacket promises a "harrowing ride to the depths of evil," you'd better believe it.
Thrillers grab you with glossy covers containing lots of black and red and sometimes gold or silver -- shades of James Bond!
Literary fiction may have serious colors and symbolic or abstract cover art, like a single window or an umbrella floating in space all by itself.
Historical fiction uses the time period to its advantage: gorgeous dresses, letters with copperplate handwriting, or sepia-toned photographs. Historical fiction set in a foreign country will advertise itself. If you look at a book and think "China," "India" or "Italy," you won't be wrong.
Cozy mysteries sport lighter, brighter colors. There may be a skull on the cover, but it's going to be pink or green and integrated into a series of tourist-appeal storefronts or a charming English village. Cats are always a giveaway that a mystery is a cozy, and so are gardening tools or balls of yarn.
Serious, graphic, or noir mysteries warn you of dark content with lots of black and gray, some shattered glass, knives, guns, and bullets. Often, a lone human is depicted running away from the viewer (and towards a very dangerous looking background).
It's like asking the waiter what is good on the menu! Next time you visit the Randall Oaks Branch, be sure to peruse the "Staff Favorites" shelf. Titles are refreshed by Susan, Joyce,
Emilia, and Dolores every day!
Feed Your Need with RSS
Staff here at the FRVPLD work hard to make sure our collection offers fresh materials in a broad selection of topics. BiblioCommons, our searchable online catalog, makes it easy for you to keep up-to-date with an RSS feed containing additions to the collection that are of particular interest to you.
RSS is a technology that alerts you about changes to websites that change frequently, such as blog or news sites. An RSS feed will deliver information to you about recent changes, saving you the effort of checking the website frequently. Here's how to set it up on your computer in three easy steps:
Step 1. To read an RSS feed, you'll need to install an RSS reader (such as Shrook or FeedDemon) that supports RSS 2.0. If you use Internet Explorer or Mozilla, pop up screens will appear automatically, where you can name the feed and assign it to a folder. You can also subscribe via Microsoft Outlook.
Step 2. Visit www.frvpld.info, and conduct a search for the author or topic that interests you, like "knitting mysteries" or "Jodi Picoult."
Step 3. At the bottom of the search results, look for the RSS icon and click the button to capture the search. That will launch your RSS reader and prompt you to subscribe to the feed. You can capture multiple authors or topics, and then just check your reader periodically for new items.
Breaking Book News
Have you heard JK Rowling's big secret? Click here and pass it on!
Then find it in our catalog. (We've ordered more copies...)
Gatherings...
Dundee Library Book Club
The Dundee Library Book Club meets on the last Wednesday of the month at
1:30 and 7 p.m. Copies of the discussion books are available for pick-up five
weeks
before the meetings. Feel free to pick up a copy even if you can't make
the meeting.
Call (847) 428-3661, ext. 5836 for more information.
How-To Nook program is on Aug. 19
Charge up your Nook and head to this informational program where you will
learn
how to check out and download free library books for your Nook
eReader.
We'll meet in the meeting room of the Dundee Library on
Monday, Aug. 19 at 7 p.m. Click here to register
.
Don't find out about your favorite author's new book by spying it on someone else's beach chair!
Sign up for the Favorite Fiction Fan Club
The Favorite Fiction Fan Club is for readers who want to be among the first to read just-released titles by their favorite authors. We've compiled a list of more than 100 best-selling authors such as John Grisham, Dean Koontz, Jodi Picoult, and James Patterson, (to name just a few!) whose newly-released titles are immediately placed on hold for eager readers.
Tell us your favorite authors, and we will automatically place the hold for you whenever any of your authors has a new hardbound, first-edition book published. We will then notify you when the book is available to pick up. It can be checked out for two weeks with no renewals. For more information call (847) 428-3661 and choose option 3, or stop by the Information Desk to sign up.