DFM Accepts
SNAP Benefits
The Durham Farmers' Market proudly accepts SNAP benefits. To use your EBT
card at the Market, please visit the Market info table
at the center of the Pavilion.
The Double Bucks Program allows SNAP customers to receive double the amount of money they spend on tokens for purchases up to $10.
The Market is working
closely with RAFI as our fiscal sponsor. Read more about
the program and our partnership
HERE
.
Thank you to everyone who donated to the Double Bucks program! We couldn't do it without you!
Farmer Foodshare Donation Station
The Donation Station
Program collects donations
of fresh food and cash from customers at the Durham Farmers' Market. The
money is used directly
at the Market to purchase food from farmers for
those who are hungry
in our community.
Farmer Foodshare's mission
is to connect our local
farmers with those
who need food! Please visit
or volunteer at our Durham Farmers' Market
Donation Station!
And don't forget to participate in the Donor Rewards Program. Give a suggested donation of $3-$5 and
receive a stamp on your card. Once you've collected enough stamps, you will proudly earn your Farmer Foodshare
T-shirt! Swing by the Donation Station for
more information!
SUPPORT YOUR FARMERS!
NOW AVAILABLE
AT THE MARKET
STRAWBERRIES
GREENS
CHARD & TURNIPS
FLOWERS
PASTURED MEATS
GLUTEN-FREE BREADS
& PASTRIES
KALE
MUSHROOMS
BOK CHOY
ASPARAGUS
EGGS
ARTISAN BREAD
SOAP
TEA
CARROTS
GINGER
CHEESE
LAMB & SHEEP PRODUCTS
FERMENTED FOODS
SWEET POTATOES
RED RADISHES
PLANT STARTS
HERBS
HOMEMADE PASTA
HOMEMADE JAM
HAND-DYED CLOTHING
HAND-WOVEN BASKETS
HANDMADE CHOCOLATE
10% Campaign

The 10% Campaign is a project of the Center For Environmental Farming Systems (CEFS). The campaign encourages you to spend 10% of your existing food dollars to support North Carolina food producers, businesses and communities. Why 10%? In North Carolina, we spend $35 billion on food every year. If we spend 10% of our food dollars on local product, we can infuse over $3.5 billion into the local economy. As avid supporters of the Durham Farmers' Market, you already know the many advantages to shopping locally. So, why join the campaign? It will re-affirm your commitment to shopping locally and it sends a strong message to policy makers about the importance of local foods! For more information
visit: www.nc10percent.com
We hope you are looking forward to a happy Easter celebration with your family this weekend.
You can pick up everything you need for your holiday meal at the Market, including pasture-raised meats, eggs, cheese, veggies, strawberries, and much more.
Don't forget to bring the colors of spring to your table with a beautiful bouquet! Our vendors have been working hard this week to produce the best products for you and your family as you celebrate this special holiday so be sure to include a trip to the Market in your Saturday morning activities this weekend.
While you're here, you can also pick up supplies for planting your backyard garden. Our farmers have a wealth of knowledge and can help you pick the perfect plant starts. Do you need a little extra support?
Well then be sure to check in with the Master Gardeners tomorrow from 8 am-Noon.
Between our farmers and the Master Gardeners' team, you'll be more than prepared to create a backyard oasis.
We also encourage you to visit our friends at Farmer Foodshare's
Donation Station
, which is located next to our Info Table.
Whether you're just saying "Hi!" or donating money or produce, the incredible volunteers are excited to get to know you. On Saturday, all donations support
Iglesia Emanuel
and on Wednesday your donations support Reality Ministries. If you
have not already, please introduce yourself to the volunteers and learn more about this awesome program.
Also, you can pick up your buttons for Carolina Farm Stewardship Association's
22nd Annual Farm Tour
at the Market. On April 22 and 23, you'll have the chance to visit more than 35 farms in the Triad area, including many vendors from the Durham Farmers' Market. Swing by the Market's Info Table for a brochure or to pick up your button.
Finally, you know we love social media and that there's nothing better than posting a picture of our favorite veggie on Instagram. However,
did you know that only 6% of Americans eat the recommended 2-3 cups of vegetables per day? The wonderful folks at Tater Tats are trying to change that! They want you to take a photo of you and your favorite veggie on Instagram and use #eatavegetabletoday when you share your veggie selfie. Then visit their website by May 1 and get your free temporary veggie tattoo. C'mon, but what's better than that? We're excited to share our Market veggie selfies and look forward to showing off our temporary tattoos later this spring. We hope you'll join us!
Wednesday, April 19
Savor the flavors of Spring with a strawberry salad cooking demo and pick up a free sample.
Saturday, April 22
Celebrate Earth Day and learn about ways to protect the environment from local organizations.
Saturday, April 29
Saturday, May 6
See a honeybee hive and chat with the Durham County Beekeeper's Association from 9:30 am-Noon.
VEGETABLES:
Arugula, Asian Greens, Asparagus, Beets, Bok Choy, Cauliflower, Cabbage, Chard, Collards, Dried & Fresh Herbs and Spices, Garlic, Greenhouse Tomatoes, Kale, Kohlrabi, Lettuce, Mushrooms, Pea Shoots, Potatoes
, Radishes, Scallions, Spring Onions & Garlic, and more!
FRUIT: Strawberries
MEATS AND EGGS:
Pork, Beef, Lamb, Mutton, Bison, Chicken, Duck, Goat/Chevon/Cabrito, Veal, Duck Eggs, Chicken Eggs
FLOWERS:
Ranunculus,
Icelandic
Poppies, Tulips, Heirloom Daffodils, Freesia, Hyacinth, Snapdragons, and more!
CHEESES:
Fresh and Aged Goat and Cow Milk Cheeses
PLANTS:
Vegetable, Flower and Herb Starts, Bedding Plants
SPECIALTY ITEMS:
Handmade Chocolates,
Pasta, Flour, Cornmeal, Baked Goods including Pies, Breads, Cookies, Pastries, Empanadas, Gluten-Free Baked Goods, Teas, Beer, Wine, Meade, Jams, Jellies, Pickles, Preserves, Fermented Foods, Vermiculture, and more!
CRAFTS:
Pottery, Woodwork, Baskets, Photographs, Hand-Dyed Clothing, Handmade Clothing, Body Butters, Lotions, Yarn, Roving and much more!
Produce availability depends on weather conditions.
Are you now planning your EASTER menu? Our Century Family Farm has wonderful LAMB and GOAT (Chevon) for the holiday. Our Dorset X sheep are bred for their delicious quality meat and harvested at a young age for the most tender cuts.
Fresh LAMB today! We will be sampling our new BRAT's Lamb Sausage and have LEG of LAMB, Lamb CHOPS, Ground, STEW, LEG steaks, whole shanks, and more... also available in our CHEVON (goat meat). Our sheep flock is nationally "Animal Welfare Approved" and audited every year by an independent inspector. They are born and bred on large open pastures and protected by our devoted guardian dogs, Sally and George.
Don't forget our natural ANGUS BEEF, and Berkshire X PORK... 21-day dry-aged Steaks, roasts, ground, sausages, organ meats, DOG bones, marrow bones, and much more... available every Saturday.
USDA certified organic veggies: A
rugula/greens mix.
This Saturday
, we will have FARM FRESH Eggs from our flock of hens. Also, please come see us on the north side of the Market - we moved back to our "summer" location.
Thank you
for your continued support of our family farm!
Tiny Farm will bring the following vegetables to the Market:
Salanova Lettuces - all 8 colors and shapes

Pannise Oak leaf Lettuce - lime green and very tender

Leaf Broccoli - delicious and healthy

Toscano Kale - More tender than the "frilly" types, great flavor, large leaves

Spinach - large leaves (about 4 inches) great heirloom taste

Super Salad Mix - a mixture of baby greens

Arugula - tender, a little spicy

Herbs, Collards, Broccoli Raab, and much more!
Pre-order online by 5 pm to ensure availability when you arrive at market.
Weekly Boxes will be available and new members are welcome

(5 vegetables for $15 week).



S
pring is definitely in the air as we welcome new lambs and tend to our grazing pastures. Each year we try new grazing grasses for our sheep to give them what they love to eat AND offer the most nutrition. Like pie for me, LOVE it but don't know about nutrition levels!
Our coolers will be full once again with our wonderful lamb, named specifically by Slow Food as a FLAVOR worth saving!
Our popular cuts right now are our leg roasts, bone in or out for cooking inside or out. Our chops are always a hit. Shanks, who can resist them? Plenty of bones for all those broth loving fans. And, last but farm from least our ever popular ground lamb. Ask for my Lamb Pizza recipe...easy and yummy!
We'll also be in the company of our felted sheep for Easter gifts. Yes, we have yarn, pelts, and....of course, our Eco-Friendly Wool Dryer Balls.
See you
Saturday
Mornin'!
EASTER FLOWERS from Bonlee Grown Farm
this Saturday
! We'll have geraniums, tuberose begonias, rosebud impatiens, lavender, lantana, sweet potato vines, four different colors of verbena, and more! Please call for orders.
Thank you for shopping local!
We are a small, family-operated creamery in Cedar Grove making Italian-inspired Cow and Goat-milk cheeses. We hand craft all our artisan cheeses, packing each with love. We bring the whole family to the market so get ready to meet the kids and our cheese-makers!
Come taste all of our delicious cheeses including our Freshen (cow milk),
Pimento, Herb Garlic, and Chive flavored; our bloomy-rind cheese,
Cottonbell
(
cow milk)
; our lightly smoked, meltable fan favorite,
Campo
(cow milk)
; our decadent ash ripened and award winning,
Rocket's Robiola
(cow milk)
; our milder take on a beer washed Taleggio,
Lissome
(cow milk)
;
Nimble
,
beer washed
(cow & goat milk)
; and our aged, bees wax dipped, Winsome (cow
& goat milk)
.
For more about our cheeses, creamery, and us, please visit our
website
and join our newsletter mailing list. E-mail questions and special orders
or call 919-732-9079.
Austin

, Dani, Samantha, Alessandra, & Lily

TOMATO PLANTS and MORE!
We will have a variety of tomato plants (cherry, salad, and slicers in all colors - reds, pinks, chocolate, yellow and everything in between, both hybrid and heirloom), herbs, blackberries, peppers (red, green, orange, yellow - both sweet and hot) and flower plants for your garden.
STRAWBERRIES!
Strawberry ripening is slow this week, but steady. We will be bringing a limited supply of our PESTICIDE-FREE strawberries.
PRODUCE:
We will have radishes, chard, and spring garlic.
FROM OUR KITCHEN:
Jams and jellies!
We have our award-winning strawberry jam and blackberry jelly. Also available are apple, peach and peach mango.
All of Hurtgen Meadows produce, plants, fruits and flowers are naturally grown using sustainable practices - no synthetic pesticides, herbicides, or fertilizers are ever used on our farm. We'll see you at the Market!
Spring is really here! (We think) and our Dairyland Farmers Cheese is a fresh cheese that showcases our fresh Jersey cows' milk. It is popular with kids of all ages (like Allison here outside the milking parlor) and buying it directly from us is the best way to enjoy it. Our Farmers is moist and a little tart; good for snacking or adding to scrambled eggs, Mexican dishes, or vegetables and pasta. We have recipes you can pick up including one for Dairyland Farmers with a balsamic strawberry sauce for an adult dessert.
We also have Carolina Moon which is similar to a Brie or Camembert, in the category called "mold ripened" cheese. The white mold changes the cheese over time and enhances the flavor and texture. It's a good example of a SLOW FOOD that is richer in flavor than many industrial type Bries which are made to ship across the ocean without getting too ripe and strong. We try to bring it to you when it is half to fully ripened, and we can pick one out for you. Our Pheta is aged in a salt brine - also a traditional method - and is saltier than the Farmers cheese. It's great for salads or for topping pasta or greens.
Sausage comes from our whey fed pigs and is made with the hams for a meaty taste. Choose from sage and maple breakfast; mild country breakfast; chorizo; mild or hot Italian; and bratwurst. Spare ribs for grilling or cooking in the crock pot, as well as ground pork, are also available. Come taste a sample of our Breakfast sausage and our cheeses and pick some up for the weekend.
Portia McKnight & Flo Hawley
Ever Laughter Farm
This week we'll have lots of plants for you garden including marigolds, oregano, rosemary, chervil, and many other herbs.
Our celery crop is coming to and end, so come get some while we have it.
Our mixed bouquets will include poppies, agrostemma, anemones, bachelor buttons, and more.
See you at the Market!
It's 1941. Mr. Thompson is trying to understand why Charles Foster Kane's last word was "Rosebud," and Mr. Bernstein suggests it might have been some girl Mr. Kane knew years ago. "There were a lot of girls at the beginning," Mr. Bernstein says. "Yes," Mr. Thompson agrees, "but would you remember a girl for more than forty years and say her name on your deathbed?" "A person might remember things you wouldn't think he'd remember," Mr. Bernstein replies. "Me for example. One day, back in '96, I was crossing on a ferry and as we pulled out there was a second ferry pulling in - and on it there was a girl waiting to get off. She was wearing one of those hand-dyed dresses they sell at the Durham Farmers' Market. I only saw her for one second and she didn't see me at all - but I'd say a month hasn't gone by since then that I haven't thought of that girl and that dress." (With apologies to Herman J. Mankiewicz and Orson Welles.)
Hand-dyed clothing from Terra Clotha. Memorable.
Like our Facebook page
and while you're there, find a 10% off coupon to use with your next

Terra

Clotha

purchase.
Celebrity Dairy will be bringing our award winning chevre, delicious gelato to keep you cool all through market, and many other products made with our goat's milk!
Logs:
Plain, Asian Luv, Confetti, Currituck, Dillemon, French Kiss, Garbo, Paprika Garlic, Party, and Rosemary.
Serendipity Spreads:
Plain, Chipotle, Chocolate, Currituck, Dillemon, Garbo, Jalapeño, and Mango.
Aged:
Crottin, Blue Streak, and Silk Hope.
Gelato:
Chocolate, Nutmeg-Vanilla, Ginger, and Mango
Fudge:
Dark Chocolate, Cherry-Pecan, Coconut, and Walnut.
Join us in the Inn/B&B for one of our 3 or 4 course Third Sunday Dinners this quarter:
Easter Family Dinner (

April 17

):

Ham with Berry Sauce or Lamb with Yogurt-Dill Sauce, etc.
Mother's Day/Grad Dinner (May 14 & May 21): Cornish Game Hens with Orange Sauce, etc.
Father's Day (June 18):

Beef Steak with Bourbon Sauce, etc.
Visit Zoila in our vendor spot for delicious samples and full Third Sunday Dinner menus.
Fresh this week: 100% grass-fed beef!
Click here to see everything we have:
100% GRASS FED, PASTURE RAISED LAMB (order early!)
100% Grass Fed YEARLING MUTTON

PASTURE & WOODLAND RAISED, FREE RANGE PORK

Free Range, Pasture-Raised CHICKEN

Fed Certified Organic Feed

Artisan Deli Meats: Salami, Bologna, Sliced Ham, & Hot Dogs
Soup, Stew, & Stock ingredients
Produce
Ground Pet Food
Free Range and Pastured Hen & Duck Eggs
Sign up
for our Warm Season CSA and save 10%!
Receive
10% off purchases of $100 or more!
Visit our website!
Four Leaf Farm is

going to bring lots of tomato and herb plants for you

on Saturday

. It seems like we are over the hump and Spring is here to stay. No cold temps in the forecast and boy, does that make us happy!!!
On the produce table we also have lots of great things to help you make some nice meals this Easter weekend:
Cauliflower, cabbage, beets, carrots, Broccoli Raab, mixed Asian Greens, Scallions, baby cucumbers, Radishes and more. Please also consider coming to visit us on the PIEDMONT FARM TOUR next weekend, we would love to show you all the things that have happened this past year. We even updated our website, so have a look at that, too.
Join us this Saturday at the DFM! We'll have:
Original and flavored chèvre (jalapeno, garlic + herbs, sour cherry and fig + honey)

Fleur verte (chèvre marinated in olive oil, bay leaves, pink peppercorns, garlic and herbs de Provençe)
Homemade crackers (sea salt, rosemary and fennel)
New!

Blackberry goat cheese mousse
Upcoming events:
Our farm tour for Sat. April 15 is sold out, but we have added an additional farm tour for Saturday, April 22 at 4PM. Get your tickets here! Sorry, no pets allowed.
Stay in touch!
Like us on
Facebook
and follow us on
Instagram
.
If you would like to receive our monthly newsletter, send a message to
sandra@elodiefarms.com
.
Visit our
website
for more information about our monthly farm dinners and other events.
Honeygirl Meadery is a small urban meadery in downtown Durham, making an ancient craft beverage for modern days. Mead is essentially wine made from honey, with many different styles that include meads made with fruits, flowers and herbs. Our meads are hand-crafted libations made in small batches, using both local and global true source honey, local fruits, herbs and flowers. They are naturally gluten free.
Our downtown Durham Tasting Room is open on
Saturdays from 1-6 pm and Sundays from 1-5pm.
This week we are sampling three meads that would pair well with Easter foods; come try our Vanilla Mead, a light bodied, lightly sweet mead that would pair well with coconut cake; our Hibiscus Lemonthyme Mead, dry, earthy and slightly floral, for an accent to a main dish like brisket or roasted butternut squash; and our Fig Orange Mead, a semi sweet richly complex mead with caramelized fig and honey, great with a mixed cheese plate or a sweet-salty baked ham, or with dessert.
We will also have available two other nice sipping meads, our Spiced Apple Cyser (popular semi-sweet mead for its apple pie taste, from NC apple cider and NC wildflower honey) and Wildwood Mead (dry-style, medium bodied, made from a dark, bold wildflower honey with buckwheat notes and aged on french oak).
We will bring asparagus, collard greens, turnip greens, kale, spinach, sweet potatoes, fresh and dried herbs, paprika powder, cayenne peppers, cayenne pepper flakes and cayenne powder.
We are happy to be back at the market. We will have Cookies (Chocolate Chip, Peanut Butter, Oatmeal Raisin, 7 layer, Sugar, & Assorted), Cinnamon Roll, Wheat Bread, Oat Wheat Bread, Sourdough Bread, Sweet Breads ( Blueberry, Amish Friendship, Banana Nut, Cranberry), Cheese Straws, Pound Cake, 6 " cakes, Coffee, Lemonade. We look forward to seeing old friends and greeting new ones.
Susan & Matt Doherty
We are glad to be back at the Market. We will have two types of Basil (lg. leaf & boxwood), Lavender, Oregano, Chives, Cilantro, Thyme, Lemon Grass, Bok Choy, Cabbage, Romaine Lettuce, Kohlrabi, Red & White Flower, Tickseed Coreopsis, Gaillardia, Cucumbers (pickle & slice), Jalapeno,Tomatoes (Big Boy, Juliet, Better Boy & Cherokee Purple, Castor Bean, Moon Plant, and Broccoli.
Fred & Lonna Shaw
Rabbit Patch Baskets will be back at the Farmers' Market this
Saturday j
ust in time for you to pick up a basket for Easter. Make sure you stop by and see what we've been weaving up while we were on winter break.
Melina's Fresh Pasta will be at Market
this Saturday
with all of your favorite pastas and ravioli flavors. Ravioli - Spring Pea & Mint, Greek, 3 Cheese & Garlic, Spinach & Cheese, Fig Gorgonzola, Roasted Red Pepper & Feta, Mushroom, Pimento Cheese, Artichoke, Lemon Ricotta, Pierogi Cheddar & Onion, & our NEW Cheese Pizza Ravioli! We will also have cut pastas - spaghetti, spinach linguine, fettuccine; gnocchi, lasagna, pizza dough and our freshly made Tomato Basil Sauce. Come learn how to make ravioli at our spring pasta making class on
April 19 and
click here for more info.
We'll see you at the Market!
Flat River Farm & Nursery
We will be market with greenhouse tomatoes, herbs, flowers, ferns, cold crop plugs, bedding plants.
We look forward to seeing you there!
We will have plenty of strawberries this week so be sure to swing by and pick up this sweet treat!
Also, don't forget to pick up your favorite produce.
Farmer's Daughter Pickles & Preserves
Farmer's Daughter will be at market this Saturday!
We are looking forward to a beautiful market. It may be early spring, but our pantries are overflowing with locally grown, handmade goodness. Stop by and try something new!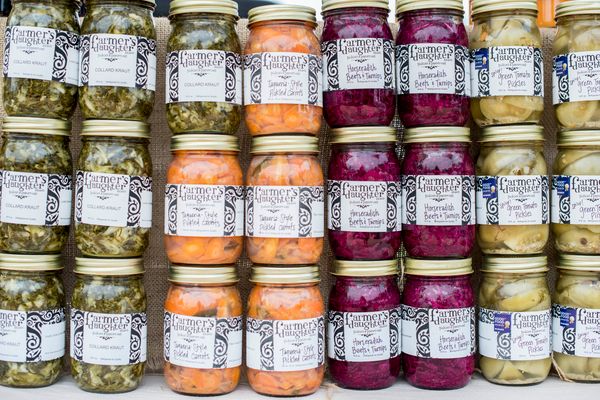 Live-Culture, Barrel-Ferments

Napa Cabbage Kimchi

Daikon Radish Kimchi

Atlantic Sea Kraut

Collard Kraut

Tacqueria-Style Pickled Carrots

Award-Winning Ramp & Mustard Seed Kraut

Ruby Kraut

Juniper Kraut

Classic Plain Jane Kraut




Hot Sauce

Red Rooster Hot Sauce

Sweet Potato Habanero Hot Sauce

Jams/ Preserves

Award Winning Strawberry Honeysuckle Preserves back in stock

Strawberry Passionfruit Jam

Ruby Red Grapefruit Marmalade

Orange Marmalade with Rye Whiskey

Fig & Muscadine Jam

Curried Peach Preserves

Blueberry Lemon Verbena Jam




Sweet Pickles & Relish

Horseradish Bread & Butter Pickles

Carolina Chow Chow

& MUCH More

Thank you for shopping local & handmade,

April




Farmer

's

Daughter

products on Pinterest.
Parking & Street Information
The Market is located at 501 Foster Street in the Pavilion at Durham Central Park.
Parking can be found in the Ballpark Parking Lot on Corporation Street and in the Measurement Inc. lot, 423 Morris Street (look for the Durham Farmers' Market Parking sign). There is a path at the bottom of that parking lot that leads you to the Market. There are also public parking lots along Foster Street and on Morgan Street near the Carolina Theatre.
Handicap parking is available on Foster Street, right next to the south entrance of the pavilion.
Durham Farmers' Market Animal Policy
Please note that the Durham Farmers' Market does not allow dogs or other pets in the Market area during Market hours. Service animals are exempt from this rule.
Leashed pets are welcome elsewhere throughout Durham Central Park.