Thursday thru Sunday, August 2-5, 2012
CHARLOTTE, NC - HILTON UNIVERSITY PLACE HOTEL
Former International Wrestling Superstar, IWA Promoter Johnny Powers Confirms Charlotte Fanfest Appearance!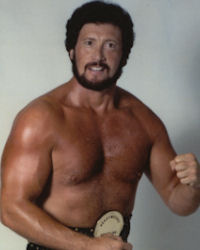 Making his first-ever U.S. convention appearance, former international wrestling superstar-turned-promoter Johnny Powers will be with us in Charlotte this August for our NWA Wrestling Legends Fanfest Weekend.
A native of Hamilton, Ontario, Canada, Powers broke into wrestling in the 1960's and enjoyed main event billing against the likes of WWWF champion Bruno Sammartino, AWA champ Verne Gagne, and NWA champions Lou Thesz and Gene Kiniski.
His Japanese battles with Antonio Inoki are legendary.
In the mid-1970's, Powers was a top star across the United States for the International Wrestling Association (IWA,) and later took over ownership of the company and promoted in the Southeast as opposition to Jim Crockett's Mid-Atlantic promotion (which, of course, was affiliated with the National Wrestling Alliance.) At one point, Powers' IWA filed an antitrust lawsuit in U.S. federal court, claiming the Crocketts and area venue managers were working together to keep the IWA from scheduling events in the major arenas in the Carolinas and Virginia.
Powers joins Austin Idol, Ricky Morton and Robert Gibson of the Rock-n-Roll Express,

former NWA referee

Tommy Young

, former NWA World Junior champion

Denny Brown

, former rivals

Tully Blanchard

and

Magnum TA

, and former Mid-Atlantic and World Wide TV wrestling hosts

Bob Caudle

and

Rich Landrum

as the first ten featured guests for this year's reunion, which takes place Thursday through Sunday, August 2-5 in Charlotte, North Carolina.
Our three-day, four-night get-together returns to the Queen City's beautiful Hilton University Place hotel, and you're now able to secure your spot amongst a bevy of wrestling's greatest heroes and villains and hundreds of old school wrestling fans just like yourself!
You may now purchase online -- using your credit card, debit card, or checking account -- your VIP "All Access" Passes and Hall of Heroes tickets for the 2012 NWA Wrestling Legends Fanfest Weekend!
Save $10 when you purchase your Hall of Heroes ticket at the same time!
In Memoriam: Pro Wrestling Pioneer Joltin' Joe Blanchard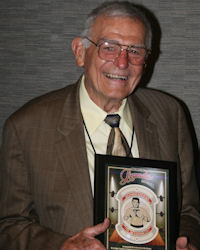 Heaven has another hero. A real angel indeed!
2010 Hall of Heroes honoree Joe Blanchard passed away last Thursday, March 22, in Texas.
Mr. Blanchard's memorial service was Monday at San Antonio's Cornerstone Church, where he'd been a faithful servant for many years.
One of the all-time greats and a pioneer in pro wrestling, his Southwest Championship Wrestling program was the first on a national cable television outlet (the USA network,) back in 1982.
Dory Funk Jr. helped us induct Mr. Blanchard into our Hall of Heroes back in 2010. That same weekend, he and son Tully Blanchard shared their testimony at our Sunday morning worship service. For those that were there, they heard a powerful testimony of a great Christian gentleman. We're honored to have had him part of our weekend, and we ask each of you to join us in praying for strength for his family and friends.
Book Your Hotel Rooms Now For Charlotte Fanfest!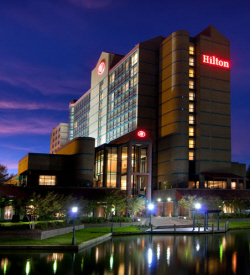 The Hilton University Place is the host hotel for this year's NWA Wrestling Legends Fanfest Weekend. The hotel is offering a special $95 group rate for those that book early.
Keep in mind, we have a limited number of rooms at this great rate, so please make your room reservations as soon as you're certain of your travel plans. The $95 group rate will expire on July 16, 2012 or whenever we fill our block of rooms, whichever comes first.
Remember, Charlotte is the heart of stock car country (the hotel is just a couple miles down the road from Charlotte
Motor Speedway
and dozens of NASCAR race shops in the region,) and home to Paramount's
Carowinds
(the Carolinas' premier theme park and family entertainment destination, including WindSeeker -- new for 2012 -- sending riders soaring 301 feet above the park at over 30 miles per hour and providing dramatic views of the greater Charlotte region,) so why not make it a summer vacation and take in a little bit of everything?
Make reservations online at Hilton Reservations, call 1-800-HILTONS or the hotel directly at (704) 547-7444. When making reservations online, please use theGroup/Convention Code: NWA. If you make reservations by phone, identify yourself as part of the NWA Wrestling Legends Fanfest in order to receive the special group rate.
Get $20 When You Fly To Fanfest On Delta Airlines!
For those of you flying to/from Charlotte for fanfest on Delta, Air France, KLM Royal Dutch Airlines or Alitalia, we'll give you a $20 credit voucher that you may use for free fanfest merchandise while you're here!
It's very simple! When you book your reservation online, make sure to enter our SkyBonus program code: US331078683 and it's as easy as that! If you make your reservations by phone or travel agent, you must make sure they have the same SkyBonus program code in your reservation in order for you to receive the $20 fanfest credit voucher (which will be with your VIP packet of materials at Registration.)
Re-Live All The Excitement Of The 2011 Fanfest Weekend!
In Stock! Shipping Now!
An incredible collection of video from the 2011 fanfest weekend in Atlanta includes all of the memorable moments!
Professionally produced and packaged, this six-disc limited edition set is -- without doubt -- the best fanfest DVDs ever produced!
Each 6-DVD Collector's Set includes:
Disc #1 - Bill Eadie Q&A
From Bolo Mongol to Masked Superstar to Demolition Ax, Bill Eadie -- a 2011 Hall of Heroes honoree -- answers fans' questions and shares a few tales about his illustrious 35-year career in wrestling!
Disc #2 - "Dr. D" David Schultz & Eddie Mansfield Q&A
For the first-time ever, these former tag team partners reunite and talk openly about their careers and the 1984 national television appearance that basically ended it all for both men!
Disc #3 - Stan Hansen Q&A
A true international superstar, "The Last Outlaw" takes center stage and discusses a lifelong career in wrestling, spanning many continents, and shares tales from his new book!
Disc #4 - Hall of Heroes Awards Ceremony
"Rowdy" Roddy Piper inducts the late great Gordon Solie into the Hall of Heroes Class of 2011. A very special evening, hosted by James J. Dillon, honoring eight of wrestling's all time greats!
-Roddy Piper inducts Gordon Solie


-Nick Bockwinkel inducts Ray Stevens
-Stan Hansen inducts Masked Superstar
-Diamond Dallas Page & Mick Karch induct Sir Oliver Humperdink
-Nick Patrick inducts The Assassins
-Mac McMurray inducts Ron Garvin
-Thunderbolt Patterson inducts Ted Turner
Disc #5 - Saturday Night Wrestling Matches
Three world title matches plus the final rounds of the 2011 NWA Future Legends Cup competition highlight a huge night of wrestling action. Legendary TV announcer Les Thatcher calls the action from ringside!
-NWA World Title Match: TNA's Gunner vs. Adam Pearce


-ROH World Title Match: Colt Cabana vs. Davey Richards
-Future Legends Cup Finals: Zack Salvation vs. John Skyler vs. Kyle O'Reilly
-NWA World Tag Team Title Match: New Wave vs. Dark City Fight Club
-Jimmy Rave vs. Kyle Matthews
-Kyle O'Reilly vs. Cedric Alexander
-Reid Flair vs. John Skyler
-Zack Salvation vs. Tony Kozina
-"Action" Mike Jackson vs. Caleb Konley
Disc #6 - "All My Rowdy Friends" with Roddy Piper
For mature audiences only, a rowdy and raucous late-night, one-man show with one of the real icons of professional wrestling!
Add the two full-color Souvenir Programs and/or "Last Battle of Atlanta!" commemorative T-shirt, and save even more!



Special Email Offer
This Week Only!
Here's your opportunity to get a great deal, just for being a subscriber to our free NWALegends.com email newsletter updates!
This week only, we're offering 50% Off all autographed photo orders of $50 or more!
That's right! Spend at least $50 on autographed photos at NWALegends.com and, within minutes, we'll refund 50% of your purchase price!
Free shipping, too!
Offer expires April 1st
Wanna Help Out?
Join Our 2012
Street Team!
We're looking for volunteers that can help us hand out fanfest fliers at these upcoming WWE live events:
April 10 - Hampton, VA
May 5 - Asheville, NC
May 6 - Charleston, SC
May 7 - Greensboro, NC
May 8 - Roanoke, VA
May 19 - Florence, SC
May 20 - Raleigh, NC
May 21 - Richmond, VA
June 2 - Savannah, GA
June 4 - Greenville, SC
June 5 - Columbia, SC
Donate an hour of your time and, in return, pickup some really cool fanfest swag!
If you'd like to join our volunteer Street Team, please email NWALegends@aol.com
Thanks!