The world's 'chicest and coolest'
$2 per night budget hotel
to open in India

Chototel, a London-based hotel company, aims to offer "clean, safe and affordable" accommodation in "innovative" high-tech rooms priced from US$2 (and rising to no more than $5) per night. The first of the new budget hotel chain will be opened next month in Nagothane, India, located about 70 kilometers from Mumbai.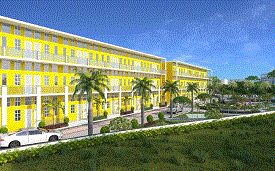 The 60-room Nagothane hotel will offer rooms with LED lighting, a 100 sq ft study/dining area, two sofa beds, a 30 sq ft pantry, a small kitchen setup with a sink, hot plate and counter, a 30 sq ft bathroom with a shower and toilet as well as free cable television access. Guests will have pay-per-use Internet access and the rooms will be Wi-Fi-enabled. Other facilities will include a communal kitchen, an on-site infirmary (while a 100-bed hospital is 500 meters from the hotel), a children's crèche and play area, and bicycle rental from $0.18 per day ($4.45 per month).

Built with a "smart" pay-per-use housing design scheme, each of the 280 sq ft rooms will be equipped with "Microbots" that measure the utilities used in the rooms, billing guests for only the amount they've used. Guests will be able to monitor their utility usage using a smartphone app and be able to turn off any utility remotely via the app.

The hotel's efficient energy system is projected to reduce guests' average utility bill to just $0.50 per night. Incorporating the latest advancements in renewable energy technology, the hotel will operate on a "closed loop utility system," fitted with solar panels relying on renewable energy sources, such as the sun, to power the building. Solar energy will be stored in large battery banks that can hold more than 50% of the hotel's peak energy load to provide electricity during non-sunlight hours.

The building itself will be constructed using "cheaper, quicker and greener" steel framing technology, eliminating the need for the use of bricks and wood, while the walls will be insulated, reducing the need for additional heating and cooling devices in the room.

Spread across 1.5 acres along the National Highway 17, the motorway between Mumbai and Goa, the hotel will be set 50km from the international airport in Mumbai and be well-connected on the national railway line, providing links to India's major cities.

Dubbed the "people's hotel," Chototel was born from a need to offer affordable housing to "those at the bottom of the pyramid," and hopes to provide guests with the feeling and comfort of staying at a hotel rather than a project, according to Rhea Silva, the 24-year-old founder of Chototel, and be "a catalyst in ending homelessness, by building the world's largest affordable hotel business," the company said. Three more Chototel hotels will be opened in Nagothane over the next four months and the company is hoping to host up to 10,000 people in its Mumbai location.

Kim, Soo, TELEGRAPH.CO.UK/TRAVEL/DESTINATIONS/ASIA/INDIA/ARTICLES/THE-WORLDS-COOLEST-
BUDGET-HOTELCHOTOTEL/UTM_MEDIUM=NL&UTM_SOURCE=INTERNAL&MRKID=78888&
MKT_TOK=EYJPIJOIWLDJNE5XSXHAREPTWMPVMSISINQIOIJADKX0ZKFNWGXSVFNJBH
PMEMDKZJLCL3JJQJV6MUQ5AHFGEDMRMLBSYWZRQWVOVVCRZVDTRGDUAGNMZG5VED
VVC2NIWWLCL0DKEHLWSE1EQUN6ZW9JNUWYBHRPZXDTD2RSMHC1UGDZCGLLAFPRPSJ9,
19Aug2016


To learn more about GHA
and how your property can be greener,
jump to Green Hotels Association®!

or CALL 713/789-8889 TODAY!





$2/Night Hotels

Dubbed the "people's hotel," Chototel was born from a need to offer affordable housing to "those at the bottom of the pyramid."