MARIJUANA CHECKING IN??

A new challenge is facing hotels with the increased use of social and medical marijuana. So far 26 states and the District of Columbia have passed laws allowing medical use of marijuana to some degree. Approval will likely expand to other states, and is swiftly becoming part of the nation's culture. The shift is bringing a major new challenge to the hospitality industry.
A Las Vegas property manager revealed how this unanticipated challenge cropped up. While in a guestroom for routine daily service, the attendant noticed the strong smell of marijuana and reported the problem to her supervisor. Hotel management contacted the guest and informed him that he had violated the property's non-smoking policy. The guest indicated that he did not smoke, and that he was using prescribed medical marijuana necessary for his health. The hotel indicated that their non-smoking policy covers pot as well. When advice was sought, management was informed that they could not deny access to valid medical treatment.
No longer is just the smell of a random cigar creating a challenge. Now hotels must deal with both social and medical marijuana. Hotels must deal with marijuana users who are adamant that they do not smoke--only tobacco users smoke! Will medical users have proof that their use is prescribed for medication? Will social users claim their use is medical?

In any case, hotels will soon be dealing with the very obvious, very clear use of heavily scented marijuana in guestrooms. Management will have to deal with the legal aspects, the reality of pot smoke-filled rooms and the guest satisfaction factor. So what's management to do?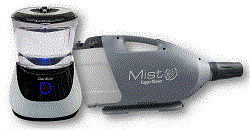 We don't know all the legal implications and/or how to deal with them. But we do know how to deal with the smoke . . . how to remove the smoke quickly, safely and inexpensively.

GenEon Technologies has the safe, effective answer to this very pungent (smoky) issue. GenEon is an OSG or Onsite Generation Technology company that can bring real results to your property. Not only is GenEon a great disinfectant and surface sanitizer, it also eliminates all odors. And the odor elimination and sanitizing can be accomplished without the risk of dangerous ozone, which can be detrimental to our health and toxic to our environment.

Watch this 2-minute video to understand how GenEon protects facilities from problem odors and unsanitary surfaces.
To learn more, jump to geneontechnologies.com!

Learn how your property can be
one of 7 to win a FREE TRIAL
by contacting GenEon at 866/217-0205 or
Green Hotels Association® at 713/789-8889 TODAY!







GREEN OPPORTUNITY!

Your property can be one of 7 winners of a FREE TRIAL of GenEon's deodorizing, sanitizing and disinfecting solution. Just ask. Call 866/217-0205 NOW!