OZONE DEODORIZING? JUST SAY NO!

Is your property using ozone to minimize or remove odors? Ozone is a very good thing high in our atmosphere, but ozone is known to possibly be dangerous in our living spaces because it can be harmful to our lungs, cause chest pain, coughing, shortness of breath and throat irritation. It is Green Hotels Association's belief that there is only one way to deal with toxic or dangerous products, and that is to eliminate their use. If toxic products are not being used at your property, there can be no negative repercussions. There can be no health danger from the products' use to your management, staff, guests or vendors' health.
How is Ozone Harmful? According to the US EPA*, "The same chemical properties that allow high concentrations of ozone to react with organic material outside the body give it the ability to react with similar organic material that makes up the body, and potentially cause harmful health consequences. When inhaled, ozone can damage the lungs. Relatively low amounts can cause chest pain, coughing, shortness of breath and throat irritation. Ozone may also worsen chronic respiratory diseases such as asthma and compromise the ability of the body to fight respiratory infections. People vary widely in their susceptibility to ozone. Healthy people, as well as those with respiratory difficulty, can experience breathing problems when exposed to ozone. Exercise during exposure to ozone causes a greater amount of ozone to be inhaled, and increases the risk of harmful respiratory effects. Recovery from the harmful effects can occur following short-term exposure to low levels of ozone, but health effects may become more damaging and recovery less certain at higher levels or from longer exposures (US EPA, 1996a, 1996b).*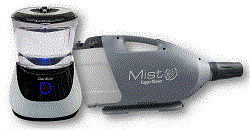 We don't know the legal implications of using ozone machines. But we do know how to deal with unwanted odors . . . how to remove the odors quickly, safely and inexpensively.

GenEon Technologies has the safe, effective answer to this very pungent issue. GenEon is an OSG or Onsite Generation Technology company that can bring real results to your property. Not only is GenEon a great disinfectant and surface sanitizer, it also eliminates all odors. And the odor elimination and sanitizing can be accomplished without the risk of dangerous ozone, which can be detrimental to our health and toxic to our environment.

Watch this 2-minute video to understand how GenEon protects facilities from problem odors and unsanitary surfaces.

*https://www.epa.gov/indoor-air-quality-iaq/ozone-
generators-are-sold-air-cleaners#harmful-ozone
To learn more, jump to geneontechnologies.com!
Learn how your property can be
one of 7 to win a FREE TRIAL
by contacting GenEon at 866/217-0205 (Sarah Reid X6) TODAY!







A fast fact . . .

Women of child-bearing age represent 85% of all hotel housekeepers. If hotels urge use of a cleaning product which could cause pregnancy-related issues, what liability will the hotels face?