| | |
| --- | --- |
| Volume 11, Issue 35 | Aug. 31, 2016 |
Generations United in The Chronicle of Social Change

Senator Hatch to Receive Grandfamilies Champion Award!

We're thrilled to announce that Senator Orrin Hatch will receive Generations United's Grandfamilies Champion Award. Senator Hatch will accept the award during our 2016 State of Grandfamilies Report release event on Sept. 13, 5 p.m. - 7 p.m., at the Dirksen Senate Office Building. The event will be emceed by
award-winning, nationally-s
yndicated
Countdown to Generations Remixed! Part 2: Mariano Sanchez

News from Our Members
Generations United is proud to be a membership organization. We love to shine a light on our members!
If you're a member of Generations United and have a project, event or accomplishment you want highlighted in our "News from Our Members," please
email Alan King
. If you're not a member or supporter, we hope you will consider joining today.
Learn more here
.
Show Your Support for Grandfamilies
The Family First Prevention Services Act
(H.R. 5456) would provide prevention services to grandfamilies and help address barriers to licensing them. The bill passed the House in June, but is still pending in the Senate. Show your support by
signing your organization
onto the
sign on letter
supporting the bill AND calling your senators to ask them to "Pass the Family First Prevention Services Act (H.R.5456)." Use the Capitol Switchboard at 202-224-3121 to be connected to your senators.
A Huge Thanks to Our Members and Supporters

The Giver
The Giver by Lois Lowry
centers on twelve-year-old Jonas, who lives in a seemingly ideal, if colorless, world of conformity and contentment. That's until he meets The Giver, a wise old man,

who transmits memories by placing his hands on Jonas's bare back. Through The Giver's memories, Jonas experiences pleasure and pain, sees bright colors, and feels extreme cold and warm temperatures. He also experiences excitement, terror, hunger and love. Jonas's life is richer because The Giver's
memories. He wishes the people he loves could experience that richness and meaning. But with their peaceful existence, Jonas's community lost the capacity to love him back or to feel deep passion about anything. Learn more
Do you know of any films, books, music and TV shows with an intergenerational theme?
Share them with us
and we'll share in the weeks and months to come. See disclaimer.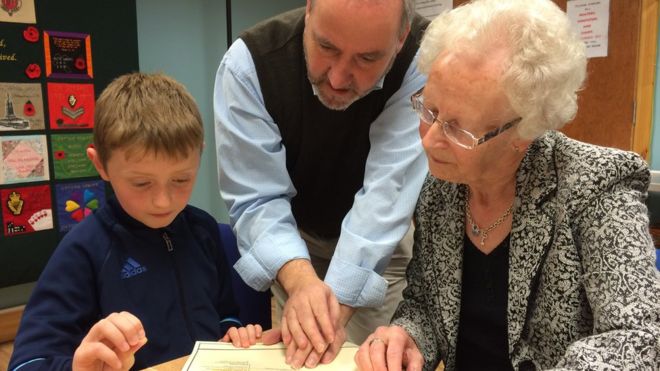 Lisnaskea Genealogy Workshops
This week's cool ideas are
Lisnaskea Genealogy Workshops
in Northern Ireland. The participants' grandchildren help them use technology to learn about their family tree.
Learn more


Got something cool you tried that was successful? Why not tweet your cool intergenerational ideas to
#cooligideas
? You can also post them to our
Intergenerational Connections
Facebook Group. We want to highlight innovative age-optimized programs and practices through our blog, social media and weekly e-newsletter!
Share the inspiration
.
Think Intergenerational - Great Resources
Bridges Program Curricula Suite Informational webinar.
Bridges Together is offering their award-winning Bridges Program Curricula Suite to MA-based communities, thanks to funding from the Massachusetts Association of Councils on Aging and the Tufts Health Plan Foundation. Bridges Together is offering two webinars about their funding opportunity and info on how to apply. Mon., Sept. 12, at 3pm EST and Thurs., Oct. 6, at 12pm EST. Learn more
Older Americans 2016: Key Indicators of Well-Being (Older Americans 2016).
This chartbook, prepared by the Federal Interagency Forum on Aging-Related Statistics (Forum), provides a comprehensive, easy-to-understand picture of the older population. Indicators are categorized into six broad groups: Population, Economics, Health Status, Health Risks and Behaviors, Health Care, and Environment.
It's available for order.
How to Use Pokémon Go to Strengthen Intergenerational Relationships.
Pokémon Go has taken over the world! This guide by Generations United highlights ways young and old can use this app to stay active together, make connections and keep each other safe.
Learn more
Valuing Vaccinations Across Generations Intergenerational Discussion Guide.
This Generations United guide includes information on recommended vaccinations across the lifespan, the important role grandparents and grandchildren play in each other's lives, generational perspectives and experiences with vaccinations, sample
conversation
starters and activities for intergenerational discussion
around
vaccinations. Learn more

Grand Partners in Education Family Engagement Toolkit.
This Generations United guide is intended to help educational stakeholders on how to engage grandparents to jumpstart or enhance family engagement in schools.
Learn more
Events

2016 State of Grandfamilies Report Release.
Generations United. Washington, DC. Sept. 13, 2016. Learn more
Elevate Respite! 2016 National Lifespan Respite Conference.
ARCH National Respite Network and Resource Center.
Denver, CO. Sept. 20-22, 2016. Learn more
The Creative Age Global Perspectives on Creativity and Aging 2016 NCCA Leadership Exchange and Conference.
National Center for Creative Aging.
Washington, DC. Sept. 24-28, 2016.
Learn more
Assets Learning Conference.
CFED.
Washington, DC. Sept. 28-30, 2016.
Learn more
National Conference on Afterschool and Summer Learning.
The National Summer Learning Association and School's Out Washington.
Seattle, WA. Oct. 24-26, 2016. Learn more
IAVE World Youth Volunteer Conference
&
24th World Volunteer Conference
. International Association for Volunteer Effort and Cemefi.
Mexico City, MX. Nov. 3-5 and 7-10, 2016.
Learn more
*Generations Remixed.
Generations United and St. Ann Center for Intergenerational Care.
Milwaukee, WI. June 13-16, 2017.
Learn more
Proposals for presentation due Sept. 30th.