| | |
| --- | --- |
| Volume 11, Issue 44 | November 2, 2016 |
Generations United in the News
| | |
| --- | --- |
| | |
| Click the image to expand. | |
Meet Next Avenue's 2016 Influencers in Aging

Next Avenue
named a number of our friends
among their 50 advocates, researchers, thought leaders, innovators, writers, experts and everyday people who are helping redefine what it means to grow older. We'll be calling out our friends on social media. Congratulations to
Ashton Applewhite
(author of
This Chair Rocks
),
Anne Basting
(founder of TimeSlips Creative Storytelling -
Generations United Program of Distinction
), our Strategic Advisor
Bob Blancato
(president of Matz, Blancato & Associates),
Michael Eisner
(board member and founder of The Eisner Foundation),
John Feather
(CEO of Grantmakers in Aging) and our board member
Karyne Jones
(president and CEO of the National Caucus and Center on Black Aging, Inc.).
Learn more
A Dance for Life Helps Young Women Build Self Esteem, Recognize Their Strengths

Twenty-seven young ladies in or affiliated with the foster care system, many of them raised by their grandparents, participated in a 10-week preparatory program leading to an evening cotillion ball - A Dance for Life - that will take place Sat., Nov. 5. Generations United helped facilitate the donation of 27 dresses by connecting A Second Chance, Inc., to Madeline Gardner, designer at MORILEE. Learn more
News from Our Members
Generations United is proud to be a membership organization. We love to shine a light on our members!
I
f you're a member of Generations United and have a project, event or accomplishment you want highlighted in our "News from Our Members," please
email Alan King
. If you're not a member or supporter, we hope you will consider joining today.
Learn more here
.
A Huge Thanks to Our Members and Supporters

Shaheed Morris: "If not for her, who knows how my life might have unfolded"
Shaheed was born with fetal distress related to his mother's drug and alcohol use while she was pregnant. He had no ability to move his neck and head and not much hope for survival. "I'm thankful that my grandmother took the initiative to go to the hospital and claim me," Shaheed said. "Otherwise, I was en route to foster care. If not for her, who knows how my life might have unfolded."
Read Shaheed's story
.
Memes Show the Importance of Vaccinations Across the Lifespan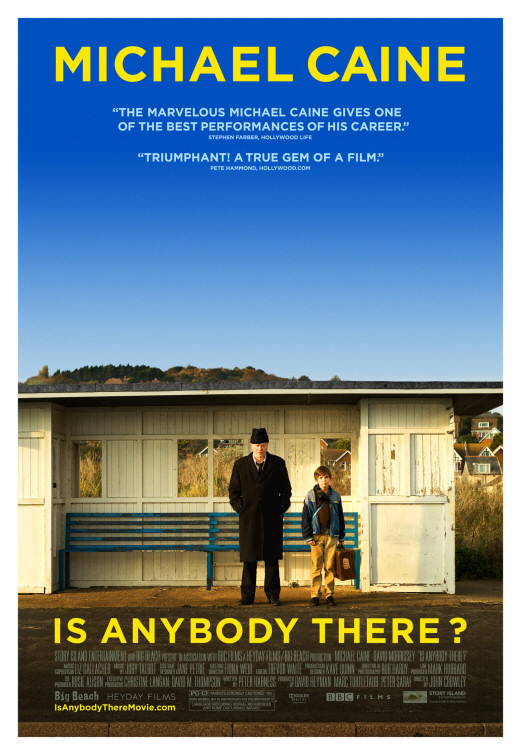 Culture United
Is Anybody There?
Ten-year-old Edward lives in a house his financially-strapped parents converted into a residence for older adults. Though he doesn't like having elderly housemates, he searches for evidence of an afterlife by recording their dying breaths. When Clarence, an aging magician, moves in
to the home, Edward finally has a chance to make a real friend. Learn more
Do you know of any films, books, music and TV shows with an intergenerational theme?
Share them with us
and we'll share in the weeks and months to come. See disclaimer.
Cool Ideas
Sages & Seekers
This week's cool idea is
Sages & Seekers
, one of our 2016
Programs of Distinction
designees. Sages & Seekers is a one-to-one, Senior-to-Student experiential learning program designed to diminish ageism, as well as revitalize interpersonal interactions.
Learn more
Got something cool you tried that was successful? Why not tweet your cool intergenerational ideas to
#cooligideas
? You can also post them to our
Intergenerational Connections
Facebook Group. We want to highlight innovative age-optimized programs and practices through our blog, social media and weekly e-newsletter!
Share the inspiration
.
Think Intergenerational - Funding Opportunities
Culture of Health Prize.
The Robert Wood Johnson Foundation will award up to 10 winning communities $25,000 each and will feature their success stories. Eligible communities must be in the U.S., place a priority on health and create powerful partnerships and deep commitments to help all ages live well. Deadline: Phase 1 - Nov. 3, 2016 | Phase 2 - Jan. 20, 2017.
Learn more
Responsive Grants.
The Retirement Research Foundation awards grants for

advocacy, training, and research projects, all with national relevance.
Proposals are considered from organizations located anywhere in the United States. RRF

has awarded more than $200 million for innovative projects that benefit older Americans.
LOI Deadline: Dec. 1, 2016 | Application Deadline: Feb. 1, 2017.
If you have - or know of - any intergenerational funding opportunities, please send them to aking@gu.org
Think Intergenerational - Great Resources
New Report Recommends Actions to Replace the Youth Prison Model.
This report from the Annie E. Casey Foundation recommends a continuum of community-based programs over the prison model for America's youth. The report also documents how youth detention facilities fail to protect the community and turn young lives around. Learn more
Grand Partners in Education Family Engagement Toolkit.
This Generations United guide is intended to help educational stakeholders on how to engage grandparents to jumpstart or enhance family engagement in schools.
Learn more
Generations United: Because We're Stronger Together.
Generations United 's
animated video about the value of intergenerational communities serves as a companion piece to the infographic in our Creating an Age-Advantaged Community Toolkit
. The video is an engaging tool for educating and inspiring communities to embrace and invest in intergenerational solutions. Watch the video.
Events

IAVE World Youth Volunteer Conference
&
24th World Volunteer Conference
. International Association for Volunteer Effort and Cemefi.
Mexico City, MX. Nov. 3-5 and 7-10, 2016.
Learn more
*Generations Remixed.
Generations United and St. Ann Center for Intergenerational Care.
Milwaukee, WI. June 13-16, 2017.
Learn more
Registration Now Open! International Federation on Ageing 14th Global Conference on Ageing.
International Federation on Ageing.
Toronto, ON, Canada. Aug. 8-10, 2018.
Learn more