DFM Accepts
SNAP Benefits
The Durham Farmers' Market proudly accepts SNAP benefits. To use your EBT
card at the Market, please visit the Market info table
at the center of the Pavilion.
The Double Bucks Program allows SNAP customers to receive double the amount of money they spend on tokens for purchases up to $10.
The Market is working
closely with RAFI as our fiscal sponsor. Read more about
the program and our partnership
HERE
.
Thank you to everyone who donated to the Double Bucks program! We couldn't do it without you!
Farmer Foodshare Donation Station
The Donation Station
Program collects donations
of fresh food and cash from customers at the Durham Farmers' Market. The
money is used directly
at the Market to purchase food from farmers for
those who are hungry
in our community.
Farmer Foodshare's mission
is to connect our local
farmers with those
who need food! Please visit
or volunteer at our Durham Farmers' Market
Donation Station!
And don't forget to participate in the Donor Rewards Program. Give a suggested donation of $3-$5 and
receive a stamp on your card. Once you've collected enough stamps, you will proudly earn your Farmer Foodshare
T-shirt! Swing by the Donation Station for
more information!
SUPPORT YOUR FARMERS!
NOW AVAILABLE
AT THE MARKET
GREENS
CHARD & TURNIPS
GREENHOUSE TOMATOES
POTATOES
CARROTS
FLOWERS
BRUSSELS SPROUTS
BEETS
DAIKON RADISHES
PASTURED MEATS
GLUTEN-FREE BREADS
& PASTRIES
KALE
MUSHROOMS
BOK CHOY
CABBAGE
EGGS
ARTISAN BREAD
SOAP
TEA
CHEESE
FERMENTED FOODS
SWEET POTATOES
RED RADISHES
HOMEMADE PASTA
HOMEMADE JAM
HAND-DYED CLOTHING
10% Campaign

The 10% Campaign is a project of the Center For Environmental Farming Systems (CEFS). The campaign encourages you to spend 10% of your existing food dollars to support North Carolina food producers, businesses and communities. Why 10%? In North Carolina, we spend $35 billion on food every year. If we spend 10% of our food dollars on local product, we can infuse over $3.5 billion into the local economy. As avid supporters of the Durham Farmers' Market, you already know the many advantages to shopping locally. So, why join the campaign? It will re-affirm your commitment to shopping locally and it sends a strong message to policy makers about the importance of local foods! For more information
visit: www.nc10percent.com
| | |
| --- | --- |
| | |
| | Swing by the Info Table to pick up a recipe card for this roasted sweet potato salad. Yum! |
As a seasonal vegetable eater, it's challenging to be innovative when my winter market bounty looks similar week after week. While I crave salad all summer, recently it seems like the last thing I want for lunch is another bed of greens. If you need cooking inspiration, swing by the Market's Info Table and pick up a seasonal recipe card. We'll continue to add new recipes week after week. This week we're featuring a roasted sweet potato and spinach salad. It's simple to make and there are so many possibilities for additions to this meal, such as beans, meat, nuts, and more.
Also, don't forget that this is the prefect time of year for roasted veggies. If you're looking to spice up your meal, pick up some ginger and roast with your Market finds - your tastebuds will thank you! Roasted veggies are the perfect addition to any meat at the Market and add a colorful twist to your dinner.
We hope you continue to find alternative ways to cook your beloved winter staples.
Visit us at the market and tell us what you're whipping up with your seasonal veggies!
***************
Check out our vendors hard at work preparing the
best produce and products for you this week!
Oh dear! This cutie was an unwelcome guest in
Bluebird Meadow's high tunnel this week. We don't
want this dear munching away on all of the tasty produce
Alice and Stuart bring to the Market!

Matt at Wild Scallions Farm enjoyed the beautiful weather
last weekend and pruned the orchard. How will you take advantage of the warm temperatures this weekend?

Nothing complements the tasty greens and pasture-raised meats at the Market better than homemade pasta from Melina's!
VEGETABLES:
Arugula, Asian Greens, Beets, Bok Choy, Carrots, Celery, Chard, Collards, Dried Herbs and Spices, Garlic, Kale, Lettuce, Mushrooms, Pea Shoots, Potatoes
, Radishes, Sweet Potatoes, Turnips, Winter Squash, and more!
MEATS AND EGGS: Pork, Beef, Lamb, Mutton, Bison, Chicken, Duck, Goat/Chevon/Cabrito, Veal, Duck Eggs, Chicken Eggs
FLOWERS:
Dried Bouquets, Anemones, Icelandic Poppies, and more
CHEESES:
Fresh and Aged Goat Milk Cheeses
PLANTS:
Vegetable, Flower and Herb Starts
SPECIALTY ITEMS:
Soup Stock,
Pasta, Flour, Cornmeal, Baked Goods including Pies, Breads, Cookies, Pastries, Empanadas, Gluten-Free Baked Goods, Fermented Foods, Teas, Beer, Wine, Meade, Jams, Jellies, Pickles, and Preserves

CRAFTS: Woodwork, Hand-Dyed Clothing, Photographs, Body Butters, Lotions, and much more!


Produce availability depends on weather conditions.

NC Successful Small Farm
Opportunities Conference
Interested in learning more about small farm opportunities in North Carolina? If so, make plans now to attend North Carolina Cooperative Extension's Successful Small Farms Opportunities Conference on February 25 at the Seby Jones Performing Arts Center in Louisburg. Please review the
attached brochure
for additional information or
contact Martha Mobley (Meadow Lane Farm) at 919-496-3344.
We will be at Market this lovely Saturday with loads
of beautiful flowers! We're so excited to have more varieties starting to bloom so we hope you stop by for a bundle. Flowers make for amazing and memorable gifts. We will also have lots of gorgeous lettuce heads, an Italian green called spigariello, turnips, and some kale and collards. We look forward to seeing you on Saturday!
Alice & Stuart
Pastured raised, natural, nationally-credentialed animal welfare approved meats are available this Saturday. Pick up dry-aged Angus beef, Dorset X lamb, Berkshire X Pork, and boer chevon (goat). We have many of the cuts from each species, such as lamb chops, beef steaks (filet mignon, New York strip, sirloin, ribeye, cubed, London broil, flat iron, flank, skirt, hanger), assortment of sausages (beef and pork), roasts, leg of lamb/goat, stew meat, shanks, short ribs, soup bones, marrow bones, and much more!
USDA certified organic vegetables this week: C

ollards, winter squash, baby ginger, popcorn, and even pie pumpkins!
Stop by for a visit with Tanya and Martha. Thank you
for your continued support of our family farm!
We will not
be at the Market
this Saturday and
will return on February 25.
Thanks and don't forget us!!
Our bacon is back! Come for that and other whey fed pork from our farm. We will have tender pork collar steaks, spare ribs, smoked ham hocks, and lots of sausages. Sausages available are Sage and Maple Breakfast, mild Country Breakfast, Mild Italian, Hot Italian, Bratwurst, Smoked Andouille, and Chorizo. Choose your favorite sausage for a quick meal. The Chorizo is the hottest with a wonderful blend of Mexican spices, the Bratwurst is good as an entrée with cabbage or greens and baked winter squash, and the breakfast is nice to have on hand for a lazy
Sunday
breakfast.
P.S. Our picture features Glory next to her daughter Ginger Valentine.
Visit our website!
We'll be at market this Saturday!
In stock this week:
All-Purpose Chicken

All-Purpose Vegetable
Smoky Ham Hock
Caramelized Grassfed Beef (running low)
Sweet Potato Dashi (running low)
We all know that Durham is a fabulous place, a livable artsy town with great food and a vibrant culture. (The Durham Farmers' Market is at the epicenter of all that, of course.) So as a nod to all that wonderful Durham-ness, we have come up with a T-shirt that celebrates the Durham spirit. We've used batik to create a starry night and silkscreened a Durham design underneath. Trendy enough to wear to a Food Truck Rodeo in Central Park, hip enough to wear to a night out at DPAC or to a Bulls game. We've also got Durham-themed kids clothes because you're never too young to be cool.
Hand-dyed clothing from Terra Clotha. Allowing your wardrobe to reflect Durham's spirit.
Like our Facebook page
and while you're there, find a 10% off coupon to use with your next Terra Clotha purchase.

PRODUCE:
We will have radishes, chard, sweet potatoes, garlic and winter squash.
FROM OUR KITCHEN:
Jams and jellies! We have apple butter and apple jelly, along with our award-winning strawberry and blackberry. Also available are peach and peach mango and sweet onion jam.
FROM THE WORKSHOP:
Tom will have a selection of maple/Brazilian cherry cutting boards available. Custom orders are accepted.
All of Hurtgen Meadows produce, plants, fruits and flowers are naturally grown using sustainable practices - no synthetic pesticides, herbicides, or fertilizers are ever used on our farm. We'll see you at the Market!
We hope you will join us for the 7th Annual Shearing of the Sheep here on our farm. Farmers John and Olga invite you to come and experience an educational and fun day on the farm as our sheep get their annual "hair cuts". We'll have our ever popular shearer back by popular demand.
The shearing continues throughout the day. We'll have plenty to do and see. Watch and get your hands immersed in the wool as it comes off the sheep. We'll be skirting, bagging and tagging the fleeces. Each fleece will be available for handspinners, weavers, knitters, crafters or just those with a desire to experience wool for all of it's wonderful properties.
Our new "farm store" will also be opened! From crafting supplies, yarn or roving, wool blankets and other wool products from our sheep. You will be able to see the many ways we use our wool!
We'll also be offering a Beginners Felting class. Sign up fast! - size is limited. The class will include instructions and each participant will take home their very own creation.
We'll break for lunch around noon as we catch our breath before the next round of shearing. There will be lots of catered goodies
available
for purchase. Register for the event here and
come join us. We hope to see you there!
John & Olga
Ever Laughter Farm
This week we'll have claytonia, spinach, Italiko Rosso dandelions, collards, kale,
parsley, celery, cilantro,
carrots, Chioggia beets, Goldball turnips, beautiful bunches of anemones and more.
1 Pound of Coffee Bought =
1 Tree Planted
Green is a custom coffee roaster located in downtown Durham. We procure only the best and most sustainably sourced, single-origin, coffee beans available and each bag is individually roasted - allowing for a true, small-batch, coffee experience.
Our goal is to help our customers offset their carbon footprint through their coffee purchases by planting a tree for each pound of coffee we sell. We limit waste from seed to cup by sourcing naturally washed beans, using solar electricity, and composting all materials. We are striving to be a zero-waste coffee roasting company and our coffee beans are certified Fair Trade, Organic, and Rainforest Friendly.
In addition to our brewed coffee and freshly roasted beans, a selection of homemade flavored lattes
will be available at the Durham Farmers' Market. Looking forward to seeing you there!
Please pre-order here
by Friday at 5:00 pm and we will hold your order at market until 11:30.
FRESH, never frozen, 100% grass-fed BEEF
Buy $50 or more of our beef and get 15% off!
Click here to see everything we have:
10% off purchases of $100 or more!
Visit our website!
Stop by our table to get your goat cheese and crackers. There will be plain and flavored chèvre (garlic + herbs, jalapeno, sour cherry, and fig + honey), goat feta and fleur verte (marinated cheese). We will have three types of homemade crackers (Sea Salt, Fennel and Rosemary).
Let's stay in touch! Like us on
Facebook
and follow us on
Instagram
. This week we welcomed baby goats to the family and had two surprise quads! That's eight babies in 48 hours!
If you would like to add your e-mail to our monthly mailing list, please send us a request to
info@elodiefarms.com
.
Farmer's Daughter Pickles & Preserves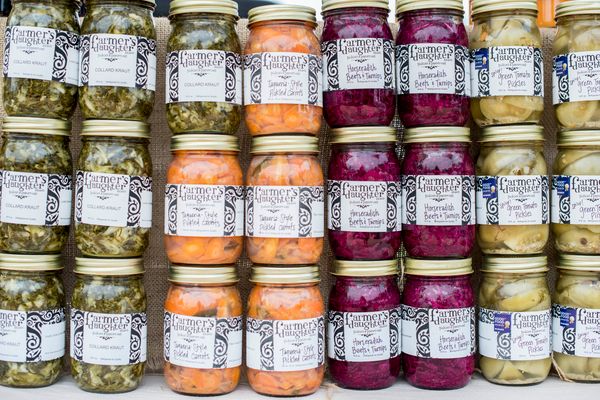 Who says you can't eat local all winter long? Come see us and we'll fix you up!
Live-Culture, Barrel-Ferments
Tacqueria-Style Pickled Carrots
Ramp & Mustard Seed Kraut
Hot Sauce
Sweet Potato Habanero Hot Sauce
Jams/ Preserves
Ruby Red Grapefruit Marmalade
Orange Marmalade with Rye Whiskey
Strawberry Passionfruit Jam
Thank you for shopping local & handmade,
Find recipes & serving suggestions for Farmer's Daughter products on Pinterest
We have our Celebrity Dairy Open Barn event on
March 11-12
. Dress for the weather to come out to play with baby goats and likely watch some being born.
We'll see you at the Market this weekend!
Melina's Fresh Pasta will be at Market this week with 11 ravioli flavors, such as Roasted Red Pepper & Feta, Caprese, 3 Cheese & Roasted Garlic, Lemon Ricotta, Pimento Cheese and more!
P
lus spaghetti, spinach linguine, tomato basil sauce, pizza dough, gnocchi and lasagna. Try our veggie shells - plain, tomato & spinach - in a pasta salad. See you at the Market!
Parking & Street Information
The Market is located at 501 Foster Street in the Pavilion at Durham Central Park.
Parking can be found on Foster Street right next to the Market, in the Ballpark Parking Lot on Corporation Street, and in the Measurement Inc. lot, 423 Morris Street (look for the Durham Farmers' Market Parking sign). There is a path at the bottom of that parking lot that leads you to the Market. There are also public parking lots along Foster Street and on Morgan Street near the Carolina Theatre.
Handicap parking is available on Foster Street, right next to the south entrance of the pavilion.
Durham Farmers' Market Animal Policy
Please note that the Durham Farmers' Market does not allow dogs or other pets in the Market area during Market hours. Service animals are exempt from this rule.
Leashed pets are welcome elsewhere throughout Durham Central Park.