DFM Accepts
SNAP Benefits
The Durham Farmers' Market proudly accepts SNAP benefits. To use SNAP benefits at the Market, please visit the Market info table at the center of the Pavilion.
The Double Bucks Program allows SNAP customers to receive double the amount of money they spend on tokens for purchases up to $10.
The Market is working closely with RAFI as our fiscal sponsor. Read more about the program and our partnership
HERE
.
Thank you to everyone who has already made donations to the Double Bucks program! We couldn't do it without you.
Farmer Foodshare Donation Station
The Donation Station Program collects donations of fresh food and cash from customers at the Durham Farmers' Market. The money is used directly at the Market to purchase food from farmers for those who are hungry in our communities. Farmer Foodshare's mission is to connect our local farmers with those who need food!
Please visit or volunteer at our Durham Farmers' Market Donation Station!
COME SUPPORT YOUR FARMERS!
NOW AVAILABLE
AT THE MARKET
GREENHOUSE TOMATOES
ROMANESCO
CARROTS
BABY GINGER
HOLIDAY WREATHS
CAULIFLOWER
POPCORN
SQUASH
FLOWERS
HERBS
HONEY
RADISHES
PASTURED MEATS
GLUTEN-FREE BREADS
& PASTRIES
COLLARDS
MUSHROOMS
POTATOES
BOK CHOY
CABBAGE
EGGS
ARTISAN BREAD
SOAP
TEA
CHEESE
FERMENTED FOODS
HAND-DYED CLOTHES
GREENS
BEETS
SWEET POTATOES
HOMEMADE PASTA
HOMEMADE JAM
HANDMADE CHOCOLATE
10% Campaign

The 10% Campaign is a project of the Center For Environmental Farming Systems (CEFS). The campaign encourages you to spend 10% of your existing food dollars to support North Carolina food producers, businesses and communities. Why 10%? In North Carolina, we spend $35 billion on food every year. If we spend 10% of our food dollars on local product, we can infuse over $3.5 billion into the local economy. As avid supporters of the Durham Farmers' Market, you already know the many advantages to shopping locally. So, why join the campaign? It will re-affirm your commitment to shopping locally and it sends a strong message to policy makers about the importance of local foods! For more information
visit: www.nc10percent.com
We are so fortunate to live in an area where an abundance of produce is available year round. Thanks to our farmers and their dedication to learning season extension techniques, we have the opportunity to choose a variety of produce at any time of the year. Swing by tomorrow to pick up greens of many kinds, such as chard, collards, lettuce, arugula and much more. Also, pick up greenhouse tomatoes, cauliflower, potatoes, a rainbow of carrots, and any other veggies you need to make your holiday meals memorable. Don't forget that you can also get pasture-raised meats, eggs, cheese, baked goods and beautiful craft items at the Market. The problem is not a lack of variety but in deciding what to choose!
As a reminder,
this month we are
partnering with East Durham Children's Initiative (EDCI) on a winter coat drive for low-income children living in East Durham. Their goal is to collect 100 new or gently used coats for children ages 3-14 by the end of the month. Please consider donating a coat at the bin near the Info Table to ensure that children in our Durham community have a jacket to keep them warm during the winter months. Thank you for your support!
***************
Vendor of the Week:
Chocolatay Confections
| | |
| --- | --- |
| | |
| | Danielle, Logan and Mateau sampling delicious chocolate treats! |
Danielle and Matthew of Chocolatay Confections have always loved chocolate and candy. Before they were married, Danielle went to the Dominican Republic (where she is from) and bought a box full of pastries from a little place called the Wooden Spoon. She took the desserts to the airport in 105-degree heat and flew them back to New York just for Matthew to try. So when they discovered their son, Mateau ("Tay") had severe peanut allergies, they started making treats at home so that Tay could enjoy delicious sweets just as much as they always have. Fast forward a few years and they moved the family to Chapel Hill and turned their candy making hobby into a business, Chocolatay Confections.
Danielle and Matthew's sons are very involved in the family business. Tay is their go-to taste tester for new recipes and he is very honest about what he thinks. Logan, their 2-year-old, isn't as great of a taste tester since he pretty much likes all sweets, but Danielle tells us he is the color expert of the family and helps them with all of their packaging. Danielle admits it can be difficult maintaining a work-life balance when your life partner is also your business partner, but the joy Chocolatay Confections brings to their customers' lives makes it all worth it.
Danielle and Matthew take ingredients very seriously. They know exactly where everything comes from and source organically and locally as much as possible. Their chocolates and confections are all natural, GMO-free, and free of artificial colors, flavors, and preservatives. Be sure to stop by Chocolatay Confections' booth this weekend at the Market and try some chocolate you can feel good about. Their sweets also make a great holiday gift!
Market News
We will hold our special Holiday Market during the normal hours of 10 am-noon.
Saturday, December 31
We will hold our special New Year's Eve Market during the normal hours of 10 am-noon.
VEGETABLES:
Arugula, Asian Greens, Baby Ginger, Bok Choy, Broccoli, Brussels Sprouts, Carrots, Cauliflower, Chard, Collards, Garlic, Fennel, Herbs, Kale, Kohlrabi, Lettuce, Mushrooms, Onions, Pea Shoots, Peppers, Potatoes
, Radishes, Romanesco, Turnips, Winter Squash, and more!
MEATS AND EGGS: Pork, Beef, Lamb, Mutton, Bison, Chicken, Duck, Goat/Chevon/Cabrito, Veal, Duck Eggs, Chicken Eggs
FLOWERS:
Dried Bouquets, Anemones, Icelandic Poppies, and more
CHEESES:
Fresh and Aged Goat Milk Cheeses
PLANTS:
Vegetable, Flower and Herb Starts
SPECIALTY ITEMS:
Pasta, Flour, Cornmeal, Baked Goods including Pies, Breads, Cookies, Pastries, Gluten-Free Baked Goods, Fermented Foods, Teas, Beer, Wine, Meade, Jams, Jellies, Pickles, and Preserves

CRAFTS: Woodwork, Baskets, Photographs, Hand-Dyed Clothing, Body Butters, Lotions, and much more!


Produce availability depends on weather conditions.
We will be back at market
this Saturday
with a delicious mix of vegetables including beets, kale, cilantro, Daikon radish, collards, fennel, kohlrabi, Romaine lettuce, Gailan and other asian greens.
We've still got lots of holiday themed soaps for your last minute gift giving needs. Hostess gifts, teacher gifts, a little thank you for your postal carrier - our soaps are a fabulous little treat. Practical and useful, but still a bit of an indulgence to enjoy. As always, stop on by for your free sample soap. See you at the Market!
Bundle up and come to get some
Christmas gifts like homemade jams, pepper jellies, chow chows, and pickles.
And don't forget to try our Carolina Babe liquid coconut spray (coconut scent and unscented) - it's a great gift idea for men or women. There will be homemade chocolates, too!
Call 919-548-0977 for orders. Thank you for buying local!!
Amy, Ray, Ramy & Erin
Sugg
I see this as an opportunity to market and expand local sales of my products, as well as to increase brand recognition. I also recognize that there is an unmet niche in the area of semi-prepared Indian (South Asian) cuisine. Regular shoppers at the Durham Farmers Market actively buy fresh, raw ingredients (vegetables, fruits, meat, eggs, etc.), acknowledging their superior quality in the preparation of home meals. I envision that these same shoppers will see my prepared sauces and chutneys as an opportunity to integrate the other fine DFM products to create superior cuisine at home with a minimum of complexity.
Simplify meals! Add meats, vegetables, seafood, tofu, to these ready-to-use sauces and versatile chutneys!
Sauces (one pint serves 8, generously):
Tikka Masala Sauce: A silky, unarguably rich, butter-cardamom-tomato-cream sauce.
(Ingredients: canola oil, butter, whole cloves and cardamom, ginger, garlic, tomato paste, cream, paprika, garam masala, salt, crushed pepper).
GF, SF.
Punjabi Curry Sauce: A robust ensemble of onions, tomatoes, ginger, garlic, turmeric, paprika and aromatic spices Vegan. (Ingredients:
canola oil, onions, ginger, garlic, tomatoes, turmeric, paprika, garam masala, salt, crushed pepper).
GF, DF, SF
Kerala-Coconut-Curry Leaf Sauce: A zesty combination of coconut, onions, ginger, garlic and aromatic fresh curry leaves. (Ingredients:
canola oil, onions, ginger, garlic, coconut, coconut milk, turmeric, mustard seed, garam masala, salt, whole red chillies).
GF, DF, SF
Chutneys (

DF, GF, SF):
As per customer responses, they have been used on rabbit, fruit salads, salads, yogurt, roast pork, salmon, goat cheese, ice cream, eaten right out of the carton and more!
Peach-Raisin-Ginger
Tomato-Raisin-Ginger
Anjou Pear-Grape-Raisin
Stop by and sample our new batch of country X-sage pork sausage, both mild and hot. It is just in time to make wonderful holiday snacks or prepare for any meal.
21-day dry-aged ANGUS BEEF, Berkshire PORK, Dorset X LAMB, and Boer CHEVON (goat meat). We have everything available, from filet mignon to meaty soup bones for making hearty broths, to sausages and roasts/leg of lamb, or ground to stew meat. Stop by and try our ANIMAL WELFARE APPROVED meats all born and raised on our rolling grassland in Franklin County!
USDA certified organic vegetables this week: Collards, broccoli, carrots, turnips, and our hi-tunnel greenhouse vegetables include snow peas, sungold tomatoes, and baby ginger and turmeric. Mario even has a few winter squash and pumpkins for your holiday soups and pies.
Give a simple gift of our farm raised popcorn this season - so delicious prepared in a cast-iron skillet the old-fashioned way. Thank you
for your continued support of our family farm and happy holidays!
Do you remember that part in Clement Moore's poem, "A Visit from St. Nicholas," when it says "The children were nestled all snug in their beds / While visions of sugar-plums danced in their heads"? Did you ever wonder what kind of clothes those kids had? As a wearable art professional, I think about it all the time. And the conclusion I always come to is this: they were wearing union suit type night clothes, or, as we call them at Terra Clotha, "longzees." Kind of like a onesie, for infants, but with long sleeves, long legs, and snaps in the middle. Okay, so they didn't have snaps in the 1820s when that poem was written, but the children did have a need for warm, comfortable clothing during those cold winter nights. Something that would cover their arms and their legs, that would be comfortable when they got up on a chilly morning and checked their stockings. To that end, at Terra Clotha, we have a wide range of hand-dyed longzees for children up to age 24 months.
Hand-dyed clothing from Terra Clotha. Warm and colorful.
We will have Cream Cheese Danish, Fruit Cake, Chocolate Chip Cookies, Holiday assorted cookies, Gluten Free Brownie, Gluten Free Morning Glory Muffin, Sourdough Bread, Cinnamon Rolls, Cakes, Cheese Straws, Rolls, Oatmeal Raisin Cookies, 7 Layer Cookies. Amish Friendship Bread, Banana Nut Bread, Oatmeal Raspberry Bar.
See you at the Market!
Susan Doherty
We will have all our flavors of sausage this Saturday plus ham hocks, bacon, and bacon bits. Choose from spicy Smoked Andouille to mild breakfast or Italian. Bundle up and come pick up some whey fed pork to have for your favorite comfort food. See you at the Market!
Also, we welcomed Carol, our newest baby calf, this week. Carol and her mom, Courtney, are bundled up for the cold weather!
Visit our website!
Honeygirl Meadery celebrates nature and the work of honeybees by making meads (honey wines) with seasonal fruits, flowers, herbs and honey. Made in Durham, NC, Honeygirl meads are hand-crafted libations made in small batches with all natural ingredients.
This week at Market we will be sampling our favorite meads for sweater weather when we are cooking more stews, braising meats, roasting vegetables, baking cookies. It's the season for warmth, gathering and celebrating! Come by to taste our
Hibiscus Lemonthyme Mead,
an earthy and floral dry-style mead made with NC wildflower honey, organic hibiscus and fresh lemonthyme;
Fig Orange Mead
, a semi-sweet mead made with Durham figs, roasted and fermented with NC wildflower honey and finished with FL orange blossom honey; and
Spiced Apple Cyser
, a semi-sweet mead that tastes like apple pie, made with NC wildflower honey and NC apple cider.
We now have
Honeygirl Meadery Gift Cards
available at the Market - easy gift giving, it fits right in a stocking or pops in the mail. Now your giftee can choose their favorite mead, and you don't have to guess!

Tom has been busy in his workshop making more of his maple/Brazilian cherry cutting boards (as pictured). Prices range from $5-$75. Custom sizes may be ordered. These are unique, one-of-a-kind cutting boards for that special gift for the host or hostess, your family members and friends, or yourself!
Once again, this week we were busy in the kitchen replenishing our stock of jams and jellies for your holiday hostess gifts or for something unique for filling those stockings. Our new peach mango jam was a best seller last week. We'll also have our award-winning strawberry, blackberry, and peach, along with our sweet onion jam, which is great snack on crackers.
Look for us in our winter location under the pavilion on the back row just down from the Market's Info Table.
PRODUCE:
We will have arugula, sweet potatoes, winter squash, turnips, kohlrabi, Irish potatoes, garlic, and daikon radishes.
FROM OUR KITCHEN:
We will have strawberry, blackberry, peach mango, and sweet onion jam.
All of Hurtgen Meadows produce, plants, fruits and flowers are naturally grown using sustainable practices - no synthetic pesticides, herbicides, or fertilizers are ever used on our farm. We'll see you at the market!
This week we'll have spinach, frisee, escarole, Italiko Rosso dandelions, Red Russian kale, carrots, beets, fennel, Goldball turnips, collards, Carolina Ruby sweet potatoes, parsley, dill, cilantro and more! See
you at the Market!
We look forward to Market on Saturday! We'll be there with our pasture-raised bone stocks and our super fresh vegetable stocks by the (frozen) 24 oz tub. All of the stocks are gluten-free, dairy-free, and there's no added salt. They make weeknight meals a cinch and take your more involved holiday feasts to the next level. This week we have:
All-Purpose Chicken
All-Purpose Vegetable
Smoky Ham Hock
Caramelized Grassfed Beef
(Spicy) NC Sweet Potato Dashi
Sign up
for our fun bi-weekly newsletter, The Simmer, to receive recipes, product offers, and grower and cook profiles direct to your inbox!
Please pre-order here
by 5 pm on Friday and we will hold your order at Market until 11:30 am.
10% off purchase of $100 or more!
100% grass-fed yearling mutton:
Ground, stew meat, loin chops, rib chops, rib rack, loin rack, bone in leg, bone in shoulder, shanks, leg steaks, liver, kidneys, and soup bones
Pasture-raised, free range turkey: Breast, drums, and wings
100% grass-fed beef: Ground beef, stew beef; STEAKS: Filet mignon, bone-in/boneless ribeye, NY strip, flank, skirt, hangar, boneless sirloin, flat iron, chuck eye; short ribs, back ribs; ROASTS: Chuck, eye of round, rump roast, bottom round, London Broil, brisket, osso buco; heart, hot dogs, soup bones, knuckles, and kidney
Free range, pastured-raised chicken fed certified organic feed:
Whole chicken, half chicken, boneless skinless breast, French breast, leg quarter pairs, wings, backs, necks, wing tips, liver, feet, fat, and skin
Free range pork (pasture and woodlot raised):
Belly/jowl bacon,
bone in pork loin chops, smoked hams, smoked boneless chops, spare/baby back ribs; ROASTS: Boston butt, boneless pork loin, shanks; SAUSAGES: Breakfast pinky links (maple, mild, hot), bulk sausage (country, hot extra sage, hot italian, chorizo), link sausage (bratwurst, hot Italian, mild Italian, smoked bell pepper & onion, smoked linguica, smoked andouille, smoked polish), fatback, leaf lard, rendered lard, and pork neck bones
Deli Meats & Dogs:
Thin sliced smoked ham, bologna, roast beef, pastrami, salami, and hot dogs (beef or pork)
Soup, stew and stock (pre-order only!):
Beef soup bones, knuckle; pork meaty neck/back bones; chicken backs, necks, wing tips, feet; whole stew hens
Produce (no synthetic chemicals):
Arugula, Collards, Daikons, Red Russian & Siberian Kale, Mustard Greens, Carrots, Garlic, and Dill
Chicken eggs (free range and pastured hens): Mixed (medium-extra large), and jumbo
Duck eggs
Farmer's Daughter Pickles & Preserves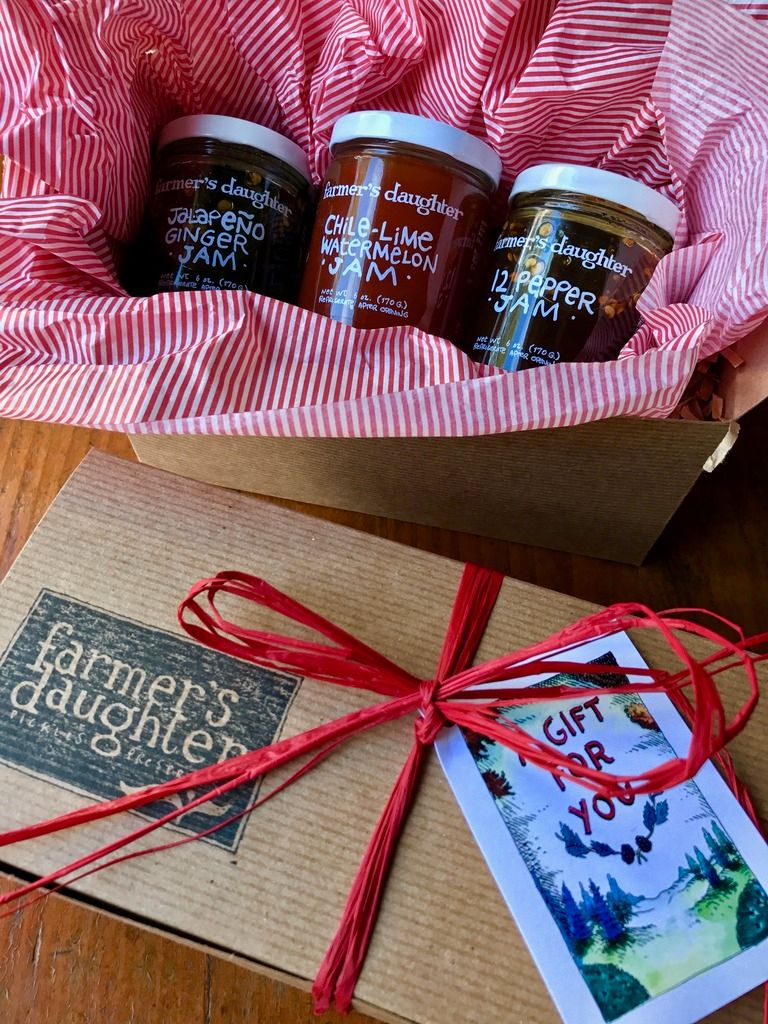 Keep your money in your own community this holiday season by supporting your farmers' market vendors. Our preserves and pickles make fabulous gifts, and we even have adorable complimentary gift packaging to make your job even easier. We'll have five different gift box sets (3 jars each):
Modern South
- Strawberry Honeysuckle Preserves, Muscadine Marmalade, and Chile Lime Watermelon Jam
Cheese Lover's
- Fig & Muscadine Grape Jam, Strawberry Provençal, and Curried Peach Preserves
Very Berry - All the berry hits! Strawberry, Blueberry, and Blackberry jams
Hostess with the Mostest - Horseradish Bread & Butter Pickles, Cranberry-12 Pepper Jam, and Blubarb Jam
Sugar & Spice - 12 Pepper, Jalapeno Ginger, and Chili Lime Watermelon Jams
If you'd like reserve gift boxes, just let us know.
ALSO IN STOCK THIS WEEK:
Northern Spy (Heirloom) Applesauce (stock up now for your Hanukkah latkes!)
HOT SAUCE:
(Peruvian) Aji Limon Hot Sauce
Sweet Potato Habanero Hot Sauce
RAW, CULTURED KRAUTS:
Plain Jane Kraut (back in stock!)
Juniper Kraut (back in stock!)
Atlantic Sea Kraut (back in stock!)
RAW, CULTURED PICKLES:
Thai Chili-Lime Watermelon Rind Pickles
RAW, CULTURED SALSAS:
Pea-co de Gallo (lacto-fermented fresh local tomato salsa with field peas)
FRUIT RICH JAMS/PRESERVES:
Blue Ridge Mountain Cherry Preserves
Ruby Red Grapefruit Marmalade
Pumpkin & Ginger Preserves
Strawberry Honeysuckle Preserves
Rosey Strawberry Rhubarb Preserves
Blueberry Lemon Verbena Jam
Orange Marmalade with Rye Whiskey
Cherokee Purple Tomato Jam
RELISH & SWEET PICKLES
Thank you for shopping local & handmade. We couldn't do it without you!
Find recipes & serving suggestions for Farmer's Daughter products on Pinterest.
Catbriar Farm
We will bring broccoli, cabbages, collards, sweet potatoes, and dried herbs, including freshly ground paprika powder and cayenne powder (perfect for a special stocking stuffer).
Dress warmly and we'll see you at the Market!
At Waterdog Farms, we are committed to providing sustainably produced teas, flowers, and specialty produce to all our customers. To us, that means providing the best products grown with no synthetic chemicals and while keeping our land and stream ecosystems on the farm healthy. You can find out more info about us on our website
or subscribe to our weekly newsletter.
This week at market we will have:
Caffeinated tea blends: Minty Green, Tulsi Green, and Carolina Earl Grey tea
Non-caffeinated herbal/herbal blends: Hibiscus, Hibiscus Select Blend, Flat River Mint, Tulsi, Mint Tulsi, Hurdle Mills Chai, and Lemon Tulsi
Cups of tea: Your favorite Waterdog Farms tea made on the spot
Flowers: Dried bouquets from the farm perfect as holiday centerpieces!
Other: Calendula-cornflower salve
Rickie White & Christopher Fipps
Maple Spring Gardens
In spite of the cold, we will be at the Market on Saturday - hope you will to.
We'll have lettuce, spinach, carrots, beets, radishes, cauliflower, broccoli, salad mix, cabbage, kale, sweet potatoes, butternut squash, dill and cilantro.
Melina's Fresh Pasta will be at Market this week with 11 ravioli flavors, such as Roasted Red Pepper & Feta, Caprese, 3 Cheese & Roasted Garlic, Lemon Ricotta, Pimento Cheese and more!
P
lus spaghetti, spinach linguine, tomato basil sauce, pizza dough, gnocchi and lasagna. Try our veggie shells - plain, tomato & spinach - in a pasta salad. See you at the Market!
Parking & Street Information
The Market is located at 501 Foster Street in the Pavilion at Durham Central Park.
Parking can be found on Foster Street right next to the Market, in the Ballpark Parking Lot on Corporation Street, and in the Measurement Inc. lot, 423 Morris Street (look for the Durham Farmers' Market Parking sign). There is a path at the bottom of that parking lot that leads you to the Market. There are also public parking lots along Foster Street and on Morgan Street near the Carolina Theatre.
Handicap parking is available on Foster Street, right next to the south entrance of the pavilion.
Durham Farmers' Market Animal Policy
Please note that the Durham Farmers' Market does not allow dogs or other pets in the Market area during Market hours. Service animals are exempt from this rule.
Leashed pets are welcome elsewhere throughout Durham Central Park.