Welcome to the Grog Shop Newsletter!
Your one-stop shop for show announcements, free tickets and the insider info to Cleveland's #1 concert venue.

It is an exciting time for music in Cleveland! With all of the musicials in town for the Rock & Roll induction ceremony, we are ecstatic to host Questlove at The B Side Liquor Lounge on Saturday, April 14th!

We are also pleased to working with The Big Chucklefck
to bring you comedy at the Grog! This week, James Fritz, whom Comedy.com recently named one of the top 5 comedians in Chicago, will be gracing us with his presence on Tuesday, March 20th. Only $5! And stay after for our late show with Sloppy Seconds!

We hope you enjoy & spread the word to your friends!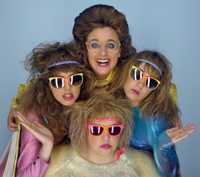 Monday, March 19th
7:30 doors | 8:30pm show
$10
with Pennyhawk / Ramona & The Swimsuits / The Very Knees
Leslie Hall initially caught the hearts & eyes of America's children when she began posting images of her world famous gem sweater collection on the interweb. Word of mouth quickly grew and within a month Leslie received over 2 million unique hits to her website, which left her with a $800 bill for exceeding her bandwidth. In order to raise money to pay back her mother, Leslie did what any 200 lb. plus girl from Iowa would do. She became a rapper. Leslie's star has risen quickly with such viral video music hits as GOLD PANTS, BEATDAZZLER, & ZOMBIE KILLER.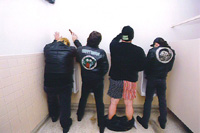 Tuesday, March 20th
9:30pm doors | 10pm show
$10 adv / $12 dos
with The Zapguns / The Hollywood Blondes
Sloppy Seconds is a Ramones-influenced punk band from Indianapolis that started in the mid-1980s. With such underground hits as "Come Back, Traci" (a tribute to an underaged Traci Lords), "I Want 'em Dead", and "So Fucked up", the band prefers to sing about such topics as pornography, classic horror movies, old TV shows, comic books, alcohol, being fat, and getting drunk. They have been quoted as being proud to be fat, drunk, and stupid.
Wednesday, March 21st


7:30pm doors | 8:30pm show

$15
with CX Kidtronik / The Worlders
Born in Newburgh, New York, United States, 1972, Saul Williams is considered a powerful voice of thehip-hop generation as a poet, actor, rapper, singer and musician. Best known for his blend of spoken word poetry and hip-hop, and for his leading role in the independent film Slam, he received notable recognition while supporting Nine Inch Nails for parts of their 2005-2006 tour.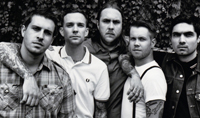 Thursday, March 22nd
7pm doors | 8pm show
$10 adv / $12 dos
with Hostage Calm / Runaway Brother / My Mouth Is A Speaker
A second-generation post-hardcore act, I Am the Avalanche features members of several earlier emo and screamo outfits. Singer and songwriter Vinnie Caruana was the leader of the Movielife, guitarist Brandon Swanson was in Further Seems Forever, and bassist Kellen Robson is a former member of Scraps and Heart Attacks. Formed in Brooklyn by Caruana in 2004 after the Movielife broke up (and following an abortive stint with the nascent Head Automatica), I Am the Avalanche was - unsurprisingly, for an emo band - first inspired by a bad breakup.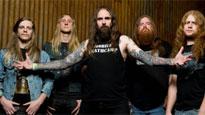 Friday, March 23rd
8pm doors | 9pm show
$8 adv / $10 dos
with Megachurch / All Dinosaurs
SKELETONWITCH has been called every name in the fucking book: death metal, black metal, thrash metal, speed metal, heavy metal, epic viking blackened thrash 'n' roll, and so on. It seems the only description everyone can agree on is 'metal,'" says guitarist Scott Hedrick, "and that suits us just fine." Indeed. Like Satan himself set loose in the hallowed halls of heavy metal, these Athens, Ohio-based headbangers careen wildly through the music's history, gleefully destroying and setting flame to every genre along the way, only stopping at the forefront of today's metal scene to look back and watch that fucker burn - and then piss on the flames.
Saturday, March 24th
6pm doors | 7pm show
$10 adv / $12 dos
Harry & The Potters
Accio, Potter enthusiasts! We summon you to the Grog Shop for a band that's making music about your favorite book series from author JK Rowling. Cue Harry & the Potters, the wizard rock duo comprising brothers Paul and Joe DeGeorge.This band operates independently-no managers, booking agents, recording budgets, publicists, or record labels. The band has given lectures on wizard rock and helped co-found the Harry Potter Alliance, an organization that inspires social activism based around themes from the Harry Potter books.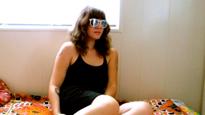 Tuesday, July 24th

7:30pm doors | 8:30pm show
$15
Grog Shop Presents:Best Coast @ The Beachland Ballroom
with Those Darlins
Best Coast sounds the way music sounds when it comes over the beach from the parking lot, where the cutest boy in school is getting out of his car. The perfect combination of that na´ve and nervous excitement of a youthful crush and the fuzzy, think reverb of having been around the block at least once before, Best Coast evokes a nostalgia for the California of Gidget and dates at the soda fountain without forgetting that it is that same California that would later spawn Charles Manson.
We hope to see you out at a show!

Love,
The Grog Shop