HAPPY NEW YEAR!
from the
MONTANA BIOSCIENCE ALLIANCE

NEWSLETTER
National drug shortage takes toll on Montanans
By CINDY UKEN Of The Gazette Staff | Posted: Tuesday, December 20, 2011 12:00 am
While awaiting the birth of their first child, Richard and Dawn Grayson were preoccupied with selecting a name, decorating the nursery and buying diapers, oblivious to the national drug shortage crisis.
That changed in April when their baby, Tanner, was born 11 weeks premature at St. Vincent Healthcare and developed necrotizing enterocolitis, a serious and sometimes fatal bowel infection, which required emergency surgery at Primary Children's Medical Center in Salt Lake City.
In the wake of the surgery, Tanner relied on getting his nutrients, including calcium, through an IV blend known as Total Parenteral Nutrition. Calcium is required for muscle function and building bones, especially in young children, and was a vital ingredient in the nutrient blend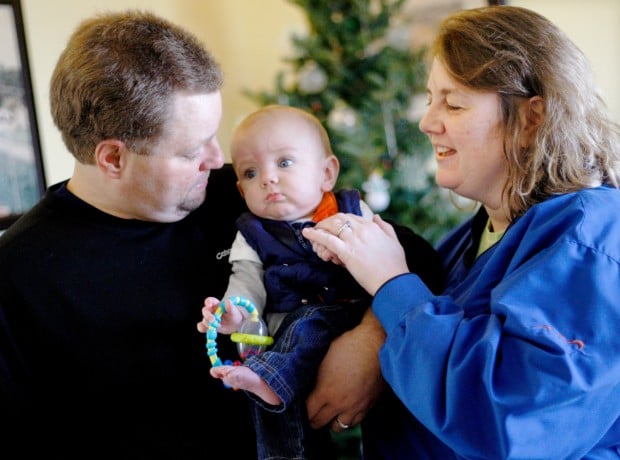 Richard and Dawn Grayson hold son Tanner, who suffered chemical burns when he had to receive alternative supplements because of a
national drug shortage.
But there was a national shortage of the type of calcium essential to Tanner's nutrient blend, so physicians mixed in a substitute that had devastating consequences. The alternative substance caused chemical burns and permanent scarring on his arm and foot.
"I was furious, flat livid about it," said Richard Grayson, 33, Tanner's father. "These drug manufacturers know how vital calcium is. Why they don't have enough on hand is beyond me. It's insane and uncalled for."
The child relies on another drug that is used to prevent serious lung disease caused by respiratory syncytial virus in premature infants. His parents now fret that it too could be in short supply.
"What happens if they stop making it?" asked Dawn Grayson, 41. "What if some kids get it and some kids don't? Our concern is if he gets sick again."
Click Here for full article.
ITHS Small Pilot Project Grant
Applications will be considered that address any aspect of translational health science.
Examples of the projects include:
Development of a serum-based test to diagnose colon cancer in patients with ulcerative colitis.
Novel bioinformatics systems for analyzing proteomic data
Testing community-based translation- and dissemination models for efficacious obesity-prevention programs.
Identification of barriers to, and facilitators of the conduct of clinical/translational research, ranging from aspects of the research process itself to factors that influence individuals' willingness to participate in clinical trials.
Click Here for details.
The ITHS is pleased to announce the availability of modest pilot grants. Grants are designed to assist investigators in obtaining preliminary findings, testing "proof of concept," or conducting other research activities designed to prepare and support competitive, full-scale grant applications.

DoD Issues SBIR 12.1 Prerelease (11/09/11)
The DoD has issued the prerelease of their FY2012.1 SBIR solicitation with offerings from the Army, Navy, Air Force, DARPA, DTRA, OSD and SOCOM. The solicitation opens and proposals will be accepted starting December 12, 2011 with a closing date of January 11, 2012 at 6:00am EST. The DoD topics will be included in Zyn's SBIR Gateway Search Engine soon.
Each of the DoD's agency components (Army, Navy etc..) have slightly different rules and procedures. Sometimes there can be specific instructions for a particular topic, so it is strongly advised that you study the solicitation instructions thoroughly.
Click Here for details.
BIO Applauds House and Senate for Reaching Deal on SBIR Reauthorization
By maureen
Created Dec 14 2011 - 10:33am
WASHINGTON, Dec 13, 2011 (BUSINESS WIRE) - The Biotechnology Industry Organization (BIO) today praises the House and Senate for reaching a deal on Small Business Innovation Research (SBIR) Reauthorization as an Amendment to the National Defense Authorization Act (HR 1540).
Yesterday, lawmakers announced that an agreement had been reached to reauthorize and amend the SBIR/Small Business Technology Transfer (STTR) program, which was set to expire on December 16th. House and Senate lawmakers agreed to amend and extend the program for another six years.
BIO President and CEO Jim Greenwood made the following statement today:
"BIO is pleased that an agreement has been reached to amend and extend the SBIR program. SBIR provides much needed funding for the development of innovative medical therapies for debilitating diseases including cancer, diabetes and HIV.
"In particular, BIO applauds House and Senate leadership, including Rep. Sam Graves (R-MO), Rep. Nydia Velazquez (D-NY), Rep. Ralph Hall (R-TX), Rep. Eddie Bernice Johnson (D-TX) and Sen. Mary Landrieu (D-LA) and Sen. Olympia Snowe (R-ME) for their efforts in moving this measure forward.
"This measure allows companies that are majority-owned by multiple venture capital firms to compete for SBIR awards once again, which is critical for emerging biotechnology companies working on tomorrow's breakthrough cures and treatments. Updating the SBIR program to address the current economic realities and capital formation challenges facing small, innovative American companies is necessary to ensure that these companies can once again compete for SBIR grants - based on the promise of their science rather than the structure of their capital.
Click Here for full article.

Progress Made on Vaccine for So-Called 'Cruise Ship' Virus
Norovirus Spreads Through Crowded Populations, With Children, Seniors at Risk of Becoming Severely Ill
Dec. 7, 2011 -- An experimental vaccine has passed an important test in preventing symptoms and infection from a type of norovirus, one of the most common causes of diarrhea and vomiting, researchers say.
The disease often sweeps through cruise ships, nursing homes, and other areas where a lot of people live close together.
In a new study, researchers sprayed the vaccine in the noses of 47 volunteers. They also sprayed a placebo vaccine in the noses of 43 other volunteers. The study participants all swallowed a large dose of the norovirus.
About a third of the participants who got the real vaccine developed gastrointestinal symptoms such as diarrhea and vomiting related to norovirus, compared to about two-thirds of those who got the placebo vaccine.
The results are very promising, but researchers have a few more years of research to do before the vaccine can be offered to the public, researcher Robert Atmar, MD, tells WebMD.
"I was very happy that we were able to demonstrate, at least as a proof of concept, that the vaccine can prevent some disease," says Atmar, a professor of infectious diseases at the Baylor College of Medicine.
Atmar and his colleagues published the findings in The New England Journal of Medicine. The study was funded by LigoCyte Pharmaceuticals, a research company in Bozeman, Mont., that hopes to bring the vaccine to market.
Click Here for full article.

UM Researcher Earns Title Of Regents Professor
Nov. 18, 2011
MISSOULA -
University of Montana Professor Richard Bridges joined an elite group Friday, Nov. 18, when the state Board of Regents unanimously voted to name him Regents Professor of Pharmacology and Toxicology.
Regents Professor is the top rank awarded to faculty members in the Montana University System. Bridges is only the ninth UM professor to earn the title since the policy of naming Regents Professors started in 1991.
"This is really a tremendous honor considering not only the many accomplishments of the other Regents Professors, but also all the high-quality faculty in our programs and centers who I have the pleasure of working with every day," Bridges said. "What means the most to me is that this appointment recognizes that teaching and research are essentially inseparable and that the two must be increasingly combined to properly prepare our students to compete and succeed."
Regents Professors must demonstrate unusual excellence in instruction, scholarship and service, as well as distinctive impact through their work. The rank is awarded by the Board of Regents upon the recommendation of the University president.
Congratulations to Dr. Bridges, a founding member of the Montana BioScience Alliance.
Click Here for full article.

UM Launches Partnership With Renewable Chemical Company
Dec. 12, 2011
MISSOULA -
Two geoscience faculty members at The University of Montana have started a partnership with a private company to sustainably produce commercial products from algal biomass.
Potential products include organic fertilizers, natural pigments, food flavorings, fatty acids for biofuels, cholesterol-reducing compounds for food additives, and natural anti-inflammatory and anti-cancer drugs. Natural inputs and nontoxic production methods will give potential products a competitive advantage over similar products produced from petroleum and other nonrenewable sources.
Carrine Blank, a research assistant professor in UM's geosciences department, and Nancy Hinman, a geosciences professor, are working on the project with Blue Marble Biomaterials, a company specializing in fully sustainable, zero-carbon, specialty chemicals.
The company was founded by Kelly Ogilvie and James Stephens, a UM alum. Stephens, also the company's chief science officer, leads Blue Marble's role in the collaborative effort, which largely takes place in the company's biorefinery near the Missoula airport.
"Our goal will be to tap into Blue Marble's carbon dioxide waste stream and then turn that CO2 into algal biomass," Blank said. "We will then work together to harvest commercial products from that biomass."
She said the diverse collection of patent-pending cyanobacterial and microalgal strains they work with derive from a number of regional waters, including Puget Sound, Washington's Soap Lake, and local rivers and lakes in Montana. Additional strains come from soil.
Blank said she and Hinman are working to publish a paper about the research being used with the UM/Blue Marble partnership.
Stephens says UM's favorable attitude toward industry partnerships was one factor in the decision to move the company from Seattle to Missoula in 2010.
Click Here for full article.

Two MSU professors elected fellows in world's largest general scientific society
December 19, 2011 -- MSU News Service
BOZEMAN - Two professors in Montana State University's Department of Chemistry and Biochemistry have been named fellows of the American Association for the Advancement of Science (AAAS).
The election of Timothy Minton and Robert Walker will be announced Friday, Dec. 23, in the journal, Science. Minton and Walker will each be presented a certificate and gold and blue rosette pin on Saturday, Feb. 18, during the 2012 AAAS annual meeting in Vancouver, British Columbia. Gold represents science, and blue represents engineering.
Walker was chosen as a fellow because of his distinguished contributions to understanding the molecular structure and interfacial behavior at complex liquid and solid surfaces using surface spectroscopy, according to AAAS officials. Minton was elected for his pioneering work in hyperthermal gas-surface and gas-phase reaction dynamics, and for his service as a senior editor for the Journal of Physical Chemistry.
The AAAS is the world's largest general scientific society, and publishes the journal, Science, as well as Science Translational Medicine and Science Signaling. AAAS was founded in 1848, and includes 262 affiliated societies and academies of science, serving 10 million individuals. Science has the largest paid circulation of any peer-reviewed general science journal in the world, with an estimated total readership of 1 million.
Evelyn Boswell, (406) 994-5135 or evelynb@montana.edu

The Montana Manufacturing Extension Center and the Montana World Trade Center
The Montana Manufacturing Extension Center and the Montana World Trade Center have launched a customized export training program to help Montana companies develop an Export Strategy and increase export sales. The Program brings together state and national experts to provide education and training on the mechanics of exporting and the tools and resources necessary to develop an effective export strategy.
* Rate of $895/person (valued at $2,800), price discounts for companies with multiple attendees * Limited to 8 Montana companies per location * Qualifies for the Incumbent Worker's Training Program (more details below)

2012 Session Dates: Training program includes 3 one-day sessions over 3 months January 24th, February 28th, and March 27th (Billings - register here) January 26th, March 1st, and March 29th (Kalispell - register here) What Montana Companies are saying about ExporTech
"All content was covered thoroughly and expertly!"

"The program conveyed a lot of very good and relevant information, and provided many good resources for use as we begin pursuing foreign markets."
To download the ExporTech brochure, click here.
"The one-on-one coaching and feedback was especially valuable. Thanks to all for excellent content and great expertise!"
The Montana Bioscience Alliance serves as a hub for Montana's biotechnology companies, entrepreneurs, laboratories, hospitals, clinics and universities to commercialize, grow and sustain globally competitive bioscience companies -- ultimately to create high-quality jobs and economic opportunity in Montana.

Sharon Peterson
Executive Director
Montana BioScience Alliance