Killer Joe
An adaptation of the play of the same name by Tracy Letts (who also penned the script and won the Pulitzer Prize for writing August: Osage
County), Killer Joe
tells the chilling tale of the intersection between a dirty cop who moonlights as a contract killer (Joe Cooper, brilliantly portrayed by Matthew McConaughey), and a perpetually destitute trailer park family (Emile Hirsch, Juno Temple and Thomas Haden Church) that finds need for his services. It is a world that most of us don't know, but know of, a story of have-nots with so little hope and joy in their lives that monster trucks become entertainment, and the difference between right and wrong blurs like a signal on the UHF dial.
Read More & see the trailer >>

Kayaking the Bay at Monterey Bay Kayaks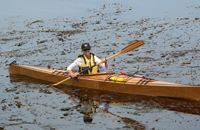 This program of the Monterey Peninsula Regional Park District takes adults and kids onto the Monterey Bay by kayak to observe animals and the watery ecosystem in a natural history tour for all experience levels. And will have you back by lunchtime. 9:30am-12:30pm. Monterey Bay Kayaks. $35-$55. www.mprpd.org, 372-3196 x3.
The California Roots Summer Mix-Up at the Monterey County Fairgrounds

Back in May, the third annual California Roots Music & Arts Festival brought nearly 20,000 people to the Fairgrounds for a two-day event headlined by Pepper and SOJA. Saturday's California Roots Summer Mix-Up - a scaled-down version of the spring event - may not be as large as its brother, but the vibes will enjoy similar genes.
Concours d'LeMons at Laguna Grande Park

This year organizers set out to find the nation's Sweetest Lemon - "the most glorious example of
there," says one sponsor - and settled upon this jewel, a 1970 Subaru Deluxe deathwish with a two-stroke motorcycle engine and a top speed of...60 (on a good day). "The future is definitely a better place with the Subaru 360," event founder and emcee Alan Galbraith says. "It harkens back to a whimsical time in the automotive world when cars didn't have all the same, sophisticated features. The 360 had none." FREE. Noon-1pm viewing. Laguna Grande Park, 1249 Canyon Del Rey Blvd., Seaside.