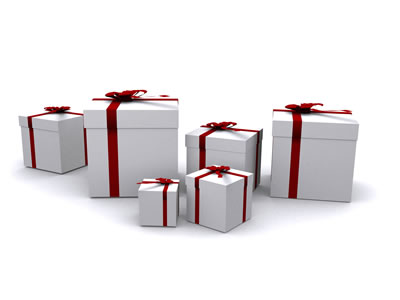 Christmas Gift Ideas
For the "Fitness Buff"
Stainless steel water bottles -
made from 18/8 stainless steel. Easy to grab and go with the aluminum carabiner clip attached right to the lid. Holds 750ml (25 oz.) of water or your favourite sports drinks.
Cost: $12.50 (plus HST)
Duffel Bag - two-tone (red and black) bag made of durable 600-denier polycanvas, features a large interior compartment and full-front slash pocket with a spot for your water bottle. Optimal storage for your clothing and/or post-workout snacks. Perfect for weekend travel too! It includes two fabric-wrapped handles and an adjustable shoulder strap for easy portability.
Cost: $20 (plus HST)
Running Cap - dri-fit, ligh
tweight, cap is per
fect for an outdoor workout. 100% polyester mesh 7-panel cap, lined with Coolmax Active Performance sweatband to enhance wicking of sweat for extreme dryness and comfort. Peak is wrapped with reflective fabric in wave design. Unique reflective print on side panels, in chevron pattern, for extra illumination. Adjustable cloth back strap, with double reflective piping, for easy fitting.
Cost: $12.50 (plus HST)
Stretch Straps - The padded handles allow for a comfortable grip while reducing wrist tension so you can enjoy your stretches longer! Double loop system that easily wraps around hands and feet for a secure and confident hold. Package includes a pair (2) of Lebert Stretch Straps, poster, DVD, and carrying pouch.
Cost: $40 (HST included)
Workout Tricks
Fitness Tip
The human body is meant for movement.
A wide variety of modern epidemics, from heart disease to diabetes to osteoporosis, are rooted in our sedentary lifestyles.
Running a marathon is not required, but leading a physically active life is crucial to optimum health.
Get up off the couch and GET ACTIVE!
Food For Thought
Nutrition Tip

You simply can't lead a healthy lifestyle without a healthy diet.

Learn to experiment with healthy, good-for-you, dishes and adapt them to suit your family's needs. Be creative!


Make the most of your pantry. Learn what to keep and what to throw out as well as food safety and healthy cooking tips.
Then, enjoy!
Visit our blog for some delicious, healthy, recipes.
Greetings!
Here's a brief look at what we've got for you in this issue:
MAINTAIN YOUR FITNESS DURING THE CHRISTMAS SEASON
Everyone knows of the problems to be faced when trying to maintain a fitness regime during holiday seasons. Do you struggle too? Well, we've got some suggestions that may assist you to resist the temptations to "cheat" or "treat" yourself too much.
SPECIAL OFFER
Do you like to save money? WE DO TOO! So, for anyone looking to save money, while getting fit, we're offering the opportunity to SAVE up to 50% off the cost of your Training Sessions.
Workout Tricks (Fitness Tip)
Each month, we share a fitness related tip/suggestion/tidbit. These may be specific to a particular exercise, or may be more general in nature. Read more . .

Food For Thought (Nutrition Tip)
Each month, we also share a nutrition related tip/suggestion/tidbit. Again, these may be specific to a particular food group, health issue and/or may be more general in nature. Read more . .
Maintain Your Fitness
During The Christmas Season!
In our October newsletter, we gave you a few tips on surviving the Thanksgiving holiday meal. Very valid information, for a single day holiday like that, but not all-encompassing for a holiday like Christmas. Yes, those same meal strategies can be applied to the Christmas "season", but more strategies are also necessary. That's because, for a vast majority, Christmas is more than just the one day. It is, as mentioned, a "season" that starts near the end of November (depending on when you traditionally start your decorating or celebrating) and continues through to after New Year's Day. That's a long time, with various additional commitments and time constraints, to maintain a focus on an exercise regime.
One thing I've come to realize around this time of year is that I feel that I'm much more concerned about my clients missing their workouts than they are. I get more "sorry, I won't be there" emails or text messages than at any other time of year. It's particularly true as people get caught up, perhaps even overwhelmed, by the spirit of the holidays. The truth is, it's not just about having the time to exercise this time of year. It's also about being stressed out and tired. It's about being distracted by so many other commitments - family gatherings and visits, work parties, decorating (I know about this one, it takes me over a week to decorate the house) kids school performances and, last but not least, shopping! All of these very "important" tasks compete for our time and the very last thing that might be on your mind is trying to fit in a workout when it feels that your entire universe is about to explode.
I've been seeing that a lot lately and, quite honestly, it makes me sad. Who am I supposed to torture (I mean "train") if all my clients are too busy with holiday stuff?
Think about what's going on with you. What's the hardest part of exercising this time of year? Finding the time or the motivation? Or, is it finding the energy to even care about exercise right now? If you feel that you absolutely must, miss a workout, I'd like to share a few suggestions that might help you get through this "season" with your health and fitness intact:
Adjust your schedule slightly

. Perhaps your evening class conflicts with a work or family function. But, does your Trainer offer other class times that you can switch to for a class or two? Perhaps an early morning option that you can do before starting your busy day. And, if you can't commit to the two or three training sessions per week that you're used to doing, make sure that you get out at least once.

Take advantage of "other" exercise opportunities. When shopping, park at the far corner of the parking lot and walk farther to the store or mall. In the mall, do a few "laps" and take the long way to get to the store. Use the stairs (do some repeats even) instead of taking an escalator or elevator. Try to book an activity for the family that involves fitness. Perhaps a good hike on the weekend.
Make new time for "different" fitness options. Find small periods of time, throughout the day, where you have a little time to do some "mini" workouts. Do some incline pushups on the edge of your desk, lunges on the way to the water cooler or weight lifting (bundles of paper) at the copy machine.
Finally, go with the flow. You also have to realize that sometimes you can exercise and sometimes you simply can't. If a workout is going to completely mess up an otherwise manageable schedule, maybe it's best to put it aside (for the time being) and realize you can get right back to it when the holidays are over. But, to ensure that you DO get back to it, make a commitment (a monetary commitment) to get back into exercising as soon as possible in the New Year. Put a deposit down towards a program that starts soon after the end of the "season".
I really hope that this short list of suggestions, combined with the meal suggestions we gave in October, will assist you to survive the holiday "season" with your health and fitness intact. Do you have any suggestions for other ways to maintain your fitness? Please visit our Facebook page or Blog and leave us a message that we can share with others to assist them in their efforts.

Upcoming 6-Week Training Program Classes


The NEXT Training Sessions are:
January 14th - February 22nd
Class Time Options are:

Mon/Wed/Fri - 5:30 AM; 9 AM; and, 5:30 PM
and
Tues/Thurs - 5:30 PM
Call NOW to reserve your place in the class of your choice.
For information on costs and additional future Training Programs, please
click here
to visit out website.



Up to 50% off!


Sign up,

with a deposit

, for the first

TWO Training Sessions in 2013 and save 25% off EACH Session.

Sign up with a friend and

If you're seriously interested in SAVING MONEY, and are committed to getting fit, DON'T DELAY!

Contact the office, via email

or a phone call, to get

complete

details

on this GREAT offer!