Join us for our next Positive Psychology Coaching Course beginning June 4th.
If you are interested in helping others or in becoming a more skilled educator, parent, manager, therapist, or coach, register today for our Positive Psychology Coaching Course.



This intensive course meets twice a week and will last 8 weeks. Register by May 15th and receive a $300 discount off the cost of the course.



Space is limited and history has shown the class will fill up quickly, so if you're interested, please register today.


Please contact us if you have any questions.
How doing 'great work' can save lives.

It isn't very often that a book has the power to save a life. Yes, good books can improve lives, shape lives, even change lives. But when was the last time a book literally helped save a life?

My colleague, Michael Bungay Stanier, has done just that. Author of Do More Great Work, he talks about the power of focusing on a "Great Work Project" to channel your energy and focus on doing Great Work--the work that you care about, the work that makes a difference, the work that matters.

For his latest 'great work' project, he focused on making an impact at a global level and discovered that a $10 mosquito net is one of the most cost-effective units of global change.

Did you know that every 45 seconds, a child dies of malaria?

Purchase Stanier's new book, End Malaria, and $20 from each copy will send mosquito nets to a family in need and to support life-saving work in the fight against malaria.

In addition to saving lives, buying this book means you can enjoy essays by 62 of America's favorite business authors, including Seth Godin, Alan Webber, Chris Brogan, Dan Pink, Danielle LaPorte, Dave Ramsey, David Allen, and myself.

Organized into three main sections: Focus, Courage, Resilience - and eight subsections:
Tap Your Strengths, Create Freedom, Love & Be Kind, Disrupt Normal, Take Small Steps, Embrace Systems, Get Physical, and Collaborate - all essays in End Malaria share a desire to inspire readers to look within themselves for solutions to their everyday dilemmas and for motivation to realize their desires.



I'm happy to have the opportunity to participate in a project of this magnitude and hope you'll consider purchasing the book to support this worthy cause.



Visit Amazon.com to find out more about the book and watch a short video here: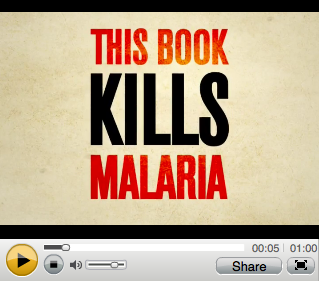 What is your 'great work?'

We'd love to hear about it! Email us or post a comment on our Facebook page.