Cardinal, Provincial-elect, celebrate Mass on Italian Naval vessel
BOSTON - On Saturday, August 14, Provincial Minister-elect Antonio Nardoianni joined with Boston's Sean Cardinal O'Malle, OFM Cap., in celebrating the Holy Mass aboard the Italian Navy training ship San Giusto.
Provincial Minister-elect Antonio Nardioanni chats with Cardinal Sean O'Malley, OFM Cap., after the Mass
This was the first visit of an Italian Naval vessel in 10 years and coincided with the 100th anniversary of the Feast of Madonna Del Soccorso di Sciacca (the Fisherman's Feast) in Boston's North End.
Cardinal O'Malley arrives on the dock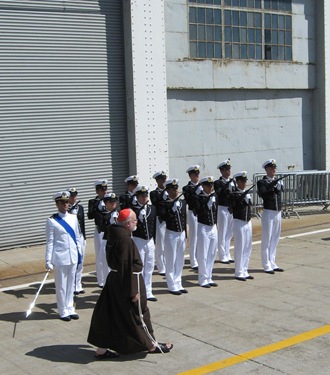 Cardinal O'Malley was the presider at the Mass and invited Fr. Antonio to concelebrate. A festive breakfast onboard followed. The Cardinal also took a private moment to congratulate Fr. Antonio on his recent election as Provincial Minister.
Province readies for Chapter
NEW YORK - With less than a month before the next Provincial Chapter, General Visitor Larry Dunham, has officially convoked the triennial gathering of friars.
"I officially and formally convoke the 2010 Chapter of the Province of the Immaculate Conception," the Visitor wrote in an August 24th letter. "I entrust the success of our solemn gathering to your prayers, asking the Holy Spirit to gude our deliberations and our decision-making."
The Chapter will take place September 20-24 at
Villa Vosilla
in Tannersville, NY. In addition to the usual reports, Chapter delegates will also confirm the election of Friar
Antonio Nardoianni
as Provincial Minister; as well as elect a new Vicar Provincial and five Provincial Councilors.
Friars are reminded to bring their habit and friar-priests are reminded to bring an alb and a stole. For those who have Centenary vestments, this would be a good occassion to bring those as well. All prayers, readings and music will be contained in a Chapter liturgy booklet which will be distributed at Chapter. Friars should also bring all chapter reports and other materials already sent out.
Villa Vosilla Boutique Resort, Tannersville, NY
Little Brothers founder dedicates book to our Province
BOSTON - Brother James Curran, Founder of the Little Brothers of Saint Francis has just published a new book, A Circuitous Spiritual Journey.
The book, recounting his conversion experience and commemorating the 40th anniversary of the Little Brothers is "Dedicated to the Friars Minor of the Immaculate Conception Province for all the encouragement and support they have given us over the past 40 years."
The book makes special mention of the community's Provincial Spiritual Visitors: Frs. Ubaldus Di Prizio, Luke Ciampi, Antonine De Guglielmo, Primo Piscitello, John Bucchino, Richard Donovan, as well as Frs. Cajetan Esser, Romano Almagno, Edmund Ansaloni, Francis Walter and Br. Gabriel Aceto. Priced at $12.00, the 140 page book, is available from: The Little Brothers of Saint Francis, 785-789 Parker Street, Boston, MA 02120-3021. Phone: 617-442-2556.
Brother James founded our community in the Archdiocese of Boston on September 8, 1970, and their way of life developed under the paternal support and guidance of His Eminence, Humberto Cardinal Medeiros. Today, the Little Brothers are a community belonging to the Third Order Regular of Saint Francis. They follow the Rule of the Third Order Regular of Saint Francis and incorporate into their observance Saint Francis' Rule for Hermitages into their Way of Life, which help us embrace our unique expression of Franciscan life.

Brother James is now 78 years-old and now suffering from Parkinson's disease and Diabetes.
Brother James Curran with Cardinal Sean O'Malley, OFM Cap.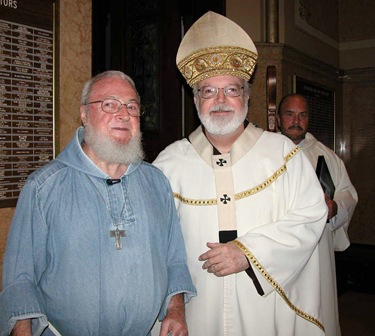 Friar Romano Almagno conducts retreat for New England's Bishops
ENDERS ISLAND, CT - From August 15-20, Fr. Romano S. Almagno conducted the New England Bishops' annual retreat at the St. Edmund Retreat House, Enders Island, CT.
About 20 bishops participated in the retreat. Boston's Cardinal Sean O'Malley, OFM Cap, spoke of the retreat in his blog saying, "Our retreat master was Father Stephen Almagno. He is a Franciscan of the Immaculate Conception province and was Cardinal Wright's assistant for many years, head of the Holy Land Monastery in Washington, and taught for many years at the University of Pittsburgh. He is quite a scholar, and gave us a beautiful retreat on Cardinal John Henry Newman in light of the fact that Cardinal Newman's beatification is coming up next month."
Friar Romano Almagno delivering a conference to New England bishops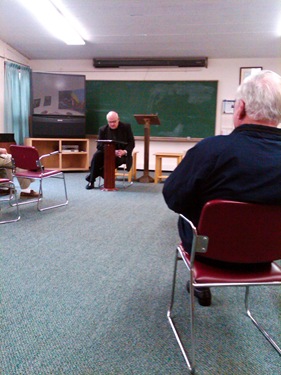 Friar Romano reports that "during the course of the retreat several bishops went out of their way to offer some very favourable comments on our Province and friars. Cardinal O'Malley on the fine job Fr. Antonio Nardioanni has done at St. Leonard and how he views Antonio's election with mixed-feelings: delighted that Antonio has been elected Provincial, but very sad that he will be leaving Boston."
Bishops gathered in the chapel for Eucharist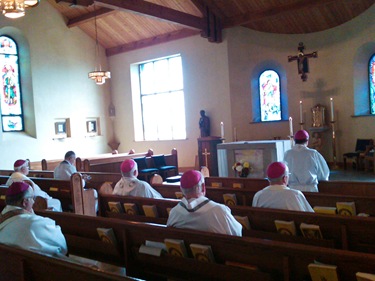 Romano said that Bishop John Dooher, auxiliary to the Archbishop of Boston, spoke with real admiration of Fr. Thomas Nicastro and with fond memories of his own student days at Christopher Columbus High School. Archbishop Cronin and Bishop Lori praised Fr. Robert Campagna for his years as Minister Provincial.
Friar meets family of Bl. Franz J?gerst?tter
OBERAMMERGAU - During a recent pilgrimage to Oberammergau, site of the famous Passion Play performed only once every 10 years, Friar Andr? Cirino, had a wonderful encounter with the family of Blessed Franz Jagerstatter SFO.

Born in 1907 at St Radegund in Austria, Blessed Franz J?gerst?tter SFO refused any cooperation with the regime which seized power in Austria in 1938 and when repeatedly called up for military service, he declared himself bound to refuse by conscience and because of the commandment of the love for God and o?ne's neighbor, for "we must obey God rather than people".
Friar Andre with Franziska
It was during this time that Blessed Franz joined the Secular Franciscan Order. Condemned to death in 1943 for undermining military discipline, he was beheaded o?n 9 August at Brandenburg an der Havel in Germany, and merited being united to the passion of Christ. Pope Benedict XVI having issued a decree declaring him to be a martyr, on 26 October 2007 he was beatified in Linz, Austria. His feastday is 21 May. He is survived by his wife Franziska and three daughters-Rosalia, Maria and Aloisia.

On 3 August 2010, during a pilgrimage to attend the Passion Play at Oberammergau, Germany, the pilgrims went to St. Radegund, Austria to pray at the tomb of Blessed Franz J?gerst?tter SFO and celebrate Eucharist in the burial church. Franziska, Rosalia and Maria attended the mass and met with the pilgrims afterwards. It was a unique experience to celebrate the Eucharist in honor of Blessed Franz in the presence of his wife and daughters.
Celebrating Our Centenary: St. Joseph Church, Winsted, CT
WINSTED, CT - The history of St. Joseph's Parish in Winsted, Connecticut, includes over a hundred and fifty years of faithfulness and action. When one gazes at the enormous gothic church building towering on the hill above Main Street, or at St. Anthony's School on the other end of the parking lot, or at the new Parish Center between the two, one sees not only buildings; one sees the collaboration of generations who poured their lives into the service of God and God's children. St. Joseph's parish has been richly blessed. The last century and a half are witness to that.

In 1851 the first Catholic Mass was celebrated in Winsted, and two years later the local community built the original St. Joseph's Church. For the next decade the parish was served by diocesan priests, until the last, Fr. Daniel Mullen, became a chaplain to the 9th Regiment of Connecticut Volunteers during the Civil War.
Arrival of the Friars
Fr. Leo da Saracena
It was then that the Friars became part of the history of St. Joseph's. Fr.
Leo Rizzo da Saracena
, of Calabria, Italy, came over to the United States and immediately succeeded Fr. Daniel Mullen as the Chaplain to the 9th Regiment; the Franciscan suffered a minor wound that became the butt of jokes for the rest of his life. In 1865 Rev. Francis P. McFarland, Bishop of Hartford, asked Fr. Leo and the Franciscan Friars to care for the new parish in Winsted.
Wasting no time, Fr. Leo opened a parochial school and requested that the Allegany Sisters of New York send some of their members to Winsted as teachers. Classes were held in the church basement. In 1866 the Italian pastor had a new monastery constructed to house the friars, and in 1876 St. Margaret's Convent for the Allegany sisters. These first years proved challenging ones for the growing parish and school, but with faith and determination Fr. Leo guided the community until, finally, the new St. Anthony School was built and dedicated in 1887. Ten years later Fr. Leo died.

The first impression that the Friars made in Winsted comes from Fr. Leo da Saracena, and he made a lasting impression indeed. Tireless in his work, he was fascinating in his character. Often people saw the friar mounted on his white horse leading the civic parades, or driving his horse and wagon on countless shopping and visiting tours. Not content with all his other duties, Fr. Leo appointed himself the local truant officer; many wayward children learned to run from the sound of swishing friar robes and the clank of the Franciscan crown!

Fr. Leo was well loved by people of all faiths in the area, and his memory lived on in Winsted long after his death.
Exterior of St. Joseph Church
Transfer to Holy Name Province
In 1901 the Parish became part of the Holy Name Province of friars, who began a century of devoted service to the community. Fr. Andrew Slattery, pastor since 1904, oversaw the raising of the new church building, which started in 1914 and by the labor of volunteers of the parish was completed in 1916. Set on a hill, the tan stoned walls and buttresses culminate in an enormous steeple visible for miles around. Its harmoniously decorated interior, tall marble altars, Franciscan murals, and intricate stained glass windows are a testament to the faith of the people who desired a fitting dwelling for the Lord.

In the following years other Franciscans came to serve the parish, including Fr. Bonaventure McIntyre who was pastor from 1937 to 1943. A Definitor of Holy Name province, Fr. Bonaventure had also taught at St. Bonaventure College in New York and traveled extensively on the East Coast as a retreat director and mission preacher. He contributed articles to several magazines and in 1835 published a book of homilies called Sermons for the Whole Year. When in Winsted Fr. Bonaventure celebrated his Silver Jubilee of priestly ordination, a milestone for himself and for the people of St. Joseph's.

The Old St. Joseph's Church building had been converted to an auditorium, but in 1961 it was at last demolished. The next forty years brought great changes: in 1964 the old St. Anthony School was replaced by a larger, modern version; in 1969 the brick Convent of the Allegany sisters was torn down and their residence moved to Oak St.; and in 1975 a Mass of Rededication was celebrated at St. Joseph's to mark the renewals of Vatican II.
Return to Immaculate Conception

Then, in 2002, the Parish changed hands from Holy Name Province back to Immaculate Conception Province of Franciscan Friars, and Fr. Bruce Czapla served as the first pastor. During his tenure a new Parish Center was constructed, providing a gym, Media Center, and banquet hall for the community.

Today, 2009, Fr. Dennis Arambasick resides as pastor of St. Joseph Parish; the next chapter in a story of one hundred and fifty years - and counting - of fidelity, creativity, and tireless service for the Lord and His people.
Interior of St. Joseph Church
ESC Communicators meet in Caledon
CALEDON, ONTARIO, CANADA - The Communcation Directors of the English Speaking Conference held their annual gathering at St. Francis Centre for Religious Studies from August 23-26.
The Communication Directors Committee was recently created as a Committee of Experts under the Conference to help facilitate greater collaboration and communication between the entities of the Conference.
Of the 13 entities of the English Speaking Conference, six Provincial Communication Directors were present for the gathering: Jocelyn Thomas (Holy Name Province), Thomas Washburn (Immaculate Conception Province), Benet Fonck (Sacred Heart Province), Toni Cashnelli (St. John the Baptist Province), Francis Cotter (Province of Ireland), and Ali Packard (St. Barbara Province). Also participating in the meeting was Provincial Minister William Spencer (Sacred Heart Province), who serves as the ESC Liaison to the group.
On the agenda for the meeting was a review of the various ways that Provinces conduct the work of communication, both internally and externally. Most significantly, the group began working on a document for the ESC entitled "Preach the Gospel at all Times: A Guideline for Evangelizing through Social Media." A draft version of the document will be presented to the Conference at its October meeting in Montreal.
At this meeting, Benet Fonck was elected as chair of the group, and Jocelyn Thomas was elected Secretary. Both were elected for three year terms. The group will meet again in February, 2011.
ESC Communication Directors gathered in Caledon
PRAYER LIST
Deceased Friars:
Friar
Thomas Nicastro,
93 (July 13).
Infirm Friars
: Friar
Romano Almagno,
Friar
Juniper O'Connor,
Friar
Gregory Botte,
Friar
Bede Ferrara,
Friar
Benedict Joseph D'Alessandro,
Friar
John Capistran DiMauro,
Friar
Marcellinus Borg,
Friar
Emery Parillo,
Friar
Berard Tufo,
Friar
Kenneth Ghastin,
Friar
Bruno Ciardiello,
Friar
Frank Genevive,
Friar
Fabian Grifone.
Deceased Family and Friends: Joseph Adamo (Aug. 9), brother of Friar Philip Adamo.
Infirm Family and Friends
: Adeline Campagna, mother of Provincial Minister
Robert Campagna,
Jason Russell, nephew of Provincial Minister
Robert Campagna,
Tom Kelly, cousin of Provincial Minister
Robert Campagna,
Mark Hardes, friend of Provincial Minister
Robert Campagna,
Sandy Soto, sister of Friar
Charles Soto,
Lee O'Connor, mother of Friar
Juniper O'Connor,
Pat Walsh, sister-in-law of the late Friar
Peter Walsh,
Kevin Joos, nephew of Friar
Bob Artman,
Kathleen Buell, sister of Friar
Bob Artman,
Andrew Accardi, son of a Provincial benefactor dying of cancer, Lena Scarangello, mother of Friar
John Scarangello,
Anthony Pascale, Provincial Attorney in Canada, Brian Gaffrey, brother of Friar
Christopher Gaffrey,
Angelo Bucchino, father of Friar
John Bucchino,
Leo and Madeline Picardi, brother and sister-in-law of Friar
Aubert-Marie Picardi,
Clifford Doyon, Jean and Donald Reenstierna, friends of Friar
Aubert-Marie Picardi,
Sofia Rogers, Kathy Jackson, Dorothy DeCarlo, secretary at St. Anthony Church, New York City; Olivia Morin (4 year-old with brain cancer), Lee Ghastin, brother of Friar
Kenneth Ghastin,
Phyllis Memmo, sister of Friar
Archangel Sica,
Blaise and Astra Fernandes, parents of Friar
Conrad Fernandes,
Antonetta Altieri, sister of Friar
Robert Caprio,
Jill Pasto and Connie Zarella, sisters of Friar
Claude Scrima,
Zenaida Te, mother of Friar
Alvin Te,
Bishop Basil Schott, OFM (lymphatic cancer), Joseph and Matilda Zammit, parents of Friar
Jimmy Zammit;
John Corcione, brother of Friar
Michael Corcione;
Nicholas Adamo, brother of Friar
Phil Adamo.
Those in nursing home care: Friar Luke Storino (St. Patrick's Home for the Aged and Infirm), Friar Marion Cascino, Friar Valerian Faugno, Friar Januarius Izzo (Marion Manor, South Boston)
* Please note: If you know of someone on the prayer list who no longer needs to be there, please send an email to
internos@icprovince.org
IC News is a regular publication of the Friars of the Franciscan Province of the Immaculate Conception. Content is edited by the Province's Office of Communications. Friar Thomas Washburn serves as Director of Communications. Please send all communications to internos@icprovince.org.
CELEBRATING OUR CENTENARY:
Fr. Leo
Fr. Leo da Saraceno, OSF
WINSTED, CT - Born on August 8, 1833, Fr. Leo Rizzo da Saraceno would go on to be one of the most colorful and noteworthy friars of the Custody of the Immaculate Conception. Fr. Leo served as president of St. Bonaventure University, Custos of the Immaculate Conception Custody, pastor of St. Joseph in Winsted, CT, and was beloved by all.

Born in Calabria, Italy, Fr. Leo studied under our beloved founder Fr. Panfilo da Magliano. Under Fr. Panfilo, Fr. Leo learned to speak English and when the opportunity arose in 1860, he came to the United States. He labored in Texas and in Winsted, Connecticut for some time and with the outbreak of the Civil War he served as Chaplain to the Ninth Connecticut Volunteers.
The young Leo was received into the Order on January 1, 1850, being ordained a priest at St. Isidore's in Rome on September 20, 1856.

In 1877 Fr. Leo was elected president of St. Bonaventure's College and Seminary. Landscaping and improvements Church, monastery and college buildings took place while he was president, but he was particularly known as a strict disciplinarian. A copy of his 1878 Rules and Regulations is in the Archives' collection and demonstrates this quite clearly. American citizens became the majority of the faculty during his administration, taking over more and more of the duties of the foreign missionaries who had established the college.

After his completion of one term Fr. Leo returned to Winsted, Connecticut in 1880 and, with his fiery temperament, won the title "Lion of Winsted". Nevertheless, his humility and kindness endeared him in the hearts of the community.
Fr. Leo also served as a consulter for the Hartford Diocese under two Bishops.

Upon his death on November 3, 1897 all public business was suspended and the Governor of Connecticut , the Honorable Lorrin A. Cooke, was an honorary pallbearer. All city officials were present as well as two military officials. Four bishops, more than two hundred priests and 1,400 others crowded into the church for the Mass, while an estimated 4,000 remained outside. This was a fitting tribute to the unrelenting energy and dedication of a zealous man of God.

Fr. Leo is buried in St. Joseph's Cemetery in Winsted.
CELEBRATING OUR CENTENARY: Panfilo's Sketch of the Franciscan Order available
Parishes interested in obtaining copies of A Sketch of the Franciscan Order written by our founder, Fr. Panfilo da Magliano (reprinted by our Province in 2001) for parishioners should contact Provincial Minister Robert Campagna for details. We have a large number of them available which could be shared with parishioners as a way of commemorating our Centenary as a Province.
Prayer for Vocations
O Mary Immaculate, Patroness of the Americas
and Queen of the Order of Friars Minor,
we ask you to inspire humble and chosen souls
for a life in Christ and in the spirit of St. Francis.
With
Motherly care,
foster vocations to our Order and to our Province,
so that seraphic love, labor and sacrifice
will ever flourish in this land dedicated to your protection.
Amen.