DFM Accepts
SNAP Benefits
The Durham Farmers' Market proudly accepts SNAP benefits. To use your EBT
card at the Market, please visit the Market info table
at the center of the Pavilion.
The Double Bucks Program allows SNAP customers to receive double the amount of money they spend on tokens for purchases up to $10.
The Market is working
closely with RAFI as our fiscal sponsor. Read more about
the program and our partnership
HERE
.
Thank you to everyone who donated to the Double Bucks program! We couldn't do it without you!
Farmer Foodshare Donation Station
The Donation Station
Program collects donations
of fresh food and cash from customers at the Durham Farmers' Market. The
money is used directly
at the Market to purchase food from farmers for
those who are hungry
in our community.
Farmer Foodshare's mission
is to connect our local
farmers with those
who need food! Please visit
or volunteer at our Durham Farmers' Market
Donation Station!
And don't forget to participate in the Donor Rewards Program. Give a suggested donation of $3-$5 and
receive a stamp on your card. Once you've collected enough stamps, you will proudly earn your Farmer Foodshare
T-shirt! Swing by the Donation Station for
more information!
SUPPORT YOUR FARMERS!
NOW AVAILABLE
AT THE MARKET
GREENS
CHARD & TURNIPS
GREENHOUSE TOMATOES
POTATOES
CARROTS
FLOWERS
BEETS
DAIKON RADISHES
PASTURED MEATS
GLUTEN-FREE BREADS
& PASTRIES
KALE
MUSHROOMS
BOK CHOY
CABBAGE
EGGS
ARTISAN BREAD
SOAP
TEA
CHEESE
FERMENTED FOODS
SWEET POTATOES
RED RADISHES
HOMEMADE PASTA
HOMEMADE JAM
HAND-DYED CLOTHING
HANDMADE CHOCOLATE
10% Campaign

The 10% Campaign is a project of the Center For Environmental Farming Systems (CEFS). The campaign encourages you to spend 10% of your existing food dollars to support North Carolina food producers, businesses and communities. Why 10%? In North Carolina, we spend $35 billion on food every year. If we spend 10% of our food dollars on local product, we can infuse over $3.5 billion into the local economy. As avid supporters of the Durham Farmers' Market, you already know the many advantages to shopping locally. So, why join the campaign? It will re-affirm your commitment to shopping locally and it sends a strong message to policy makers about the importance of local foods! For more information
visit: www.nc10percent.com
Bundle up on Saturday morning and join us for the PB&Joy event at the Market!
First year
Doctor of Physical Therapy students in the Duke University School of Medicine
created this first of its kind event, "PB & Joy". This project works t

oward its motto of "memories for a meal" by providing peanut butter and jelly sandwich supplies to Urban Ministries of Durham in return for the customers of the Durham Farmers' Market sharing their happiest memories for display. Encouraging community members to share their happiest memories will hopefully serve as a personal mental-health boost and create an environment of positive energy. With support from national peanut butter brand Justin's, North Carolina-based homemade jelly/jam company The Dutch Kettle, and all the engaged community members, "PB & Joy" will be able to bring valuable food supplies to our community members in need and promote the benefits of positive thinking. Be sure to stop by their booth at the Market tomorrow and share your happiest memory on the display board!
Also, don't forget to mark you calendars for our upcoming market changes! The Saturday Main Season Market will begin on April 1 from 8 am-noon. Also, the Wednesday Market is opening a few weeks earlier this year and will start on April 5 from 3-6 pm. Thank you for your continued support of the Durham Farmers' Market and we look forward to seeing you soon!
***************
Wonder what happens behind the scenes? Check out what our vendors were up to on their farms or in the kitchen this week!
Brinkley Farms is busy preparing the ground for planting
much earlier than usual thanks to the warmer weather.

Heeks Farm specialized in cold weather vegetables
and has beautiful pea shoots to bring to the Market!
Raise your hand if you're excited for Pi Day on March 14! Scratch Baking has everything you need to make the day extra sweet!
As a valued and committed customer of the Durham Farmers' Market, we need your help! We have the joy of working with a Duke graduate student at the Market this semester who is focusing her research on expanding the customer base at the Market.
Please assist with this research by participating in a
brief, online survey
and read a description below:
The Durham Farmers' Market is establishing an effort to increase the diversity of the Market. To this mission, we hope to understand the barriers people may feel in participating in the Market. Further, we seek to establish connections with local community organizations that cater to the diverse community that is Durham. This information will be used internally within the Durham Farmers' Market organization. We will use the information you provide to reach out to local organizations and to establish initiatives here at the Market that will enhance diversity.
The full answers to this survey will be seen ONLY by our semester-long graduate assistant. Answers passed along to the Durham Farmers' Market staff will have NO attachment to the person taking this survey. Please respond honestly, truthfully, and fully Thank you in advance for your time!
Here is the link to the survey.
Join us for a cooking demo!
Join us for a spring cooking demo with our friends at
Liberty Warehouse Apartments
on Monday, March 20 from 6:30-7:30 pm! We'll be whipping up a meal in their gorgeous kitchen and sharing tips for seasonal eating. Please RSVP via
e-mail
and check out the event
online
. We hope to see you there and thank the
Liberty Warehouse
for hosting this community event for us!
VEGETABLES:
Arugula, Asian Greens, Beets, Bok Choy, Carrots, Chard, Collards, Dried Herbs and Spices, Garlic, Kale, Lettuce, Mushrooms, Pea Shoots, Potatoes
, Radishes, Sweet Potatoes, Turnips, and more!
MEATS AND EGGS:
Pork, Beef, Lamb, Mutton, Bison, Chicken, Duck, Goat/Chevon/Cabrito, Veal, Duck Eggs, Chicken Eggs
FLOWERS:
Dried Bouquets, Anemones, Snapdragons, R

anunculus,

Icelandic Poppies, and more
CHEESES:
Fresh and Aged Goat Milk Cheeses
PLANTS:
Vegetable, Flower and Herb Starts
SPECIALTY ITEMS:
Handmade Chocolates,
Pasta, Flour, Cornmeal, Baked Goods including Pies, Breads, Cookies, Pastries, Empanadas, Gluten-Free Baked Goods, Fermented Foods, Teas, Beer, Wine, Meade, Jams, Jellies, Pickles, and Preserves

CRAFTS: Woodwork, Hand-Dyed Clothing, Photographs, Body Butters, Lotions, and much more!

Produce availability depends on weather conditions.
1 Pound of Coffee Bought =
1 Tree Planted
Cold mornings call for bone-warming drinks! Come give our lauded, homemade Cinnamon Dolce Latte a try! In addition to our homemade flavored lattes, we will also have brewed coffee and freshly roasted beans available!
Green is a custom coffee roaster located in downtown Durham. We procure only the best and most sustainably sourced, single-origin, coffee beans available and each bag is individually roasted - allowing for a true, small-batch, coffee experience.
Our goal is to help our customers offset their carbon footprint through their coffee purchases by planting a tree for each pound of coffee we sell. We limit waste from seed to cup by sourcing naturally washed beans, using solar electricity, and composting all materials. We are striving to be a zero-waste coffee roasting company and our coffee beans are certified Fair Trade, Organic, and Rainforest Friendly.
Looking forward to seeing you at the Market!
We will be at the market
this Saturday with the following products:
Lamb:
For those of you tired of hearing, "more coming," THIS WEEKEND we will be full up again! We have your frequently requested cuts as well as some new exciting ones. We'll also be bringing those grilling cuts again. Be sure to
ask for our fab recipe ideas, too.
Raising an Heirloom Breed of sheep Recognized by SLOW FOOD as a "flavor worth saving!"
Eco Friendly Wool Dryer Balls :
As with all our wool products, our flock provides the wool. A great gift idea! The gift that keeps on giving! Put an end to those chemical laden dryer sheets and softeners.
Yarn:
Gorgeous, all natural yummy shades of sheep in worsted weights coming your way soon.
Pelts:
Washable, pelts here and on the way!
Looking forward to seeing you!
We've had many requests for a charcoal soap and today our Charcoal and Tamanu Oil Facial Cleanse Bar will make its debut. We formulated this all natural bar with activated charcoal to bind to dirt and oils and pull them from the pores, leaving skin clean and refreshed. To balance the clarifying effect of the charcoal, we've added decadent Tamanu Oil, for its regenerative and skin nourishing properties. This is the perfect bar for oily, combination and blemish-prone skin types.
We've got several other "NEW" products to share with you this week, but I was so excited at how gorgeous this charcoal soap turned out that I couldn't help but share a few raves.
Tiny Farm will bring the following vegetables to the Market on Saturday:
Pre-order online (by 5 pm) to ensure availability when you arrive at the Market. Weekly boxes will be available and new members are welcome!
Mark , Annie, and Gabby
I hope you all have enjoyed this week's beautiful weather as much as we have! Bluebird Meadows is close to peaking with our winter flowers over the next few weeks with so many choices for everyone. This week we will have freesia, anemones, ranunculus, stock, hyacinth, tulips, daffodils, hellebores, and our lovely mixed bouquets. All of our flowers are very long lasting and make excellent gifts to brighten someone's week or as a special gift for yourself. For vegetables we'll have some lovely radishes, chard, and turnips. Hope to see you on Saturday for some of Durham's finest community-minded hours!

As we reported last week, our strawberries are blooming about three weeks ahead of schedule and the bees are busy pollinating them. With last week's cold temperatures, we were successful in saving the blossoms and berries with double row covers. It looks like we'll have to follow the same procedure this weekend for protecting the crop. Challenging, to say the least!
HERB PLANTS & COOL WEATHER STARTS:
This week we will have potted herbs (sage, rosemary and thyme) and kale and lettuce starts available for your early spring gardens.
PRODUCE:
We will have gourmet lettuce heads, chard, celery, spring onions, garlic and a very limited supply of potatoes and sweet potatoes.
FROM OUR KITCHEN:
Jams and jellies!

We have our award-winning strawberry jam and blackberry jelly. Also available are apple, peach and peach mango.




All of Hurtgen Meadows produce, plants, fruits and flowers are naturally grown using sustainable practices - no synthetic pesticides, herbicides, or fertilizers are ever used on our farm. We'll see you at the Market!
Honeygirl Meadery is a small urban meadery in downtown Durham, making an ancient craft beverage for modern days. Mead is essentially wine made from honey, with many different styles that include meads made with fruits, flowers and herbs. Our meads are hand-crafted libations made in small batches, using both local and global true source honey, local fruits, herbs and flowers. They are naturally gluten free.
Our downtown Durham Tasting Room is open on
Saturdays from 1-6 pm and Sundays from 1-5pm.
This week we are releasing a new, oak-aged, dry-style mead, our Wildwood Mead, that has been almost two years in the making. It was started in May 2015 using NC wildflower honey with strong buckwheat, molasses and sorghum notes, and then aged with French oak staves inside our stainless tanks to accent the boldness of the honey with a bit of peaty, woody, and vanilla notes. Come try a taste! We will also be sampling our Hibiscus Lemonthyme Mead, made from NC wildflower honey, organic hibiscus, and lemonthyme, an earthy, complex, dry-style mead; and Ginger Mead, a deep, warming semi-sweet mead made from the same NC wildflower honey as Wildwood, and then infused with fresh ginger from the Market, which we juiced, dried and fresh grated to impart different aspects of the ginger.
We will also have available our Orange Blossom Mead (light bodied, semi-sweet mead from orange blossom honey) and Vanilla Mead (vanilla bean-infused orange blossom honey, lightly sweet).
Thirty-eight years ago today, on March 10, 1979, it was 10 degrees and snowed 10 inches........This extraordinary winter, that has strawberries ripening in early March, the average temperature for the month of February was 8.8 degrees above "normal." In Barrow, Alaska, last year, the average temperature for the entire year was 10 degrees above "normal." In that land where the Inupiat people traditionally lived on whale and seal meat, they are now beginning to grow vegetables in greenhouses. Interesting times.......Will future first ladies grow pineapples and bananas in the White House garden?
No, we will not have strawberries available on Saturday, (those first few will be reserved for my grandkids) but we will have the last of the over wintered carrots, plus spinach, kale, arugula and sweet potatoes, plus vegetable and herb plants for your garden - lettuce, broccoli, kale, chard and spinach, as well as oregano, thyme, cilantro and rosemary.
Hope we'll see ya'll at the Market.
Ken Dawson

Come by our booth to taste a sample of sausage and pick up a recipe. With winter weather in the forecast, this would be a good weekend to cook some savory comfort food. Our pork comes from pigs raised on our farm and they are hormone and antibiotic free. The sausages range from mild to hot, with spices we chose that we think you'll like. We use the hams for the sausage, which makes them nice and meaty. The whey is nutritious for the pigs and it makes the meat flavorful and tender. We will have bacon, spare ribs, and lots of sausage. Sausage varieties this week include Country Breakfast, Sage and Maple Breakfast, Bratwurst, Mild Italian, Hot Italian, Smoked Andouille, and Chorizo. Serve these in stews and soups, savory bread pudding, with sautéed mushrooms on polenta or pasta. Add the Smoked Andouille to Jambalaya or gumbo. We also have a little of our popular ground beef which comes from our grass based herd.
Please
pre-order here
by Friday at 5:00 pm and we will hold your order at market until 11:30 am.
This week we have
fresh, never frozen, free range, pasture and woodland raised pork.
Click here to see everything we have:
100% Grass Fed BEEF
100% Grass Fed YEARLING MUTTON
Free Range, Pasture-Raised CHICKEN Fed Certified Organic Feed
Artisan Deli Meats: Salami, Bologna, Sliced Ham, & Hot Dogs
Soup, Stew, & Stock ingredients
Produce
Free Range and Pastured Hen & Duck Eggs
Sign up
for our Warm Season CSA. Also, receive
10% off purchases of $100 or more!
Visit our website!
There's a lot you can put in a bag. Our hand-dyed cotton bags can hold a weekend's worth of groceries. And they can hold other things: Tennis balls. Art supplies. That screenplay you've been working on in your spare time. Cats (but don't let them out). Magic swords. The Complete Works of Fergus McGee (Profusely Annotated for the Modern Reader). Crisp stacks of non-sequential twenty-dollar bills. Various kinds of modestly sized electronic equipment. And when you're finished, these bags fold up into their own little pocket. And then you can put the bag into your pocket.
Hand-dyed bags from Terra Clotha. Colorful. Versatile.
Like our Facebook page
and while you're there, find a 10% off coupon to use with your next Terra Clotha purchase.
Kidding season is here! But we'll still be at the DFM this Saturday selling our delicious chèvre, garlic + herbs, jalapeno, sour cherry, and fig + honey cheeses, as well as goat feta and fleur verte (chèvre marinated in olive oil, bay leaves, pink peppercorns, garlic and herbes de Provence, yum!). In addition, we will have our addicting homemade crackers, Sea Salt and Rosemary, which pair really well with any of our cheeses!
Special Event: Love baby goats? Join us on Sunday, March 2
at 10 am for a 3-hour farm tour + cheese tasting + info session about baby goat adoptions. Tickets are $30 per person and space is limited. Get your tickets here. If you choose to adopt baby goats from us, you will automatically get $30 off the adoption fee. We'll have adorable baby goats for adoption beginning late April and through the Summer. For more information about baby goat adoptions, e-mail sandra@elodiefarms.com. Sorry, no pets allowed.
Stay in touch!
Like us on
Facebook
and follow us on
Instagram
.
If you would like to receive our monthly newsletter, send a message to
sandra@elodiefarms.com
.
Visit our
website
for more information about our monthly farm dinners and other events.
Stay warm!
Pastured raised, natural, nationally-credentialed animal welfare approved meats are available this Saturday. Pick up dry-aged Angus beef, Dorset X lamb, Berkshire X Pork, and boer chevon (goat). We have many of the cuts from each species, such as lamb chops, beef steaks (filet mignon, New York strip, sirloin, ribeye, cubed, London broil, flat iron, flank, skirt, hanger), assortment of sausages (beef and pork), roasts, leg of lamb/goat, stew meat, shanks, short ribs, soup bones, marrow bones, and much more!
USDA certified organic vegetables this week: C

ollards, winter squash, baby ginger, popcorn, and even pie pumpkins!
Thank you
for your continued support of our family farm!
Farmer's Daughter Pickles & Preserves
Who says you can't eat local all winter long? Come see us and we'll fix you up!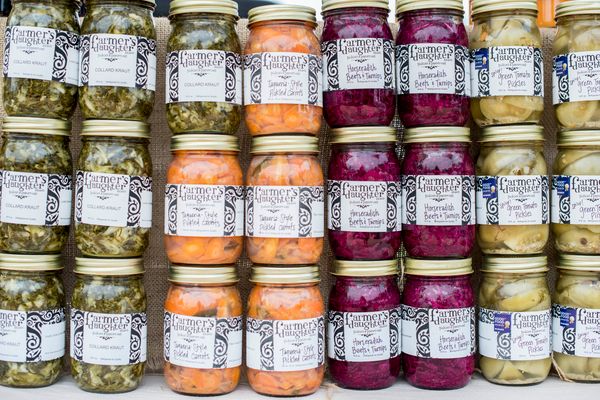 Live-Culture, Barrel-Ferments

Napa Cabbage Kimchi

Daikon Radish Kimchi

Atlantic Sea Kraut

Collard Kraut

Tacqueria-Style Pickled Carrots

Ramp & Mustard Seed Kraut

Ruby Kraut

Juniper Kraut

Classic Plain Jane Kraut




Hot Sauce

Red Rooster Hot Sauce

Sweet Potato Habanero Hot Sauce

Jams/ Preserves

Ruby Red Grapefruit Marmalade

Orange Marmalade with Rye Whiskey

Fig & Muscadine Jam

Curried Peach Preserves

Blueberry Jam

Strawberry Passionfruit Jam

& MUCH More

Thank you for shopping local & handmade,

April




Farmer

's

Daughter

products on Pinterest.
We have our Celebrity Dairy Open Barn event on
March 11-12
. Dress for the weather to come out to play with baby goats and likely watch some being born.
We'll see you at the Market this weekend!
Melina's Fresh Pasta will be at Market this week with 11 ravioli flavors, such as Roasted Red Pepper & Feta, Caprese, 3 Cheese & Roasted Garlic, Lemon Ricotta, Pimento Cheese and more!
P
lus spaghetti, spinach linguine, tomato basil sauce, pizza dough, gnocchi and lasagna. Try our veggie shells - plain, tomato & spinach - in a pasta salad. See you at the Market!
Parking & Street Information
The Market is located at 501 Foster Street in the Pavilion at Durham Central Park.
Parking can be found on Foster Street right next to the Market, in the Ballpark Parking Lot on Corporation Street, and in the Measurement Inc. lot, 423 Morris Street (look for the Durham Farmers' Market Parking sign). There is a path at the bottom of that parking lot that leads you to the Market. There are also public parking lots along Foster Street and on Morgan Street near the Carolina Theatre.
Handicap parking is available on Foster Street, right next to the south entrance of the pavilion.
Durham Farmers' Market Animal Policy
Please note that the Durham Farmers' Market does not allow dogs or other pets in the Market area during Market hours. Service animals are exempt from this rule.
Leashed pets are welcome elsewhere throughout Durham Central Park.