Olmsted Scholars
Meet this year's elite group of 75 top student leaders, including the 2 winners and 6 finalists for the national awards

.
More
Scholarship Winners
LAF awarded $38,500 to ten outstanding students through the 2015 Leadership in Landscape Scholarship Program.
More
LAF on the Road
May 1-2
Orlando, FL
Jul 30-Aug 1
Landscape Performance Series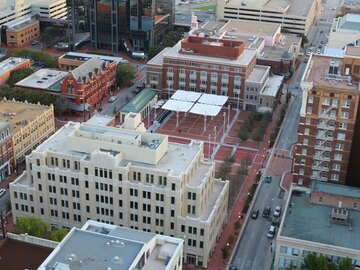 Sundance Square Plaza
Fort Worth, Texas
This two-block pedestrian plaza is Fort Worth's new "civic living room," improves quality of life and perception of the city for 88% of survey respondents.
Fast Fact Library
A 5-year longitudinal study in Great Britain found that moving to a greener area not only improves people's mental health, but that the effect is sustained for a long time.
Special Thanks
JJR has been a supporter and investor in LAF's research programs since establishing the endowed JJR Research Fund in 1986. In 2009, LAF was the recipient of an unanticipated bequest from Clarence Roy (the "R" in JJR) and his wife Ruth. The $680,000 gift was the largest in LAF's 44-year history. The bequest was combined with the JJR Research Fund to create the JJR/Roy Fund, which provided the start-up and ongoing funding needed to make the Landscape Performance Series a reality. LAF is proud to recognize the JJR/Roy Fund as a Founding Partner on this initiative.
"The caliber and intellectual depth of what these students are doing is astounding. I feel so energized!"
-- 2015 Olmsted Scholars Juror
As Landscape Architecture Month draws to a close, we are delighted to announce our 2015 Olmsted Scholars, including the $25,000 and $15,000 national winners. These top students join a growing community of nearly 400 Olmsted Scholars who continually inspire and give us hope. LAF is honored to support their leadership potential as they launch their careers to make this planet a healthier, happier, and better place for all.
Barbara Deutsch
Executive Director
2015 National Olmsted Scholars
Winners of LAF's $25,000 and $15,000 Awards

Grant Fahlgren, a master's student at the University of British Columbia, and Maria Muñoz, an undergraduate at Louisiana State University, were selected as the 2015 National Olmsted Scholars

and winners of the $25,000 and $15,000 awards. Also honored are six National Olmsted Scholar Finalists, who each receive $1,000:
Andrea Johnson, City College of New York

Teresa Pereira, Temple University

Harris Trobman, University of Maryland

Erin McDonald, Iowa State University

Daniel Zhicheng Xu, Purdue University
An independent jury of leaders in the landscape architecture profession selected the winners and finalists from a group of 43 graduate and 29 undergraduate students nominated by their faculty for being exceptional student leaders. These top students earned the designation of 2015 University Olmsted Scholars and join the growing community of nearly 400 Olmsted Scholars.
Evaluating Complete Streets Projects
New Guide from
National Complete Streets Coalition
Evaluating Complete Streets Projects: A Guide for Practitioners is intended to assist transportation agencies and allied professionals in beginning their project evaluation efforts. It outlines general steps, measures and metrics, tips for sharing successes, and further resources. The measures are organized around common Complete Streets goals, such as access, safety, economic impact, the environment, public health, and quality of place. The guide is atimely and useful resource that will also serve to encourage the setting of performance objectives that better reflect multimodal needs and larger environmental, economic, and social goals.
In Remembrance
Debra Mitchell, FASLA
LAF lost a good friend on April 5. Deb Mitchell, FASLA had a distinguished 40-year professsional career, the last 26 years of which was spent at SmithGroupJJR. She served on the LAF Board of Directors in 1989, 1992, 1997-2007, and 2010-present, with a term as President in 2000-2001. Deb had a deep commitment to research in the profession and helped LAF navigate and grow through several key transition periods. "Deb was an incredible person and talent. I say without a doubt that LAF would not be where we are now if not for Deb and her ideas, dedication and commitment. She will be missed very much," said LAF Executive Director Barbara Deutsch, FASLA.
LAF is Hiring
Development Manager
LAF is seeking an enthusiastic Development Manager to support its growing needs, enhance the organization's fundraising programs, and cultivate donor relations as the organization approaches its 50-year anniversary in 2016. This full-time position in Washington, DC offers a unique opportunity to grow with the organization, demonstrate leadership skills, and implement a comprehensive development program.