Landscape Performance Series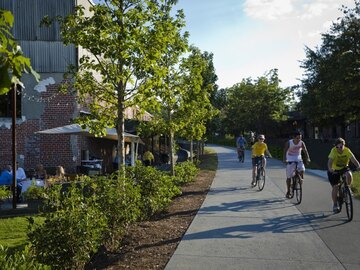 Atlanta BeltLine Eastside Trail
Atlanta, Georgia
As the first built segment of this transformative adaptive reuse of a 22-mile corridor, this project provides an important preview of the social and economic benefits that the completed BeltLine can provide to the citizens of Atlanta.
Fast Fact Library
Improved water clarity is associated with increased numbers of recreational visits to lakes in Minnesota and Iowa. People were willing to travel 56 minutes farther for every one-meter increase in water clarity.
LAF on the Road
Special Thanks

For the last three years the Interlocking Concrete Pavement Institute's Foundation for Education and Research has provided significant support to LAF's landscape performance initiatives. They recently began a Lead Sponsor of the Landscape Performance Series, and their support was instrumental in launching LAF's Landscape Performance Education Grants, which funded 10 university faculty to develop and test teaching models. The ICPI Foundation supports research and the development of educational resources like www.paveshare.org.
"What LAF does so powerfully is tell the story of landscape complexity in a way that is easily digestible and relatable to our everyday experience of the urban environment.."
-- Peg Staeheli, FASLA, SvR Design Company
In 1966 as one of its first initiatives, LAF convened Ian McHarg, Grady Clay, and other leading landscape architects of the day. Their Declaration of Concern urged a new, collaborative effort to improve the environment and train a new generation equipped by education and inspiring example. 49 years later, LAF continues to advance that vision, working on many levels. Read on to learn about some of our current research, dialogue, and partnerships that are supporting the future of landscape architecture and sustainable landscape solutions.
Barbara Deutsch
Executive Director
Are You Watching What We're Watching?
Landscape Performance News Worth Sharing

Have you visited LandscapePerformance.org lately? We continually update the Watch List on the homepage, and each month we bring you a blog roundup of landscape performance news worth sharing. Check it out for the latest in research, tools, and innovative thinking related to the measurable environmental, social, and economic benefits of sustainable landscapes.
Sustaining Nature in Ultra-Urban Environments
DeepRoot-LAF-SvR Charrette

On April 16, LAF and DeepRoot co-hosted a charrette at the SvR offices in Seattle. The goal was to better understand the opportunities and challenges to integrating nature into cities at every stage in the process, from conception and design to construction and maintenance. The 20 attendees were a diverse cross section of landscape architects, engineers, arborists, and academics. The rich discussion delved into places that are problematic for 'normal nature', such as streetscapes, on structure, plazas, and transit.
2015 CELA President's Award
LAF's Barbara Deutsch Honored

The Council of Educators in Landscape Architecture (CELA) presented LAF Executive Director Barbara Deutsch, FASLA with its 2015 President's Award. The prestigious award recognizes Barbara's leadership and LAF's pioneering work in the area of landscape performance. "I am honored, humbled, and delighted to receive this award!" said Barbara, expressing her surprise and gratitude. "We are thrilled to have CELA as such as strong partner supporting high-quality research and professional education in landscape architecture."
Grantors Continue Investment in CSI
Awards from NEA and Driehaus Foundation

LAF recently received two grants to support its 2015 Case Study Investigation (CSI) program. For the third year in a row, the Richard H. Driehaus Foundation has supported the CSI program, this time granting $12,500 to support the study of three Chicago-area projects. LAF also received a $25,000 Art Works grant from the National Endowment for the Arts (NEA), supporting CSI for the fourth straight year.