Southington Education Foundation, Inc.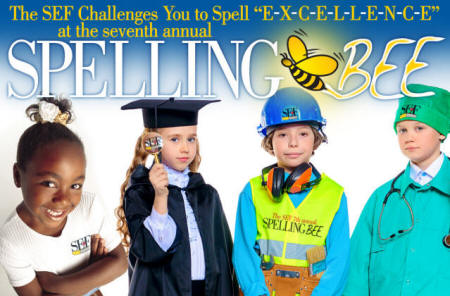 The 7th Annual SEF Community Spelling Bee will convey bragging rights to the team that wins the coveted title of SEF Spelling Champion. Last year, the Rotary Club of Southington, Kate Sirignano, Gloria Brown and Kris Noli won that honor. It is now time to put them to the challenge. Will you win the trophy this year?

On Thursday, April 20, 2017, at 7 p.m. teams made up of local citizens, politicians, businesses, educators, police, fire, and other public officials will compete. The event will be held at the Southington High School Auditorium and the proceeds will help foster educational excellence for our town's public school children.

Each team will consist of three spellers. Costumes, themes, and mascots are encouraged! Participation is $100 per person or $300 per team. Entry fees are fully tax deductible. Participants will write their words on a white board. There will be no microphone for participants.



We welcome back Steve Proffitt as our Bee Master!



Judges for the evening will be Schools Superintendent Timothy Connellan and Language Arts Coordinator Stephanie Lawlor.

Admission is free, however, we ask that you bring a nonperishable food item as a donation to Southington Community Services.



Since its inception in 2009, the Southington Education Foundation has awarded over $200,000 in grants. Money raised from this Spelling Bee will continue to support grant opportunities and the mission of the SEF.





---