FormulaSPEED2.0 Test Day Provided to World Speed Motorsports Rising Star Award Winner

2012 marks the first year that the award is presented in the FS2.0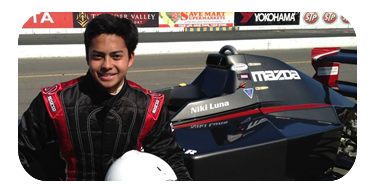 The World Speed Motorsports Rising Star Awards have been helping career minded racers move up the racing ladder for years. The award has always included a free test with WSM, and has been presented to racers that WSM believed had what it took to become a pro driver.

Some of the past winners have included Scott Speed, Joey Hand, Joel Miller, Cole Whitt, Michael Self, Conor Daly, Ryan Phinny, Neil Alberico, Court Vernon, Michael McDowell, Brad Coleman, and Sage Karam. Many of these drivers have gone on to win in upper level open wheel, stock car, and sports car races all over the world.

Niki Luna, the winner of this past season's WSM Rising Star Award, was provided with a test at Infineon Raceway this April in the FormulaSPEED2.0. Luna, who is one of the Bay Area's top karters, won a Red Line Oil Karting Championship in 2011.

When asked how the test went this is what Luna had to say, "I had a blast! I was getting more comfortable with the car and track with each lap. The car felt great and I really enjoyed the power behind it. The team was very professional and helpful, from the shop's organization and cleanliness to the driver coaching. I want to thank World Speed Motorsports for the opportunity to test the FS2.0 and hope to participate in more test days and begin racing with World Speed Motorsports in the near future."

"Niki did a great job of making the transition from karts into the FormulaSPEED2.0." noted World Speed Motorsports Team Owner Telo Stewart. "We were glad to be able to provide him a sample of what the future holds for him, and we look forward to seeing where he goes from here."

About the FormulaSPEED2.0

Designed, Developed, and Hand-Built in the U.S.A.
The all new FS2.0 is manufactured right here in California. The chassis, machined parts, wiring harness, safety equipment, bodywork, wings, etc are all made locally. Only the engine block, transaxle, and minor electronics are sourced outside of the US, and even these are all bought through American vendors.

We're doing our part to stimulate the US economy, and we encourage all companies to do the same. We believe that it is patriotic to try to utilize as many American vendors as possible, and there are many American jobs being generated through this all new design. Below is a sampling of just how much of the FormulaSPEED2.0 is built in the United States.

Parts designed and manufactured in the US

Chassis, suspension, and machined parts - Fast Forward - Sand City, CA
Bodywork - Aerocraft Design - Hollister, CA
Wings - Ian Gordon Racing - Sonoma CA
Race engine components & mapping - Hasselgren Engineering - Berkeley, CA
Racing Tires- Goodyear Racing - Akron, OH
Wiring harness - Apex Speed Technology - Los Angeles, CA
Brakes - Wilwood Engineering - Camarillo, CA
Intake manifold - Fontana Foundry - Fontana, CA
6 point safety harness - Crow Enterprizes - Anaheim CA
Wheels - Jongbloed Racing Wheels - Morgan Hill, CA
Race Fluids - Red Line Oil - Benecia, CA
Parts made outside the US, but sourced from American vendors

AiM Data System - AiM Sports LLC - Lake Elsinore, California
Mazda MZR MX5 Cup Engine - MazdaUSA - Irvine CA
Hewland Transaxle - Carl Haas Imports - Linconshire, IL
Ohlins Dampers - Performance Shock Inc. - Sonoma, CA
"We made a concerted effort right from the beginning to use only high quality parts, and vendors on this car," stated World Speed's Mark Milazzo "The people we have put into place have exceeded our expectations, and the car reflects their hard work and ingenuity. We were told at the outset that we would have to have many of the parts designed, and manufactured overseas. I can tell you with great certainty that there are still a lot of very smart, and industrious companies in United States doing excellent work. We are very proud to have been able to source a majority of the car from within our borders."

About the Formula Car Challenge presented by Goodyear

This is the series that the FormulaSPEED2.0 was specifically designed for
The Formula Car Challenge presented by Goodyear is a regionalized open wheel racing series with an annual national championship. There are multiple regions across the country, and each region has unique features and events.

The FormulaSPEED2.0 class is really starting to grow. Here is some info on the career minded racers who have committed to the entire 2012 Formula Car Challenge season in the FS2.0:

The West Coast Region is partnered with Goodyear, Mazda USA, MAZDASPEED Motorsports Development, Red Line Oil, and NASA Pro Racing.