Limoneira Senior Management attend Asia Fruit Logistica in Hong Kong

Limoneira Senior Management is attending Asia Fruit Logistica, Asia's leading trade show for the international fresh fruit and vegetable business in Hong Kong. Last year this show attracted more than 5,300 top decision-makers from 63 countries. Asia Fruit Logistica takes place together with the Asiafruit Congress and combines the experience of Fruit Logistica, the world's leading fresh produce exhibition, with Asia's top international conference event. For more information please visit www.asiafruitlogistica.com.

International Monetary Fund Projects 6.5% GDP in Asia in 2013

In many Asian economies, robust domestic demand helped offset the drag on growth of slowing exports due to the recession impacting much of the world. Investment and private consumption remained strong in China, buoyed by solid corporate profits and rising household income. Moreover, the rebound from the supply-chain disruptions caused by the March 2011 Japanese earthquake and tsunami was stronger than anticipated. While financial turmoil in the euro area spilled over to Asian markets late last year, the effects were limited. Asian banks are generally in good financial health, and many large Asian banks have sufficient capacity to step up lending further. Slowing exports, particularly to Europe, are dampening Asia's growth prospects. But Chinese demand provides a buffer to the region's commodity exporters, and domestic demand remains strong in some parts of developing Asia.

Sources: Bank for International Settlements; CEIC; Consensus Economics; IMF, Direction of Trade Statistics; and IMF staff calculations.

Limoneira UNLEASHES THE POWER OF LEMONS in Korea's premiere shopping experience - Shinsegae

It's quite common to see Seoulites drop the equivalent of a couple of hundred dollars on produce at Shinsegae's flagship downtown store, and Limoneira lemons are on hand for these selective buyers. Shinsegae is one of the leading department stores in Seoul. It's a dazzling emporium that sells all manner of merchandise. The name Shinsegae literally means "New World" in Korean. Its flagship store in Centum City, Busan, is the world's largest department store, and surpassing the Macy's department store in New York City in 2009. Shinsegae, originally part of Samsung Group, separated in the 1990s from the Samsung Group. It owns the brands Shinsegae and E-Mart. Currently it is the largest retailer in South Korea.

Shinsegae is also famous for its long history. The main branch of Shinsegae is the oldest department store in Korea. The main building of the store was opened in 1930 as the Gyeongseong branch of Mitsukoshi, a Japanese department store franchise. The store was acquired in 1945 by the late founder of Samsung group, Lee Byung-Chull, and renamed Donghwa Department Store. After the Korean War (1950-1953) began, it was used for several years as a post exchange by the American army.

At Shinsegae, the selection of Korean fare is mind-boggling. It's possible to sample Korea's beloved kimchi, a spicy cabbage traditionally fermented in huge jars dug into the earth. Upstairs, the city's uber-brand-conscious consumers snap up the latest Ferragamo shoes and Hermes silk scarves. On the rooftop, Shinsegae's new garden is also a welcome respite from the megacity's hubbub. The new store is directly across from the Bank of Korea on Chungmuro, between the Namdaemun market and the Myeongdong shopping district. In addition to all of this-Limoneira lemons! The perfect recipe enhancer.

Source: The New York Times, english.shinsegae.com/english




Harold Edwards on NYC Media Tour

On July 31st, Limoneira CEO Harold Edward met with journalists from Bloomberg News, The Wall Street Journal/Dow Jones, The Street.com, Supermarket News, Nations Restaurant News, and Grocery Headquarters to share Limoneira's outlook and potential. As a result of this outreach, Harold was interviewed by Bloomberg's Pimm Fox and Courtney Donohoe on Bloomberg Radio's "Taking Stock" and by Gregg Greenberg on The Street.com. Harold mentioned "this is Limoneira's second year of 30% year-on-year growth. We're working to move the needle on consumption by educating our buyers on ways that they can increase their lemon business."

To view The Street.com interview, please click here.

To view the Taking Stock Interview, please click here.


Recipe:



Lemon Almond Butter with Broccoli

Ingredients:

1 tsp of zest from Limoneira� lemons

� cup butter, melted

� cup slivered almonds

1 head of fresh broccoli, cut into florets

2 tbsp of juice from Limoneira� lemons

Directions:

Steam or boil broccoli until tender, approximately 5-8 minutes. Drain. In a small saucepan, melt butter over medium low heat. Remove from heat and stir in lemon zest, lemon juice, and almonds. Pour over hot broccoli and serve.

Makes 4 servings













The New York Times discusses Limoneira's Unleashing the Power of Lemons Marketing Efforts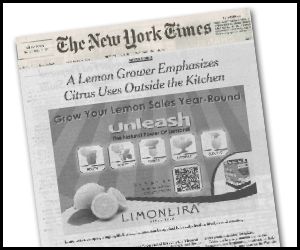 The New York Time's Business Section, Andrew Adam Newman wrote a lengthy article on Limoneira's new advertising campaign "Unleashing the Natural Power of Lemons." Americans on average consume only three pounds of fresh lemons annually - the equivalent of about a dozen medium lemons-compared with the 6.2 pounds that Europeans consume, according to data from the Agriculture Department. Now Limoneira is introducing an advertising and marketing campaign to increase consumption that has, befitting a lemon producer, a twist. Much of the effort, called "Unleash the Natural Power of Lemons" highlights the fruit, not merely as an ingredient in recipes, but also for uses in household and personal care. Along with its online suggestions, Limoneira is also working with what it calls opinion leaders to help cultivate alternative uses for lemons. This summer for example, the company is supplying free lemons to the Yamaguchi Salon at the Four Seasons Hotel in Westlake Village, California, where guests can opt for a Lemon Cooler pedicure.
Click here to view PDF of New York Times Article.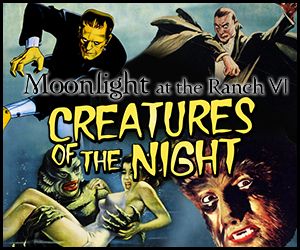 Saturday, September 22nd Moonlight At The Ranch VI: Creatures Of The Night
Tastings from Ventura County's premiere restaurants, wine and other magic-making concoctions, dancing under the Stars, twinkling lights, and a thousand costumed revelers and displays - what could be more fun than Moonlight at the Ranch VI, Ventura County's signature party. Bela Lugosi, Jr. and Sarah Karloff will be with us at the historic Limoneira ranch to celebrate their co-chair fathers, Bela Lugosi and Boris Karloff. For tickets, please visit www.moonlightattheranch.com (tickets may be ordered online).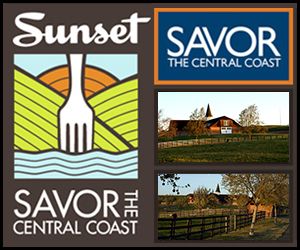 Saturday, September 29, 2012 Paso Glow: A Culinary Experience at Windfall Farms
Nothing beats a warm fall evening in one of the Central Coast's acclaimed wine and food epicenters, Paso Robles Wine Country. Guests are invited to the alluring Windfall Farms, nestled among the rolling hills of Paso Robles, for an evening filled with ranch-inspired delicacies, wines, and radiance. Taste how barbecue comes to the forefront in a variety of styles featuring lamb, Harris Ranch Beef, and other creations. The reception-styled event will feature acclaimed Chef Tom Fundaro of Villa Creek Restaurant who has pulled together top chefs from throughout Paso Robles to showcase the BBQ and culinary talents this region features. Joining Chef Fundaro will be Chef Chris Kobayashi of Artisan, Chefs Mike and Aaron Dean of Dean Brothers Smokehouse, Chef Julie Simon of Thomas Hill Organics, Chef Kevin Fryburger of the Paso Robles Inn Steakhouse, and Chef Anthony Hagans of Harris Ranch Inn & Restaurant. As the moon rises, sip wines from a variety of Sunset-selected Paso Robles wineries while hot air balloons illuminate the once active horse ranch. Then, dance the night away to the tunes of local Grammy Award-Winner, Louie Ortega and Rio Salinas.
For more information, click here.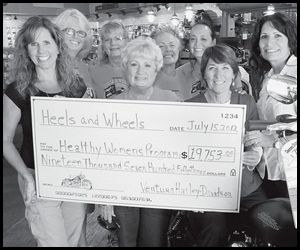 Limoneira Ranch Reception of Heels and Wheels Fundraiser
Ventura Harley-Davidson's seventh annual "Heels & Wheels" women's motorcycle ride in July raised nearly $20,000 for The Breast Center at Community Memorial Hospital. Close to 200 women participated in the 60-mile ride through Ventura County that ended with a reception at the Limoneira Ranch in Santa Paula. Proceeds from the fundraiser went to The Breast Center, which provides women who have little or no health insurance with mammograms, ultrasounds, and biopsies for the early detection and prevention of breast cancer.
For more information, please visit cmhshealth.org.
Source: Ventura County Star
Steve Spangler And Sick Science - A Teacher With A Passion For Making Science Fun For Students
Nobody has more fun teaching science than Steve Spangler. He earned his credentials as a science author, teacher, professional speaker, toy designer, and an Emmy award-winning television personality. But he remains a big kid at heart as he teaches people how to launch potatoes, whip up the perfect batch of slime, and turn an ordinary bottle of soda into an erupting geyser of fun.
His best-selling science kits and educational toys help to get kids excited about science at home, and his recent appearances on a number of network television shows, including the Ellen DeGeneres Show, demonstrate his true passion for making learning fun.
On the education side, Steve Spangler is nationally known as a teacher's teacher who shares his passion for learning in the classroom, on the platform, and through the airwaves. Over the last 19 years, Steve has made hundreds of television appearances as an authority on hands-on science and inquiry-based learning. His cool science demonstrations and creative insights earned him an Emmy as the host of NBC television's "News for Kids."
CHECK OUT STEVE'S COOL LEMON BATTERY BELOW
For more information, please visit stevespangler.com
Limoneira Winner's Block
This month our lucky winner is Michael Idov of New York City, New York. As our monthly winner, Michael has won a Limoneira Orchard Fresh or Lifestlyes Gift.
Congratulations Michael!!!
For your chance to win, make sure you're on our mailing list to be entered into our monthly drawing. To join click here or visit our website at www.Limoneira.com
Be sure to check out our other contests and drawings for additional changes to win prizes.