GIVE2MAX.org | N ST. VILLAGE MERGES | Q&A w/ CEO
WHY DO WE LIKE GIVE TO THE MAX DAY?
Nov 9 is the big day!
Look out for advertisements in the Wash Post, on WTOP, on buses, and more. Send us a link (it could be a mailing, a blog or your G2M page) and we'll put you on our homepage (like we did with SCAN, Mary's Center, CAFB).
N ST. VILLAGE & MIRIAM'S HOUSE MERGE
The Washington Post and a press release report this morning that
N Street Village
and
Miriam's House
have merged. Schroeder Stribling told the Roundtable, "adaptation is key to our ability to deliver; with this
merger, we will be able to expand HIV/AIDS services to all of the women that we serve and expand our ability to provide housing for homeless women by 20%."

The Post story cites the Meyer Foundation and is accompanied online by an 8-photo gallery. The press release suggests financial investments were critical in managing this process.
Earlier this year
, N Street Village and Miriam's House
jointly
published an article, Serving homeless Women With HIV, in
HIV Specialist
(see p. 4) and had a
joint
letter to the editor in the
Washington Post
.
Q & A WITH SALLY SIBLEY
Our blog features 3 Q & As on leadership with Sally Sibley who just retired from leading PHILLIPS. She describes three ingredients for thriving as a nonprofit CEO and the role government plays in nonprofit leadership.
WELCOME NANCY MERCER
We welcome Nancy Mercer, the new CEO at PHILLIPS, according to a press release. She was most recently the Executive Director at The Arc of Northern Virginia and who "wants PHILLIPS to shine a big light and be a model for public schools, and a leader in education," according to the Fairfax Chamber of Commerce.
WASH GRANTMAKERS' UPDATES | REPORTS, ETC
WASHINGTON GRANTMAKERS UPDATES
Washington Grantmakers' Annual Meeting is on Nov 16 - nonprofit leaders are welcome to register for their luncheon, 12Noon - 2:00pm at Arena Stage. More info is online or you can email Katy Moore and she'll take care of your registration and send you an invoice. (Tickets are $115 each; with parking $140).
REPORTS & OTHER
Opportunity Nation is a national coalition and campaign of 200 businesses, nonprofits, educational and military institutions to help create a shared, bipartisan plan to create better skills, better jobs, and better communities - see their Board of Directors and an article in the Chronicle of Philanthropy.
Our
Twitter Member feed
always has the latest news on members.
Did you
miss our earlier Roundup? Read it online!
Action in Community Through Service's food bank ran out of
food after flooding devastated mobile home parks, according to WUSA9 and The Washington Post, though it was able to reopen after receiving monetary and food donations, reports ABC7 and another blog post in The Washington Post.


Alternative House received a visit from two George Mason High School students, who wrote a piece on the organization's services for teens in The Lasso Online.

The Arlington Community Foundation announced Mary Ann Nirschl as the recipient of the William T. Newman Spirit of Community Award, according to a press release.

The Arthritis Foundation's Ease of Use commendation, which is awarded to products that are easy for people with arthritis to use, was mentioned in The Richmond Times-Dispatch.

The Capital Area Food Bank's Lynn Brantley announced that the Arlington County Department of Human Services was awarded the USDA's Hunger Champion Bronze Award, according to a press release.

CASA de Maryland's lawsuit to prevent the Maryland Dream Act from going to referendum was mentioned in The Capital Gazette and Westminster Patch. Separately, CASA is partnering with MD's Attorney General in a campaign against immigration consulting fraud, accoring an AG press release, and articles in the Washington Hispanic and El Tiempo Latino.
The Community Foundation for the National Capital Area is participating in the University of Maryland's Philanthropy Fellows Program, which was originated by The Washington Regional Association of Grantmakers, reports The Diamondback.

DC Action for Children celebrates Diane Bernstein's impact with a video, which includes The Meyer Foundation's Julie Rogers, Mary's Center's Maria Gomez, and Healthy Families Thriving Communities Collaborative Council's Richard Flintrop.

DC Appleseed's 2011 report on the Anacostia River, which calls it "one of the most polluted waterways in the nation," was cited in NBC Washington.


DC Hunger Solutions' Alexandra Ashbrook spoke about her agency's efforts "to make sure DC's senior residents know about food stamps and to debunk some of the myths" in The Washington Informer.
DC Scores' Fall Frenzy, attended by more
than 1000 p
eop
le, was featured in a video report on WUSA9.
DC Vote's Champions of Democracy gala was heavy on calls for action and protest, reports The Washington Post and The DCist. See photos from the gala on Facebook.
Foster and Adoptive Parent Advocacy Center welcomes nominations for their Caring Heart Award, according to Susie Cambria's blog - deadline is Nov 4. Separately, check out FAPAC's 3-minute video celebrating Freddie Mac Foundation's investments.


Goodwill of Greater Washington has partnered with Northern Virginia Community College to launch a co-enrollment Security Training Program, according to Goodwill's GoodNews.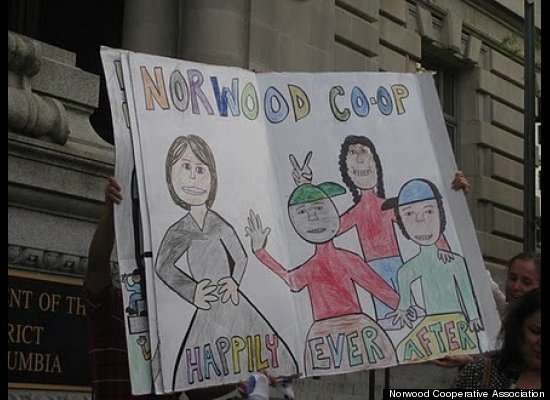 The Latino Economic Development Corporation will be celebrating the successful purchase of an 84-unit apartment building by its tenants; the building is now an affordable housing cooperative, reports The Huffington Post.
Life Pieces to Masterpieces' Mary Brown, who was awarded the Anacostia Community Museum Community Service Award, was mentioned in The Washington Informer.
Local Initiatives Support Corporation DC's Jeremie Greer spoke about the importance of building broad support for new community services at a Twin Cities gathering to discuss a new light rail line, reports Streetsblog.
Martha's Table was featured in The American Observer.
Mary's Center held a groundbreaking ceremony for their
new site in Prince George's County, according to a front page article in the Washington Hispanic and a press release. Their recent Noche Tropical gala was a success, according to El Tiempo Latino. Separately, Maria Gomez was recently honored as the first inaugural Diane Bernstein Children's Champion Award at DC Action for Children's Founding Mothers Luncheon. Our Roundup last week didn't note this correctly.
Metro Teen AIDS's Adam Tenner was one of 25 individuals honored by Whitman-Walker Health for their contribution to the fight against HIV/AIDS in DC, reports The Washington Blade.
Miriam's Kitchen shared the winning chili recipe from their Chili Cook-Off on their website. And in the November Washingtonian, they are among the Best 50 Places to Work in our region: "Besides flexible schedules, other benefits include fully paid health-care premiums, seven weeks of leave in the first year, and yoga classes."
Volunteers of America Chesapeake was recently awarded a contract by The DC VA Medical Center to manage up to 25 veterans who are homeless or nearly homeless in scattered site temporary to permanent supportive housing throughout the DC metropolitan region (no link).
The Washington Legal Clinic for the Homeless's
Patty
Mullahy Fugere commented on the Occupy Wall St. protests, agreeing that the Park Service's decision not to enforce the no-camping law for the protesters, as they do for the homeless, was "a double standard," but also said that the protesters are "creating a platform for the discussion about those who are on the lowest public tier," in The Washington Post.

Whitman Walker Health convened a successful walk this last weekend, according to The Washington Blade - their AIDS Walk Washington website has great updates on their $1M goal.


View our online Member Event Calendar for more events.
November 4:
Class Acts Arts
presents its annual FIESTA! Feasting and Feting the Arts from 6:30-10pm at Montgomery College Cultural Arts Center in Silver Spring.

November 5: HomeAid Virginia presents its 10th Anniversary Gala and Auction, presented by corporate member M&T Bank.

November 9: The DC Alliance of Youth Advocates holds its General Membership Meeting at the MLK Jr. Memorial Library, in Meeting Room A, from 10am to 12pm.
Send us your events for us to highlight here and elsewhere.


Questions? Suggestions? Corrections?
Email Eduardo at the Nonprofit Roundtable.