Celebrate the Legacy of Dr. King
at the National Constitution Center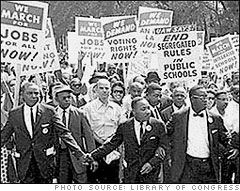 On the 50th anniversary of his "I Have a Dream" Speech, the National Constitution Center will look back on the legacy of Dr. Martin Luther King, Jr., whose life was tragically cut short in 1968.
Visitors can join a discussion about Bayard Rustin, an architect of the March on Washington and a close mentor of Dr. King's.
The Center will host a concert featuring singer Alexis P. Suter performing some of the 1960s favorites that were performed by Joan Baez, Bob Dylan, and other music legends at the 1963 March on Washington.
Families will have the opportunity to create "I Have a Dream" mobiles and refrigerator magnets featuring civil rights heroes.
MLK365 & Neighbors in Action
Community Leadership Workshops
Global Citizen, in partnership with the United Way of Greater Philadelphia and Southern New Jersey, has launched a community workshop series focused on building community leadership and involvement through civic engagement.
These workshops share best practices in civic leadership, as well as guide participants through the process of developing projects to address community needs.
To RSVP for the August 13 webinar: CLICK HERE
Mission365
Updates:
Service Day at the VA Community Living Center
On
July 13

,
Global Citizen and Philadelphia Youth in Service partnered to play table games with veterans at the Veterans Administration Community Living Center.
The veterans and young people seemed to have a wonderful experience.

On August 23, Global Citizen will be conducting an Interview Skills Workshop at the Philadelphia Veterans Multi-Service and Education Center.

For information on additional Mission365 programs, please contact Elyse at Elyse@globalcitizen365.org.