MP3 & Video: Turbo Fruits and Bad Cop to Release Split 7" on Jeffery Drag Records

06.27.2012
Prefix Premieres New Turbo Fruits Track and Bad Cop Video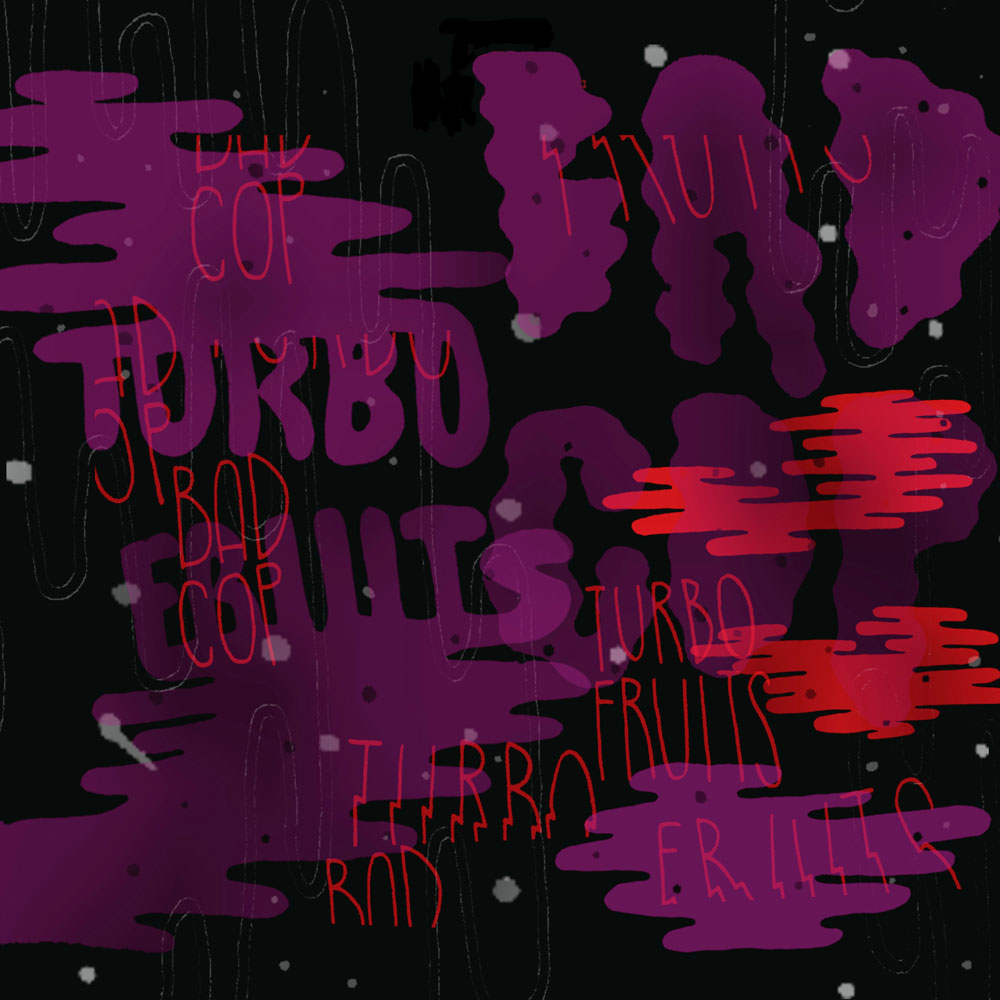 Critical Praise for Turbo Fruits:

"When he's excited (like on the spastic album opener, 'No Drugs To Use'), Stein sounds like a hoarse Henry Rollins. When he's feeling mellow (as on the proto-grunge 'Volcano'), a hint of Mark Arm's cultivated ennui creeps into his voice." - Pitchfork

"Stein's endlessly engaging melodic style gives nods to Bowie and even Elvis, plus there's a sprinkling of psychedelic dynamism now and then." - The Guardian

Critical Praise for Bad Cops:

"It's a soulful, greasy, howlin' whiteboy kind of rant-rock that's even greater than the sum of all its crazy parts, a frantic, no-holds-barred, 'fuck the rules' kind of album that we desperately need right now..." - Impose


The 7":

Nashville garage rockers Turbo Fruits and Bad Cop are proud to announce the release of a split 7" on Jeffery Drag Records, which is available for pre-order now. The albums will ship on July 15 and be in stores on July 31. There is a limited edition of 300 on clear vinyl. The tracks will be available on iTunes on July 15.

The Turbo Fruits track "Love Tennessee" is an anthem of sorts for the radical music scene currently bursting out of Nashville (JEFF the Brotherhood, Pujol, Natural Child) as exemplified by the lyrics, "Whiskey and Coke / Telling our jokes / This is the place to be / We love Tennessee / No place we'd rather be / No place like Tennessee / That's where we'll always be."

Like their previous music videos, the video for Bad Cop's single "Wet Lips" also stars an attractive femme fatale and is slightly NSFW. The sixties garage rock sound is amplified by the swirling psychedelic footage- it's a wild rock n' roll party you'll want to be invited to.

Turbo Fruits have been on tour with Deer Tick since April and Bad Cop recently toured with Cage the Elephant. Both bands will have full-length LPs out later this year.

Attention vinyl junkies: We have a limited amount of 7"s available for review-let us know if you're interested and we'll send you a copy.

Check out the premieres at Prefix:
http://www.prefixmag.com/media/bad-cop/wet-lips-prefix-premiere-video/66649/
http://www.prefixmag.com/media/turbo-fruits/love-tennessee-prefix-premiere/66641/

Listen to "Love Tennessee" here: http://soundcloud.com/audibletreats/love-tennessee-by-turbo-fruits
Check out the "Wet Lips" video here: http://www.youtube.com/watch?v=asgPjwm2Ijo



Please contact Gavin or Marissa if interested in talking with Bad Cop or Turbo Fruits.



The Background:



Turbo Fruits is a garage rock band from Nashville founded by former Be Your Own Pet guitarist Jonas Stein. The current lineup includes Stein on vocals and guitar, Kingsley Brock on guitar and backing vocals, Dave McCowen on bass and backing vocals, and Matt hearn on drums. Their new full-length Butter is forthcoming on King of Leon's Serpents & Snakes label. Recorded in eight days in Austin, Texas with Spoon's Jim Eno at his Public Hi-Hi studio, Butter is the follow up to their 2009 Fat Possum album Echo Kid and their 2007 Ecsatic Peace Debut.

Bad Cop isn't a band that shies away from the possibility of insanity; it's a notion that's been flowing through Adam Anyone's veins since he was a kid. At age 15, Adam was sent to Hidden Lake Institution against his will, where he wrote "I'm in Lust with You," the band's dirty love song. After being released, he started writing music with Alex Hartness and they quickly pumped out material. In 2009, Bad Cop recorded a demo at Battle Tape Recordings, and soon after were picked up by the infamous label ROIR, which released their debut album record Harvest the Beast in Septemeber 2010. While receiving critical acclaim and touring across the country, there were internal issues within the band that forced them to restructure. Adam launched his own record label Jeffery Drag Records while continuing to write new material and putting the band back together. Bad Cop's second release came at the end of 2011, appropriately titled, I Can't Slow Down. The EP was well receieved and caught the attention of Cage the Elephant who consequently brought them on as direct support for a run of their 2012 national tour. Brad Schultz (Cage the Elephant) is now in the studio producing Bad Cop's new EP due for release at the end of the year.

Jeffery Drag Records was formed in early 2009 by Adam Moult, frontman of Nashville based band Bad Cop. The label was originally founded to release limited pressings of cassettes and vinyl for Bad Cop and other various acts including The Hussy, Pujol, and Little Viking. In 2011, Bad Cop bass player Mike Gicz joined the Jeffery Drag team, overseeing cassette releases from Ranch Ghost, Electric Dollhouse Groovebuggy, and Majestico. The third and final member of Jeffery Drag is R.J. Jennings. The label has grown tremendously, adding Natural Child, Useless Eaters, and Ghost Dance to the roster. Jeffery Drag Records is continuing to grow on a daily basis and has quickly become a name brand for groundbreaking rock and roll music in Nashville and across the country.


Streams:

"Love Tennessee"
http://soundcloud.com/audibletreats/love-tennessee-by-turbo-fruits

"Wet Lips"
http://www.youtube.com/watch?v=asgPjwm2Ijo

Mockumentary
http://www.youtube.com/watch?v=FXS13n1jd-s

Bio, pictures, and streams available here:
http://www.audibletreats.com/download/jeffery-drag-records

Facebook:
https://www.facebook.com/badcopnashville
https://www.facebook.com/turbofruits
https://www.facebook.com/JefferyDragRecords

Twitter:
https://twitter.com/#!/BadCopMusic
https://twitter.com/#!/TurboFruits
https://twitter.com/#!/JefferyDragRecs

Bandcamp:
http://turbofruits.bandcamp.com/
http://jefferydragrecords.bandcamp.com

Official Website:
http://www.jefferydragrecords.com


Audible Treats, Ltd.
98 4th Street, Suite 317 | Brooklyn, New York 11231 | 718-768-7275
www.audibletreats.com
© Copyright 2012
All Rights Reserved